Donate $20 and receive a 2019 NBC t-shirt as our thanks to you!
Donation Information
Another bike challenge has come and gone, and once again, we are printing some T-SHIRTS! But this year things are a bit different, as a 501c3, we'll be taking $20 tax-deductible donations. In turn, you will receive this year's National Bike Challenge t-shirt as a thank you gift from the BicycLincoln board. Also, be sure to supply a valid email address so we can deliver your official donation acknowledgment letter for tax purposes.
2019 National Bike Challenge T-Shirt Design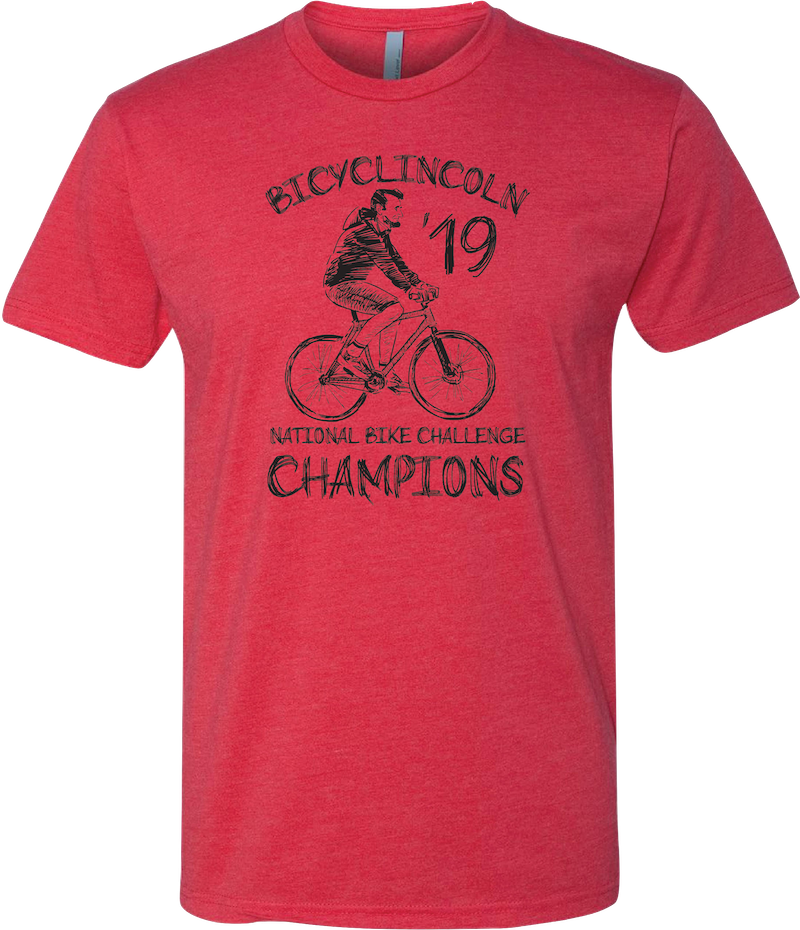 T-Shirt Deadlines and Pickup
All $20 donations will be eligible for a free t-shirt until October 11, 2019 at 3 PM. Donations received before SEPTEMBER 26th at 11:59 PM will have their t-shirts printed and available for pickup at the NBC Party on October 4. T-shirts that were not picked up at the NBC party as well as t-shirts for donations received after SEPTEMBER 26th at 11:59 PM will be available for pickup at Bike Club on October 25. After the October 25, any remaining t-shirts will be available for pickup at Cycle Works.
T-Shirt Sizing Information
All t-shirts are a unisex cut, are made up of a blend consisting of 60% cotton / 40% polyester, and the sizes range from XS – XXL. The sizing chart is as follows:
XS – Chest: 35″, Body Length: 27″
S – Chest: 38″, Body Length: 28″
M – Chest: 41″, Body Length: 29″
L – Chest: 44″, Body Length: 30″
XL – Chest: 48″, Body Length: 31″
XXL – Chest: 52″, Body Length: 32″
Donations are now closed!