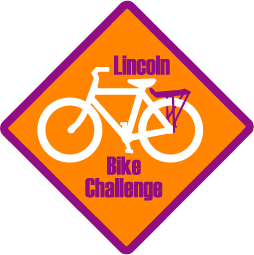 Challenge Issued to Lincoln Cyclists to Finish 1st in 2013 National Bike Challenge
Lincoln surprised more than a few people across the country by finishing in 3rd place out of more than 800 communities in the first annual National Bike Challenge during the summer of 2012.  Nebraska also finished in third place in the Challenge among all 50 states and the District of Columbia.  The National Bike Challenge is back for its second year, and the challenge is to move up in the standings.
Lincoln's goal is to finish first as a community, help Nebraska finish first as a state, and to have two or more workplaces and teams finish in the top 10 of their categories.  The "Warm-up Stage" started March 1st and so far Lincoln has over 170 riders, 77 workplaces, and 15 teams that have recorded over 13,000 miles. This puts Lincoln and Nebraska in the lead. But the real Challenge begins this year on May 1 and continues through September 30.
The National Bike Challenge registration can be found at http://www.endomondo.com/campaign/national/ and is free and open to anyone.  A computer application can be downloaded to a smart-phone or a GPS device to track biking miles, or participants can enter their mileage on-line each day at the website.  The National Challenge will offer a chance for participants to win prizes in drawings each month, May through September.
A local Challenge, the Lincoln Bike Challenge, will run at the same time.  Registration in the national challenge automatically enters local participants in the Lincoln Bike Challenge.  The Lincoln Challenge will offer its own support, prizes, and a party in early October to celebrate the end of the Challenge.
In the inaugural competition, Lincoln organized more than 900 people to record their bike riding miles for four months in the summer of 2012.  Riders registered on a national website and went outside to ride their bikes.  They rode to work.  They rode for errands.  They rode for fun with their families. And Lincoln ended up third behind Burlington, VT and Appleton, WI, but ahead of nationally recognized communities such as Portland, OR, Boulder, CO, and Madison, WI.  At the end of the Challenge, a party was held for participants at Brewsky's in the Haymarket where several hundred dollars in prizes were given away, including a Giant brand bicycle.
The National Bike Challenge is presented courtesy of the League of American Bicyclists, Endomondo, and Kimberly-Clark Corporation.  The Lincoln Challenge is presented courtesy of Cleaner Greener Lincoln, WasteCap Nebraska, BicycLincoln, the Lincoln Lancaster County Health Department, Lincoln Parks and Recreation and several bicycle shops in Lincoln.
-Release from the Lincoln Bike Challenge Committee