The stroke of midnight on October 1st marked the end of the 2014 National Bike Challenge, and Lincoln once again stood on the podium. The yearly event aimed to unite cyclist across America, and promote new riders to take on a healthier lifestyle, was a huge success, with over 47,000 riders nation wide logging more than 23 million miles between May 1st and September 30th .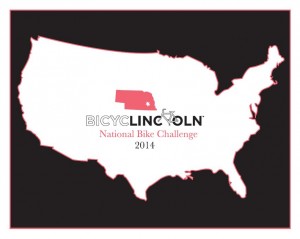 BicycLincoln was excited to host our local challenge for the third straight year, and watch 1311 riders sign up in our community alone to log 683,083 miles. With 37% of those miles coming from commuting, and 63% from sport/fun, Lincoln finished the challenge 2nd in the nation, only narrowly being beat by Madison, Wisconsin.
With the help of riders across the state, especially Omaha who placed 3rd in the nation, the state of Nebraska also stood on the podium in 2nd amongst the 50 states!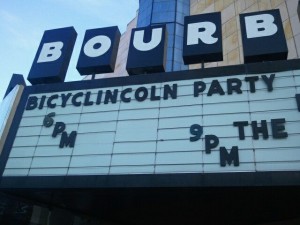 To celebrate everyone's hard earned miles, we did what cyclist do best… we partied! Our gracious hosts at the Bourbon Theater had us all down for complimentary beers from Zipline Brewing Company, and much needed calorie filled pizza from Topper's.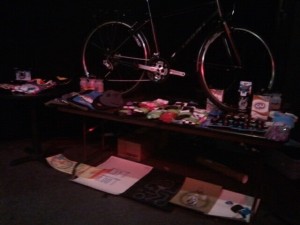 Of course the End of Challenge Party is never complete without an epic raffle drawing, and this year we had great prizes from Cycle Works, Bike Rack, Quality Bicycle Products, Joy Ride, Screen Ink and the Great Plains Bicycle Club.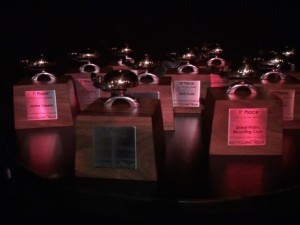 To cap off an awesome night with awesome people, we got down to business with the award ceremony to crown our local champs with trophy's made by our friends at TMCO!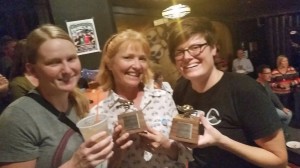 Top Lincoln Women
1st Janine Copple (8,630 points)
2nd Kathy Spence (7,100 points)
3rd Gina Kovanda (6,571 points)
Top Lincoln Men
1st Marc Walter (9,851 points)
2nd Mark Rupp (9,209 points)
3rd Randy Gibson (8,978 points)
Top Lincoln Teams
1st Great Plains Bicycling Club (179,263 points)
2nd Sheclismo (103,652 points)
3rd Team Eyeskull (67,813 points)
Top City w/ Population 200,000+
1st Madison, WI (6,290 points)
2nd Lincoln, NE (5,652 points)
3rd Omaha, NE (1,744 points)
Top States Overall
1st Wisconsin (1,528 points)
2nd Nebraska (1,491 points)
3rd Vermont (1,488 points)
BicycLincoln would like to congratulate and thank everyone who was a part of this years challenge, and we hope to see you each an everyone of you back on May 1st, 2015 to take back our first place victory.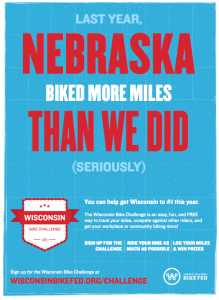 We hope Wisconsin printed some extra posters for 2016.