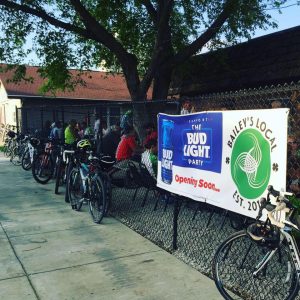 Nacho Ride is going as strong as ever this year, even after The One Eyed Dog! permanently closed it's doors. Taking its place in the same location is Bailey's Local, serving delicious tacos, nachos, & taquitos from the kitchen starting at 5pm every Tuesday night. Also, for the 21+ crowd, sounds like the beer is flowing like wine at Bailey's, so be sure to come thirsty as well as hungry.
The ride itself is a self-organized out and back to Eagle via the MoPac trail every Tuesday night throughout the summer. It's roughly 10 miles from the 84th and MoPac trailhead so plan for about 20 miles round trip. Line up a group of friends and enjoy a ride out and back, or go it alone and meet some new friends. Also, be sure to keep an eye out for the shack along the way, which is always a good place to stop and refuel and meet up with some folks.
This year, Roca Tavern joined the mix of mid-week food and drink destinations for the cycling crowd. With help planning from Joy Ride Bicycles and food provided by various local food trucks, every Thursday night can now be considered Food Truck Joy Ride. Roca Tavern has always been a great supporter of the cycling community, so it'd be great to see this ride take off and reach a "Nacho Ride"-like status. There's been some great local food trucks out there so far, such as Big Luv's, MotorFood, and Nitro Burger, so be sure to come hungry and support those guys as well! Same concept applies with this ride as with Nacho Ride, bring a buddy, eat some food, grab some cold ones, then ride home.
As far as the ride goes, it's roughly a 20 mile round trip depending on where you leave from Lincoln. Generally, you'd take Jamaica North / Homestead all the way down to Roca, but with the trail technically closed from last year's flooding, it's probably best to avoid north of the trailhead at Saltillo Road, unless you're comfortable hiking a bike / riding some technical sections. There's also some great gravel routes as well as highway to get you down to Roca, depending what you're comfortable with and capable of riding.
This Week's Calendar:
Monday (July 11)
Tuesday (July 12)
Wednesday (July 13)
Thursday (July 14)
Friday (July 15)
No rides scheduled, plan something yourself!
Saturday (July 16)
Sunday (July 17)
Get Out and Ride (GOAR) is a Sunday night blog post that we'll do our best to consolidate all the bicycling events, rides, and races coming up in the next week into one easy to digest list of details and links with a different featured event each week. The plan will be to update these posts with more events and details as the week goes on, and help get more people in the know about cycling related activities around Lincoln. Feel free to email us at [email protected] with events we may have missed, updates to events we have listed, or future events in the coming weeks.