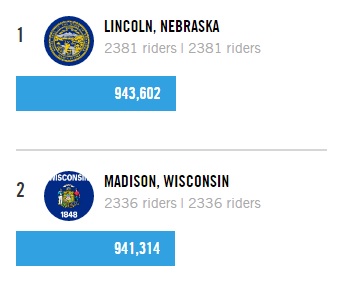 We took a look at the National Bike Challenge leader boards this morning, and it looks like Lincoln stayed strong all week in this wind, humidity, and heat and pulled out ahead of Madison. Now, let's really put the hurt on them, increase that gap, and leave them in the dust. This week, we've got our regular schedule of weekly rides along with the LNK Hustle on Thursday, BicycLincoln's Commuter Club on Friday, a Mustache ride on Saturday, and a ride to promote the Washington County Fair on Sunday! So, keep cool, keep pedaling, and keep kicking Madison's booty! Oh yeah, and GET OUT AND RIDE!
Also, remember to log your July miles before midnight on July 31, or risk not having them count towards the challenge / miss out on the July prizes!
This Week's Calendar:
Monday (July 25)
Tuesday (July 26)
Wednesday (July 27)
Thursday (July 28)
Friday (July 29)
Saturday (July 30)
Sunday (July 31)
Get Out and Ride (GOAR) is a Sunday night blog post that we'll do our best to consolidate all the bicycling events, rides, and races coming up in the next week into one easy to digest list of details and links with a different featured event each week. The plan will be to update these posts with more events and details as the week goes on, and help get more people in the know about cycling related activities around Lincoln. Feel free to email us at [email protected] with events we may have missed, updates to events we have listed, or future events in the coming weeks.