Lincoln is getting noticed as a bike-friendly city, and for good reason. We have a number of accomplishments to celebrate: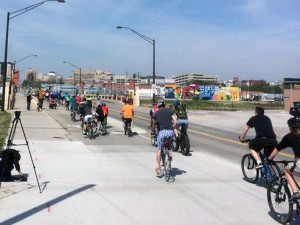 In April we officially

opened

our brand-new N Street Protected Bike Lane, which is already garnering accolades from sites such as

Streetsblog

and

People for Bikes

(America's 10 Best New Bike Lanes 2015). It was the first protected bike lane in Nebraska.

Our mayor, Chris Beutler, adopted a

Complete Streets

policy in September 2013, and a committee was formed to implement it. The 2014/15–2019/20 Capital Improvement Program allocates $300,000 over six years toward Complete Streets projects.

Lincoln has been a Bronze-level League of American Bicyclists

Bicycle Friendly Community 

since 2012. Communities must re-apply every four years, and this year we will be going for Silver.

We have a

bike share program

coming soon. Phase I will have approximately 15 stations / 100 bikes.

We have over

131 miles of hard-surface and crushed-rock trails

, with a master plan to guide the development of new trails. 

A recently-redesigned

trail map

and new signage help people navigate the trails.

A recent Nebraska legislative bill,

LB 716

, which just went into effect July 21, updated state law to give trail users legal protection while riding through crosswalks on the trails (and sidewalks, too) – and also eliminated our outdated mandatory sidepath laws, so that we are legally free to choose the safest route for us. Updates to Lincoln city ordinances to match state law are in the works.

BicycLincoln is promoting the National Bike Challenge to get people riding, and we have 2,300+ riders logging miles.

We have our sights set on beating Madison, WI, for #1, and we're neck-in-neck.

We have organized rides going on just about every day of the week (see:

Get Out and Ride

, BicycLincoln's weekly blog post of rides) – shop rides, club rides, biking to food trucks, biking to nearby towns for food and beer. Our local breweries love bikes, and host rides that bring bicyclists to their taprooms.   

Lincoln hosts

Gravel Worlds

.

BicycLincoln recognizes

Bike Friendly Businesses

and advises businesses who would like to attract more cycling customers. We also worked with local businesses to arrange

special discounts

for riders who are participating in the National Bike Challenge and show a helmet sticker.

The

Lincoln Bike Kitchen

provides refurbished bikes and parts to the community, as well as giving people access to tools and repair advice. Kids get bikes for free (or a voluntary donation); adults earn bikes by volunteering at the shop.   

We're served by

seven great local bike shops

. They host rides and events, and their owners and employees are active in local events and bike advocacy groups.

Our city government supports biking, and even created a website called Bike Lincoln to bring together bicycling-related resources and information for Lincolnites:

https://lincoln.ne.gov/city/plan/bike/index.htm

.

UNL has been recognized by the League of American Bicyclists as a Silver Level Bicycle Friendly University. In addition, UNL Outdoor Adventures was rated as a Gold Level Bicycle-Friendly Business, and UNL Campus Recreation is rated at Silver. The Outdoor Adventures Center on UNL's City Campus offers bike lockers and shower facilities, available for use by students and the general public.
We at BicycLincoln want to make cycling in Lincoln better. What bike-friendly attributes would you add to this list? And what would you like to see Lincoln do to be more bike-friendly?