Gravel Worlds Week!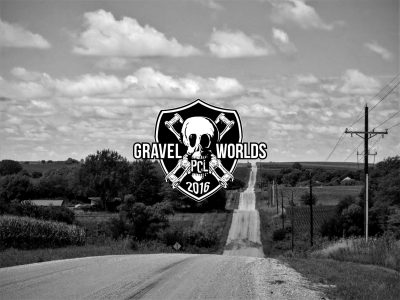 It's the week of Gravel Worlds 2016! The ride is this Saturday, August 20, and will contain a grueling 150 miles of self-supported grinding gravel goodness. It's no stroll through the park, and definitely not to be taken lightly. Every year, 100s of gravel enthusiasts travel to Lincoln to experience and compete in this ride and try to earn their Gravel Worlds stripes. Some rules to keep in mind, self-supported means you can't have folks helping you along the way, but stopping at small towns and buying supplies along the way is allowed and generally encouraged. Also, this time of year is hot, humid, and windy; so plenty of hydration and food to refuel along the way is a necessity. You also must have any other necessary supplies on you or get assistance from other riders. Calling a friend or stashing supplies along the way is not allowed and will result in disqualification.
From my personal experience last year, you'll learn some things you never knew or maybe just never really appreciated. First off, Nebraska is not flat and Gravel Worlds will have you cursing your way up all the climbs and enjoying your breaks on the downhills. Second, August in Nebraska is hot and windy, and that in combination with the hills makes for quite the interesting challenge. I remember it being necessary to pedal down some hills last year due to a stiff South wind. Third, and most importantly, you'll realize Nebraska is not just cornfields and football, and you'll fall in love with wandering about on gravel worlds discovering things you never knew existed. Unfortunately, I bowed out at 100 miles last year, and can not ride this year due to a little cyclist on the way, but I am definitely looking forward to future instances of this ride and encourage anyone on the fence to definitely sail the gravel seas.
What?!? It's the first time you've heard of Gravel Worlds! Huh?! You've been putting off registration! Lucky for you, registration is open still and if you want to have an adventure, there's still time! Registration closes tomorrow, Monday, August 15 at 5pm CST, so go ahead and still register and experience the gravel mecca for yourself! Or, check out one of the many events going this week and GET OUT AND RIDE!
This Week's Calendar:
Monday (August 15)
Tuesday (August 16)
Wednesday (August 17)
Thursday (August 18)
Friday (August 19)
Saturday (August 20)
Sunday (August 21)
Get Out and Ride (GOAR) is a Sunday night blog post that we'll do our best to consolidate all the bicycling events, rides, and races coming up in the next week into one easy to digest list of details and links with a different featured event each week. The plan will be to update these posts with more events and details as the week goes on, and help get more people in the know about cycling related activities around Lincoln. Feel free to email us at info@bicyclincoln.nebraska.bike with events we may have missed, updates to events we have listed, or future events in the coming weeks.