I was going to wait until next year.
I followed the status of Gravel Worlds 2016 signup just closely enough to intentionally miss the start of it, hoping it would fill up right away and I'd "accidentally" miss my chance. I just started riding gravel in May of this year, after all, and I think I can still count the number of gravel rides I've done on my fingers. I've become a regular on Cycle Works' Saturday Morning No Drop Fat Bike Ride (SMNDFBR), which hits gravel whenever Wilderness Park is too wet, and I'm strong on those 40ish-mile rides. I ride to work every day. I do longer multi-day tours like BRAN and Tour de Nebraska for fun. When my SMNDFBR and BicycLincoln friends started trying to get me to sign up for Gravel Worlds, I didn't think I'd trained enough, but I thought maybe I'd be fit enough to power through it. On the very last day of signup, less than a week before the event, I gave in and registered. I was one of only four entrants in the women's fat bike / cargo bike / recumbent category. My goal was simply to finish, preferably before dark. For me, it was to be an experience and a great gravel ride, not a race.
That week suddenly became a blur of frantic googling and preparation, hitting a bike shop every night for something else I'd thought of.  I laminated my cue cards at Office Depot. I figured out how to load the course on my Garmin – and saved it on Strava and Google Maps, too, for good measure. I rode my bike to the bank on my lunch break to get ones and fives. I charged all my devices.
The morning of the race, I ran into one friend after another. Even with all our visitors from out of state, it felt like a rolling party of Lincoln cycling people. Knowing that I wasn't even going to try to race, I lined up in the back of the pack.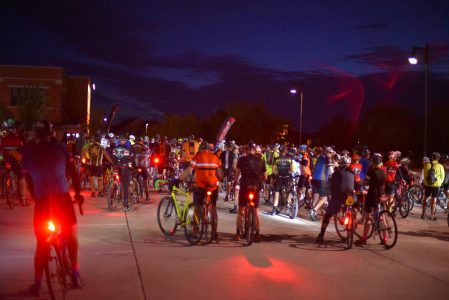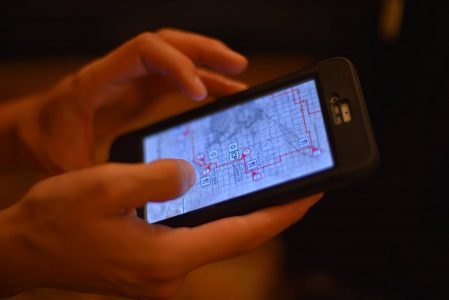 The sight from the back of the group as we set out was amazing: a river of red taillights snaking up and out of Fallbrook, as far as the eye could see. It was a gorgeous day, almost fall-like, with chilly morning temps turning to 70s. The rains the night before left the roads soft, and as I floated over the muck, I was glad I brought the fat bike.
I chugged along the first 40 miles in our clockwise loop around Lincoln, turning at Greenwood and heading down toward Eagle. I felt great. I watched the number of remaining miles go down bit by bit on the Garmin. When I saw a kitty along the road, I stopped for a visit. She even tried to jump up on my bike to say hello: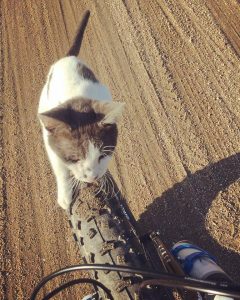 But it can't always be sunshine and kitty-nudges. By the time I stopped at the Casey's in Eagle, I was just starting to feel tired. I ran into Janelle from the SMNDFBR group there, and we set out together. Sometimes she was ahead; sometimes I was. We met at the stops. By the time we hit the Roca Tavern at mile 57, I was starting to rethink my goals. I walked in and saw one of my friends – one who had actually been training for Gravel Worlds for months – nursing a beer and shaking his head in disappointment. The slog through the soft stuff had done him in. I downed a Copper Alt in solidarity and revised my own plan: I'd just make it to Valparaiso, 108 miles in, to get my first century. But first, the the second checkpoint at mile 76.
Somewhere between Roca and the Reinkordts' farm, I began to lose it. Despite eating and drinking constantly, I felt like I was running on fumes. My legs burned, and my knees started to ache. My head got foggy. Every time I looked down, I was going only 10 miles per hour. I never go that slow. I knew I would miss the second checkpoint, which was only supposed to be open until 1:30. My friend Matt, who was working that checkpoint, texted: You still in? I called and said I was, and he said they'd stick around. I kept going, wanting to make it there, and when I saw the group with grape sodas and pickles, I could have hugged them. (So many thanks to you, second-checkpoint people, for sticking around.) Janelle was done at that stop, and decided to ride home.
I knew I wouldn't make my century, so the new plan was to quit in Malcolm, where my ride could find me. I did make that one, but it was hell – uphill into a north wind, my mind and my legs totally gone. I never saw another rider, and I felt like I must be the last one. (I was not.)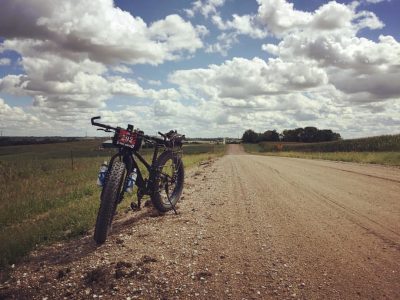 I swore my way to Malcolm, mile 85.5, where I called in to tell the race organizers that I was quitting. Here I am, still all smiles: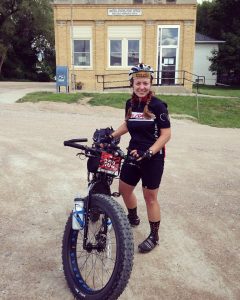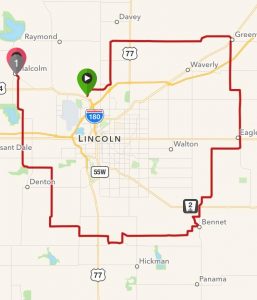 They say that everyone who finishes Gravel Worlds is a winner. I tried not to think about what quitting made me. I was proud of taking my maximum number of gravel miles in a day from 37 to 85.5, and beating my former daily (pavement) mileage record of 83 miles. I kept going beyond my limits, in spite of the doubts and fatigue that started creeping in. I had told myself in advance that if I didn't show up, I'd made a contribution to the Pirate Cycling League; if I rode any miles at all, I'd get a nice Saturday ride in; and if I finished, I could probably do anything. There was no way to lose, really.
It'd been so long since I took on a ride that was beyond my abilities, but it's a great thing to do. It's the only way to grow as a cyclist, to push your limits. Just get out there and try new rides. I've never regretted being outside on a bike with other people who love bikes. Even the toughest ride is a great day – and this was no exception.