Lincoln is now leading Madison by over 70,000 points! But, it's not over yet!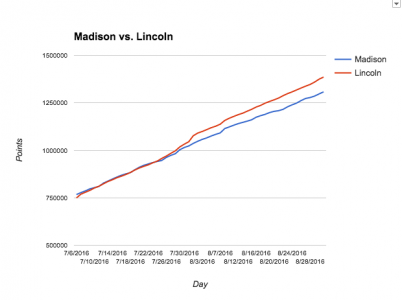 Lincoln has really been putting the hurt on Madison lately, earning more points than Madison for more than two-thirds of the days in August. Our lead is now sitting at 77,742 points, and, if anything, is trending upwards. Everyone definitely deserves a giant pat on the back for all their hard work and logging!
With that said, the gap is not yet insurmountable, especially considering we put up that gap on Madison in about a month's time. With the month of September still remaining, there is still plenty of time for anything to happen so we need to keep chugging along. Go out and ride with some friends, find time for a few extra rides a week, or extend your route by a mile or two each day. Every mile really does count (especially that first one), and they're really going to matter as we come down the stretch to the end of the competition.
If you still have friends that aren't logging their miles, be sure to keep hounding them to sign up and log those miles! Here's a printable National Bike Challenge handout to give to anyone you think should sign up, which will help them through the setup process and get them logging!
And as always, we'd like to remind you to log your miles BEFORE MIDNIGHT on Wednesday, August 31st to ensure your points are counted for August. If you miss the cutoff, your miles will not count for you or Lincoln, so be sure to get those miles in on time!