It's fall. The National Bike Challenge is over. Mornings and evenings can be a bit brisk. But if you're thinking about putting away your bike until spring – wait! The riding is still great, if you dress and prepare for the weather.
Some basic principles for fall riding:
Don't overdress. You should be a little bit cold when you first head out. This one might be the hardest to achieve, because it feels so wrong. Trust that you will generate a good deal of body heat from riding – but you can pack extra layers, just to be safe!
Don't underdress. It may be warm when you head out, but think about when you'll be coming back – if it's later in the evening, or it's dark, it could drop 10-15 degrees by then. Plan for the coolest temperature you'll face, and pack what you're not wearing.
Experiment. When you first start riding in cooler temperatures, you'll quickly figure out which body parts need extra layers. Start a little chilly and add items as you need them. For example: I've learned that as long as my core is warm, my arms and legs are fine – so I'll wear a vest, not a jacket, down into the 40s. Along with this, I need my hands and head to be covered, so I'll add gloves and a cap (wool, with ear flaps) under my helmet.
Don't limit yourself to bike clothes. If you run or do other outdoor activities through the cooler months, you might already have gear around the house that works well. Bike-specific gear is great, and it has features designed with cyclists in mind: it's reflective; it's brightly-colored; it's designed to block wind to the front and breathe out the back; the sleeves and back of jackets are often longer so that they don't ride up when you lean forward. But it can also be pricey, and you might want to add gear piece by piece as your budget (and fall/winter gear sales) allow. You can also use any outdoor gear that has those cycling-oriented features. I've found more than a few pieces in the running section, since running clothing also needs to be breathable, visible, and wind-blocking.
Breathe through your nose. When the air gets chilly, inhale through your nose, not your mouth – your nose is far better at warming the air before it reaches your throat. If your throat or lungs hurt, or you show up at your destination with a gunky chesty cough, you might be breathing through your mouth. Wearing a balaclava or scarf up over your mouth can help, too, especially as it really gets colder.
Always have lights. The days are getting shorter, and you don't want to be caught without them.
And here are some good pieces of clothing to mix and match for fall:
A vest. You'll be surprised by how helpful it is just to have your torso warm. Wear it as your only outer layer, or layer it under jackets when it's colder.
A softshell. These are thicker than the tissue-paper windbreaker bike jackets you might wear on a brisk morning in the summer. They're breathable, water-resistant (not waterproof), and wind-blocking, and they are great for fall. I'll wear mine through winter, too, with various other vests and jackets and layers under it.
Gloves. Look for wind-resistant fabrics, since your hands will take the wind first. Wind will blow right through knit gloves.
Balaclava and/or neck gaiter. (Scarves work, too!)
Cap. Your bike helmet is probably designed with fantastic ventilation. That's great in summer; not so great when it's chilly. Layer a thin cap (cycling-specific or not) under your helmet on chilly mornings and evenings, and shove it in a pocket during warm afternoons.
Arm / knee / leg warmers. These are more flexible than wearing long pants or a long-sleeve jersey, because you can add or remove them as temperatures change.
Shoe covers. If you're wearing cycling shoes, they probably have mesh sections for ventilation. Cover them with toe or shoe covers.
This probably looks like a lot, but since it's fall, you're rarely wearing all of it at once. That's winter – and that's the good news: these pieces and principles will get you through a good portion of the winter, too. You generate a surprising amount of body heat from riding, so staying warm is just a matter of trapping that heat where you need it. Once you get going, you'll find that temperatures that seemed chilly at first are downright pleasant, and you can often get where you're going without even breaking a sweat.
Fall riders: What are your tips? What are your favorite pieces of gear for fall? Share in the comments.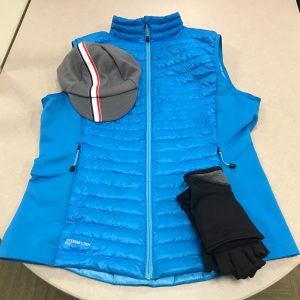 For more information: