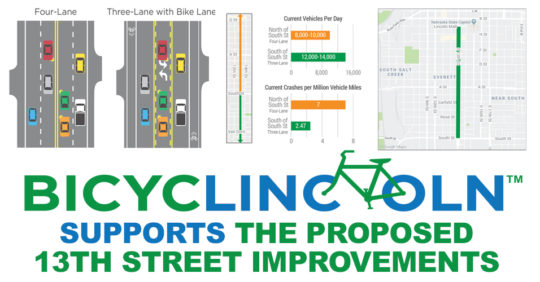 NEWS RELEASE
August 15, 2018
ON RECEIPT
BUSINESS AND COMMUNITY ADVOCATES VOICE SUPPORT FOR 13th STREET PROJECT
The proposed plan to make 13th Street south of downtown safer and more efficient for drivers, bicyclists and pedestrians has strong, broad-based support from community, business, cycling and trail advocates.
"These improvements will result in making our community safer for drivers, cyclists and pedestrians, and is highly supported by the neighborhood residents and businesses," according to Shawn Ryba, executive director of the South of Downtown Community Development Organization.
Ryba also said there is confusion over the impact on traffic flowing into downtown, adding the average daily traffic volume along 13th Street makes it an ideal candidate for conversion from a four-lane to three-lane street.
"The portion of South 13th Street that is already three lanes carries 40 percent more traffic and is three times safer. A Federal Highway Administration study found that these types of street conversions can reduce the total number of crashes by approximately 29 percent," he said.
The Chairman of the South of Downtown Community Development Organization supports the street improvement. "I've driven down 13th Street on my way to work for 50 years and cutting the street from four lanes to three lanes and reducing the speed will increase the safety for the people in the neighborhood considerably," Tom Smith said.
BicycLincoln strongly supports the project, according to President Jason McLaughlin.
"Within the Lincoln bicycling community, we have consistently heard a demand for a better north-south connection between downtown and the neighborhoods to the south. Complete streets like the proposed 13th Street corridor have consistently been shown to be a win for everyone, including local residents, school children, bicyclists, drivers, and the business community. They improve safety and traffic flow, and increase economic activity and property values. With all of this in mind, BicycLincoln fully supports the proposed project," McLaughlin said.
According to the Great Plains Trails Network, enhanced pedestrian and bicycling infrastructure contributes to the City's economic development. For example, private developers have invested over $125 million in three new mixed-used development projects along the N Street Protected Bikeway, citing the bikeway as a factor in supporting their decision to build their projects. Much of the conversion cost for the 13th Street project is covered by a private grant provided by Partners for Places.
"The Great Plains Trails Network fully supports the 13th Street Project as it fits our mission to provide a safe trails and transportation network for our community which benefits all of our citizens," said Dena Noe, President of the Great Plains Trails Network.
The Nebraska Bicycling Alliance is 100 percent in support of Lincoln's 13th Street project. "The reconfigured street will make all users of the road safer while enhancing this great neighborhood and business district," said Julie Harris, Nebraska Bicycling Alliance executive director.
"Progressive cities all over the country which have done projects exactly like this have reported positive results such as cars moving more efficiently, increased safety, decreased number of crashes and thriving adjacent businesses. It is a win-win for everyone involved," Harris said.
Harris said organizations opposed to this community improvement are using misinformation to build their case against it. "We hope people won't be distracted by the misinformation that is being spread about this project which will make this a safer street for everyone," she said.
In addition to the South of Downtown Community Development Organization, BicycLincoln, Great Plains Trails Network and the Nebraska Bicycling Alliance, other groups supporting the 13th Street improvement project include the Mayor's Pedestrian Bicycle Advisory Committee and Heartland Bike Share.