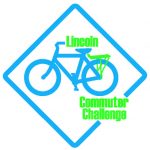 Lincoln's bicycle community, along with support from the Mayor's Office; Cleaner Greener Lincoln, WasteCap Nebraska, the Lincoln Lancaster County Health Department, BicycLincoln, and WorkWell invite you and your co-workers to participate in a new challenge for 2012.
"The Get Up & Ride Bicycle Challenge" is an exciting new program that encourages people to bike for transportation and recreation.  It is open and free to anyone who lives in the Unites States or works for an organization with U.S. employees.  It begins May1 and continues through August 31, 2012.
The Challenge is a partnership between the League of American Bicyclists, Bikes Belong, Kimberly-Clark Corporation, and Endomondo – a mobile based sports and fitness tracking community.
The Challenge is organized on two levels: National and Community.  Communities are based on the Metropolitan and Micropolitan statistical areas defined by the Office of Management and Budget for use by Federal statistical agencies in collecting, tabulating, and publishing Federal statistics.  Participants can join The Challenge as an individual or as a member of a 10-person team.  Corporations, agencies, and organizations can have multiple teams.
Participants have two options to track their mileage.  If you have a smartphone or other GPS device, the free Endomondo app is easy to use and automatically updates your rides.  Additionally all rides can be entered using a manual entry feature on the website for "The Challenge."
At the end of "The Challenge" plaques will be awarded to the first place team in several categories on the national level. Locally, prizes will be available as well to Lincoln riders.
A complete prize list can be found on "The Challenge" website.
A local "Challenge" Prize Party will be held in September. And it will be a party! Think food, drinks, and prizes!!
Information specific to "The Challenge" can be found at the website: www.endomondo.com/campaign/national
For information on the local level, please contact: [email protected] or [email protected]