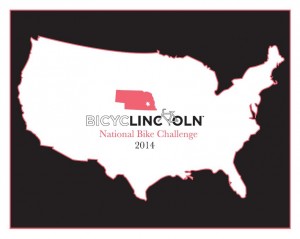 Lincoln surprised more than a few people across the country by finishing in 1st place for communities with populations of 200,000+ in the second annual National Bike Challenge during the spring and summer of 2013. Nebraska also finished in second place in the Challenge among all 50 states and the District of Columbia. The National Bike Challenge is back for its third year, and the challenge is to again finish in first place in this friendly national competition.
Lincoln's goal is to finish first as a community, finish first in the Local Challenges, help Nebraska finish first as a state, to have two or more workplaces and teams finish in the top 10 of their categories, and have 2,000 people on bikes logging their miles.
The National Bike Challenge registration can be found at https://nationalbikechallenge.org/ and is free and open to anyone. The Challenge runs May 1st through September 31st. Anyone can join at any time. A mileage tracking application can be downloaded to a smart-phone or a GPS device to track biking miles, or participants can enter their mileage on-line any time during the month on the website. The National Challenge will offer a chance for participants to win prizes in drawings each month, May through September.
The BicycLincoln Local Challenge, will run at the same time. Registration in the National Bike Challenge automatically enters local participants in the Local Bike Challenge. The Local Challenge will offer its own support, prizes, and a party in October to celebrate the end of the Challenge.
In the 2013 Challenge, Lincoln organized more than 1,100 people to record their bike riding miles for four months. Riders registered on the national website and committed to ride their bikes. They rode to work. They rode for errands. They rode for fun with their families. And Lincoln ended up ahead of nationally recognized "bike" communities such as Portland, OR, Boulder, CO, and Madison, WI. At the end of the Challenge, a party was held for participants at Brewsky's in the Haymarket where prizes were given and awards were presented.
The National Bike Challenge is presented courtesy of the League of American Bicyclists. The Lincoln Challenge is presented courtesy of BicycLincoln, the Lincoln Lancaster County Health Department, Lincoln Parks and Recreation, the Great Plains Trails Network, and several bicycle shops in Lincoln.
-Release from the Lincoln Bike Challenge Committee/BicycLicncoln