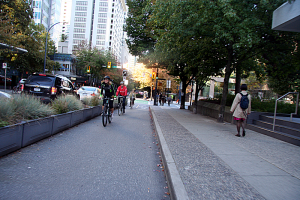 Trails in Lincoln are fast and dry this week, and the small bridge and underpass on the Boosalis trail west of 56th and under 48th are now open, removing a minor annoyance from that path. Be warned that on the (not yet officially open) Old Cheney trail from 70th to 84th there was a large pallet of retaining wall blocks occupying the entire width of the trail recently that you wouldn't want to come upon in the dark (or any other time).
On a recent Road trip to Chicago and Washington D.C. I got to admire the fine bike lanes in those cities. Not separated from traffic by more than paint, still, they seemed well used and for the most part respected by motorists. There was a steady trickle of bike commuters. I didn't have a chance to try their bike share programs, but would have liked to. Maybe my newly transplanted niece will try out the D.C. program and report back to me. Lincoln is waiting for it's first bike share program, hopefully to debut this winter.
There is quite a bit of anticipation building for our own protected bike lane downtown on which to ride those, and our own bikes. Many Lincolnites refuse to ride on streets shared by cars, keeping only to trails and sidewalks. Strange as it may seem however, studies show a person riding a bike is more likely to get hit while riding on a sidewalk than on the street. Motorists are less likely to notice a bike crossing a street or driveway, and don't even start me on right turns. Such was the case last week with a young woman I know crossing at 10th and Q riding her bike. She was pushed down (right-hooked) by a motorist starting up who she thought had seen her, but had really just looked through her to the open street. I have been cut off by cars turning in front of me, and have had to put up my hand to stop my momentum against the side of the car. A protected bike lane will make people riding bikes feel safer, and increase ridership, but one will still have to be careful at crossings. And take off those earbuds and headphones, please.