The trails overall have been amazing this past week. Yes, we had a little rain, (and mud on some trails) but that broke the hot streak and washed some of the ragweed pollen out of the air that is affecting so many of us.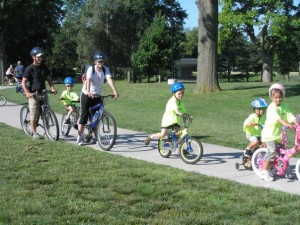 This past Sunday was Streets Alive, Lincoln's outdoor movement festival. It was great to see so many people riding their bikes through the event. Many stopped by Bicyclincoln's table and I had the good fortune to talk to a number of people about where they liked to ride and who they ride with. My informal poll showed people enjoying trails in all parts of the city, and eager to learn more about maps and routes. Many were frustrated about the Jamaica North still being closed. It also highlighted some areas of the city difficult or dangerous to navigate by bike; 14th St. South of Highway 2, and Pine Lake east of 56th, for example. As far as who the families who stopped by the table like to bike with? With each other. Kids loved to ride with their parents, but more often than not it was dad who was doing the guiding. When I asked the moms why this was, they tended to be less than enthusiastic. I wanted to find out what was going on. The main reason seemed to be discomfort on the bike. The seat hurt. Their legs hurt. It just wasn't comfortable. The bike was in the basement, or it hadn't been ridden in years. A bike that doesn't fit well or that isn't properly adjusted or in good working order is hardly conducive to going out for a fun ride. Also, if you do take it out and ride very many miles after a long time out of the saddle, you are probably going to feel it. The sore legs and rear will go away after a few more days pedaling. Work up to longer rides bit by bit. If dad has a speedy, easy to pedal steed, and mom is riding a beast, well that's not going to work either unless dad brings up the rear. One thing for sure is that beast gives a good workout.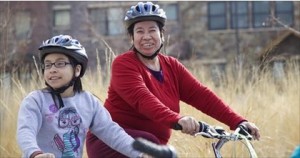 Here are some new and ongoing closures from the Lincoln Parks and Recreation website:
Beginning Monday, September 14, (this was delayed) the Billy Wolff Trail will be closed from the ramp on the east side of 27th Street to Randolph Street for ramp and trail reconstruction. Trail users are advised to take the 27th Street ramp to street level and cross 27th Street on the south side. Then take the sidewalk to Randolph, cross to the east and continue on the Billy Wolff Trail. The project is expected to be completed by the end of October.
Ongoing: just south of where the Rock Island joins the Billy Wolff Trail near 27th Street. Trail users are advised to take the sidewalk on the south side of "A" Street east to the Billy Wolff Trail. This closure is necessary for a water quality improvement and educational project at the Lincoln Children's Zoo. The project will reduce runoff and promote infiltration at the Zoo site to reduce pollution flowing into Antelope Creek Features will include bioretention and bioswale areas, permeable pavers and educational signage. Construction is expected to be completed by May 2016.