Likely those of you who commute through the new obstacle course which is the 27th and Capitol Parkway area have figured out how to get through. (Along 27th St. to Randolph, where you can get back on the Billy Wolff.) Have patience with construction, as I've heard the upgrades to one of the most dangerous underpasses in Lincoln will be worth the wait.
Last week I talked about some of the large loop options that exist for circumnavigating Lincoln. Last Thursday I went to an informational presentation by Sarah Hartzell of Lincoln Parks and Recreation to find out about future plans for trails and an update on spring flood damage. Here's a link that will give you some of that information: http://www.klkntv.com/story/30221744/update-on-flooded-lincoln-bike-trails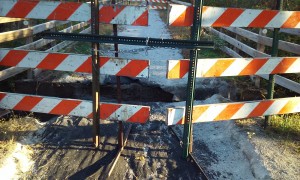 In the next few years they hope to have finished some beautiful new trails on the periphery of Lincoln that will tie in to the existing trail system and provide trails to new areas too. There will be an underpass under highway 2 near 56th St. and a trail connecting the Jamaica North extension that now ends at 4th and "J" to the Haymarket. Also, the new segment along Salt Creek from Haymarket Park that now ends near the Devaney Center will continue on to 27th St. and the John Dietrich Connector, to name just a few of the new additions.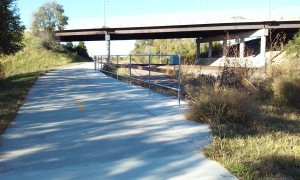 But what if you want to get away from urban trails and experience more nature on your bike. The fall colors and temperatures are glorious this time of year. But what if you don't necessarily want to drive there? We have Wilderness Park. The trails are open in the park, though not the Jamaica south of Old Cheney.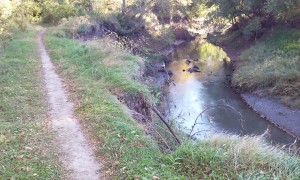 There have been some necessary re-routes of park trails so that we don't end up in the creek. You cannot loop the east and west sides right now, as the bridge is out on the Jamaica just north of 14th. If you are new to Wilderness Park, it has a fairly extensive network of hiking, bicycling, and horseback trails, including to the east of 14th St. south of Yankee Hill. In reality, most of these are actually mixed use trails.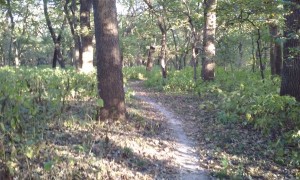 Many people riding the single-track prefer the east side, which is posted as hiking. The west side is posted for biking, but preferred by some walkers. As far as I can ascertain, the reasons we find riders on the east are probably because of the two steep water crossings of the tributary, the perpetual mud hole caused by runoff from Highway 77, and the rather deep ruts in areas from many years of riders found on the west side.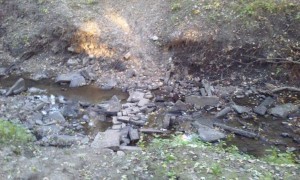 Which ever side you ride, you need to be aware of a few things. These are functionally multi-use trails with many blind corners. If you have a bell, use it upon approaching one. You may well have opposing traffic. Look ahead, not just beyond your front wheel. That way, your sight line will include walkers, oncoming bikes and animals, as well as coming terrain. Don't ride faster than you can control the bike, for the preceding reasons, especially if you are new to single-track riding. The terrain can be demanding in places, so be prepared for steep, uneven areas. Also, never ride wet, muddy trails. It creates deeper ruts and we all are responsible for protecting the park from our impact when we use it.
Taking all this into consideration, go have fun. Just be considerate of the park and others out having fun, too.