You know we've been lucky so far this fall. Unless you've just bought some new hi-tech booties or Bar Mitts and have been waiting for it to get cold enough to try them out. Have patience, we'll get there. It can be hard to know just what clothes to commute in when it's 35 degrees at 7:00 A.M. and 65 on your ride home. We all have different cold tolerances. I've seen people riding bundled up in a parka with a scarf across their face at 50 degrees, and others bare-handed and headed below freezing. Some of it depends on how far you have to go, and how hard (fast) you ride. Dress for approximately 10 minutes into your ride.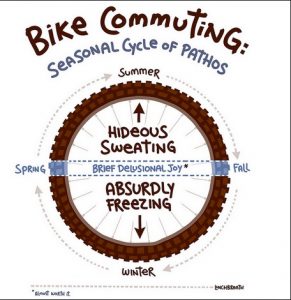 Mainly, what's going to serve you best are breathable layers, and no cotton next to the body to absorb sweat and chill you. My hands are not cold tolerant and I take care to keep them warm. Also, I throw off a lot of heat, so my eye protection must be anti fogging. My half-face mask has to allow me to breathe freely, and though I have good neoprene shoe covers, often just thick wool socks are enough.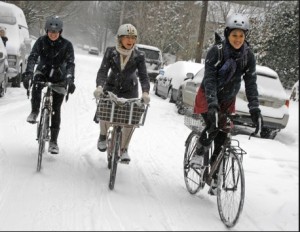 With the protected "N" St. bike lane to open in November, there may be more bicycle commuters on the road over the winter. It's never been much fun to jockey for position with cars on icy streets, so it will be a welcome winter amenity. The off-street trails are kept fairly free of snow (as long as it doesn't snow over the weekend). We'll have to wait and see with the on-street "N" St. bike path. I hope it doesn't get turned into a snow storage lane, (like the wide sidewalk next to Pine Lake Road, for example) which can force bicycle commuters into traffic when it's snowy, or to drag bikes over piles of snow.
With a mountain bike or studded tires, riding in snow doesn't have to be a bad experience. To the contrary, it can be a lot of fun. Studded tires are meant for packed snow and ice and won't help much with fluffier snow. Let some air out of your tires so you have better traction and allow plenty of time for stopping and turning. The only really bad experience I've had riding on ice was when I didn't want to go back and get the mountain bike when I saw that it was icy. My commuter bike had bald tires and when I took a curb cut the bike didn't want to change direction, so I went down onto the lip of the curb cut. In addition, braking with the rear tire rather than the front is recommended on slippery surfaces to maintain better control.
What are your winter commuting tips? Or, your biggest fears about winter commuting? It may be more doable, and more fun than you think. Getting out in the fresh air and if you're lucky a little sunshine on your bike can make the winter a happier season.