Last week some of us learned to think inside the box. The green one with the bicycle stenciled on it, specifically. Video was shot Thursday and Friday on the N Street bikeway for a public service announcement and instructions explaining how to use the new markings on the street. The transportation planners and city county health department have been busy with plans to educate the cycling community, and soon motorists, on this new feature from the Antelope Valley project to the Haymarket. The filmmakers have been busy editing and hope to have the initial video up Tuesday or Wednesday of this week, before the bike path is officially open. You will be able to view it at bike.lincoln.ne.gov, your clearing house for all things bicycle under the scope of city government. Before too long there should be a PSA length version which will hopefully be viewed in movie theaters before the feature.
As for the other trails this week, the open trails are in good shape, though often covered in leaves. Beware wet leaves on curves and corners if you're traveling at speed as it's easy to loose traction and lay that bike down. The same can be said for moisture that's turned to black ice overnight.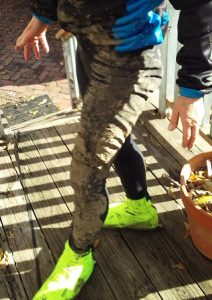 The flip side is that frozen ground can be great to ride on when it's been muddy, but can thaw out in a hurry and leave you slipping and sliding. Saturday morning was chilly, and I did pull out my Bar Mitts and shoe covers for the longer ride I was planning on taking out of the city. The road surface that had been frozen, at least somewhat, no longer was as the morning progressed. I'm glad I didn't have on work clothes or fenders that could have gotten packed with mud.