While usually a mountain biking mantra, here keeping the rubber side down refers to riding on ice. Some of you were reminded Saturday how difficult that can be to do. The limestone trails that were a little challenging but for the most part passable last week (Murdoch and Mopac) had a chance to turn from snow packed to ice packed in the intervening week of use, thawing, and re-freezing. It doesn't matter how wide your tire is, it can still take you down in an instant. It's better to keep to the grass in those places, or on less trampled snow. The gravel roads had none of these problems, so if you find yourself stuck and want to get off the ice, strike out on gravel, it will almost always be safer.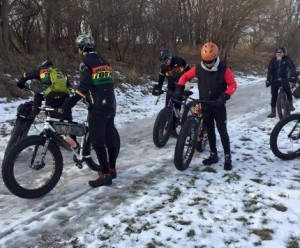 Another high mileage rider mentioned to me the other day how he was taken down fast and hard on the Rock Island near Densmore park last Monday with studded mountain bike tires after the flurry of snow pellets we'd had that morning. Apparently, on the packed snow the layer of tiny pellets acted like ball bearings and the studs did him no good at all. Know your conditions, but be aware surprises can still happen, so make sure you're wearing your helmet. He was sure glad he had been. After this bit of snow we just received, there is better traction, but at the same time the ice ruts just below it can easily throw you, so pay attention.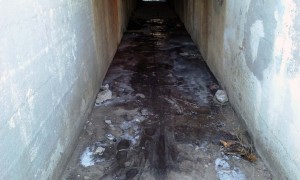 I was pleasantly surprised with the trail cleaning that occurred Sunday on the Rock Island, Billy Wolfe, Boosalis, and probably Mopac and others. Often weekend snowfalls have to wait until Monday to get cleared from the trails, even though that makes cleaning less efficient after the use they get. That was not the case today. It was smooth, easy riding, unless you were not weather proofed with proper hand, foot, and face protection. Saturday I didn't have my Bar Mitts on the bike I was riding and I paid for it on the ride back late in the afternoon. The ride out was not cold, but things can change quickly on a long ride and I came back later than I had intended to with the weather that was coming in. Few things are more painful to me than hands (or feet) in that five minutes while they are thawing out.
It was great to see so many winter commuters turn out for our Commuter Club at Ploughshares last Friday evening. Keep riding, hardy souls, but watch out. It takes a lot of focus and experience sometimes to keep the rubber side down, so use your disgression and be prepared.