It's not so bad, really. As is normal, highs should be in the 40's, with lows in the 20's this week. How quickly we forget once we've had a few warm, sunny days. Trails did melt and dry off for the most part this past week. Even the Mopac and Murdock were passable, with just the usual places boggy and in need of a go-around. By that I mean the two places between 176th and 162nd, where water gullies across the trail, and further east of there, and the east side of the tunnel under 134th. On the Murdock it's mainly the area next to the Lancaster Event Center that's a mess. There was a tree down across the trail just east of there, and a horse had been on it, too.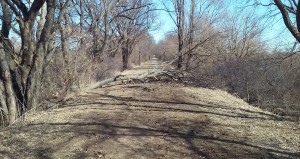 I saw plenty of trail users around town all week long on the hard surface. There are still piles of snow to be found, but I saw people in t-shirts and shorts, ear buds installed as if it were April. Wilderness Park trails are, obviously, still off limits for cycling, as those will take much longer to dry out.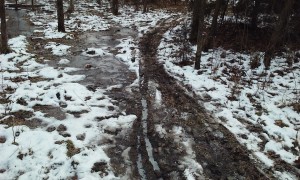 I know some of you went riding hard surface roads out of the city, and others hit the gravel exploring. Did any of you try it for the first time?
A few places are still a problem around town. The connection between 1st street and the Levee trail at J St. remains a mud hole when wet, but they did grade it he day after I took this photo.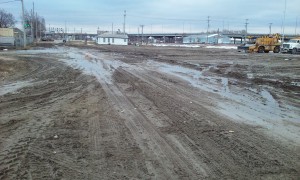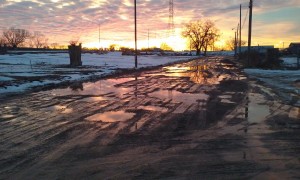 Also, The First Street Trail between Adams and Superior still looks like this after some weeks, but you already know this if you take it.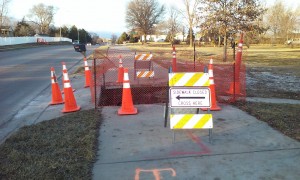 I'm enjoying the earlier sunrise and the later sunset. We're past the halfway point to equinox, which will be here before we know it.