Whether or not you like to spring forward, and I heard much bitter complaint about that last week, I do like the extra hour of light in the evening to ride in. Yes, I often ride before it's light in the morning too, but that's short lived and I have good lights. Another March change is the weather. March is all about getting your hopes up and lulling you with warm weather only so smack you back down to reality with snow and wind chills like we had last Saturday. I was a bike escort at a running event and got chilled. They really needed the three of us that were there, and could have used more to guide the runners. If I had just been riding I would have been fine making my own heat, but with all the standing around and waiting plus the relatively slow pace, it was hard to build up much heat. It amazes me how much more standing around and getting chilled can sap my energy than if I'd been on a long ride. There were several group rides that went out Saturday, to good reviews. They did not get too cold.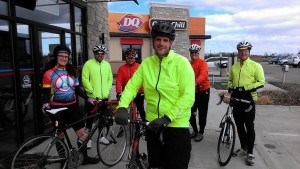 This week's weather is again expected to bounce up and down to extremes.
More March changes: the places that seemed never to dry out on the Mopac got a little help in the form of machinery and more limestone and are now completely fine. There were some gooey places on the minimum maintenance I rode, as there were in Wilderness Park, but it was all in generally in good shape.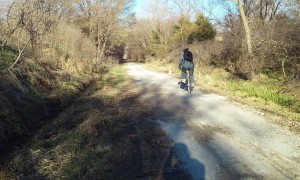 In the city, the concrete blocks on the Mopac trail coming from the adjacent retaining wall just east of 33rd St. were picked up. I hope you all ride with lights in low light, because running into a hazard like that or a tree branch can really ruin your day.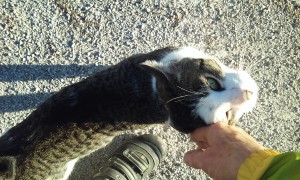 I hope no one's day was off to a bad start by slipping in the mud we woke up with one morning last week. The debris line across the Billy Wolfe next to the zoo showed to where the water had risen, depositing a layer of mud in the low areas of the trail and under A St. It had plenty of tire tracks on it.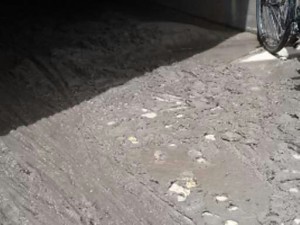 Keep informed of the weather this coming week. It looks like we'll get a little of everything March has to throw at us. And finally, don't forget Commuter Club at Ploughshares next Friday. You can get help registering for the National Bike Challenge, too.