The "ribbon cutting" has come and gone, and we love the N St. cycletrack, just not the lights and timing. We've heard a steady stream of comments like this since the soft opening in January. There's been a steady flow of bicycle traffic since then, (and even before) and we are excited to have such a great piece of bicycle infrastructure in Lincoln. Minneapolis may hold the distinction of being the only U.S. City making the world-wide bike friendly list of the top 20, which even those residents who rarely ride are happy to tell you, https://gearjunkie.com/minneapolis-best-bike-city-in-the-world at number 18, but we came in at number four on the list of the top ten new bike lanes of 2015 http://www.peopleforbikes.org/blog/entry/americas-10-best-new-bike-lanes-of-2015.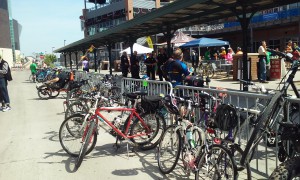 But we know it still needs a little work. From what I understand there's a problem with sensors, the bike counter, their installation, and getting them to be repaired. Sigh. There's also the traffic flow problem many cyclists take issue with, causing us to often spend more time stopped than moving through downtown. Aside from some lights being green for just three seconds, being stopped while motor and pedestrian traffic goes ahead is not a happy solution. I would like to see a flashing yellow arrow for turning traffic and also flashing yellow for bicycles proceeding across the intersection. Everyone needs to be alert to possible interaction.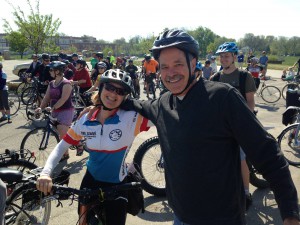 As more riders use the cycletrack, it's likely we'll get more favorable timing, but we need the numbers to make it happen. The problem with this is that I know a number of riders who just avoid the cycletrack because it's too slow. Or they use the same light sequence as the motor traffic, risking a ticket. We all want it to succeed, so I hope these problems get resolved sooner rather than later. These and the winter ice issues we had in a few places, leaving it like a skating rink. I'm excited to have the cycletrack and take it when I don't need to be anywhere in a timely manner, as it can double or triple the time it takes to get across downtown.
I know that families and others who will only come downtown on a bike in a protected bike lane now have what they've been waiting for. The rest of us will just have to wait a little longer until this verse of the last stanza of the bikeway dedication song comes true "Cycling through downtown with much more speed and much less fuss". See you on the bike path.