Since we're heading full speed into high season for riding and the National Bike Challenge, we were wondering here in the bike cave at mission control what businesses can do to help promote the Challenge and to motivate riders to bike more. Do you have some good suggestions? Ploughshare Brewing Company and Moran's Liquorworks tasting room both offer $1.00 off your first pint when you show them the NBC sticker on your helmet you wore riding there during the Challenge. Also, there are official Bicycle Friendly Destinations beyond the months of the Challenge. But what makes a business "bicycle friendly?" These criteria are listed under this very heading on our home page at bicyclincoln.org, but are there other things you think are essential, or that a particular business could be especially good at in this regard? We know by now that putting in bike lanes improves business along a street.
The Economic Benefits of Biking Cannot Be Ignored
But what would your vision of Lincoln as a bike utopia look like? What should a business, workplace, or destination in general possess to be classified as bike friendly? Bike racks are a start. Many don't know that a bike rack can be requested to be put on the public right of way free of charge next to their business.
The business just needs to know from enough of you that you want it, and that they can get one. That much goes for private bike racks, too. Some well meaning businesses, such as Walgreens at 17th and South and Super Saver at 48th and O have bike racks that were installed by someone not familiar with their use. They are installed so close to the building that the wheel does not fit through the rack. Others, usually grocery stores (Hy-Vee 84th and Holdredge), may park or pile things too close by. I appreciate their intention, but they need guidance.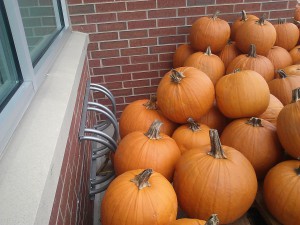 Personally, I'd like to see bike racks close to an entrance, and not in the furthest corner or least convenient area of the parking lot. And if I could really have it all, (aside from bringing my bike in with me) I'd want it covered from the weather. I would also like to be able to use it with a u lock, and not just with a cable.
Workplaces like to encourage employees to make healthier lifestyle choices, but what are they willing to do to make biking to work more attractive? I say creating rock star bike parking is a good start. People need to see that it's an option, otherwise it tends to be out of sight, out of mind. Of course, people need to use them so that the point gets across. When the bike racks are all full and more have to be added, I'd say we're on our way to creating a bicycle friendly city.