Many of you may wonder how it's possible to spend more time on your bike when every minute can seem like it belongs to someone else. Between work, food prep, getting kids off to school or picking them up, there are projects to tackle. There is home and yard maintenance and family time to catch up on. When can you squeeze any more riding in? To be sure there are times in your life when this is less feasible than at other times. I can always find a project that needs attention or housework that could be attended to, and I don't have any more hours in my day than anyone else.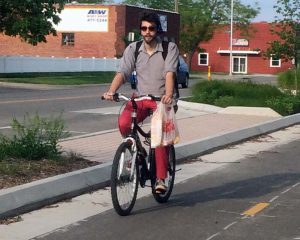 I get the miles in because I've been able to build cycling into my lifestyle. I have a job that takes me all over the city, almost always affording enough time to get from point a to point b. If it's a tight window I get my HIIT. Taking into consideration conditions like wind speed and direction, and in the winter snow or ice I know generally it will take me twice as long to arrive at a destination by bike as by car. Sometimes it's about the same amount of time. Plus I often have rock star parking.
I also do virtually all shopping by bike between work appointments or on my way home. Yes, you can haul big bags of dog and cat food and cat litter home by bike, watermelons and 12-packs too. Hint: keep bungee cords stowed in your panniers.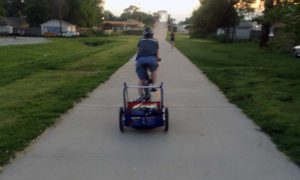 You can even go garage saling, and it limits impulse buying of large objects. You can go back for it with a car if you really need it. I draw the line at hauling lumber, but that's only because I don't have the right set-up. I don't have a cargo bike or a trailer anymore but I've seen that it can be done. I just view it all as a challenge to figure out. The added weight is great endurance training and it makes you stronger. You'll feel like you're flying when you go out on a dedicated ride without it. I don't worry about getting my cardio at the gym. It's built into my day, plus I get plenty of sunshine and fresh air.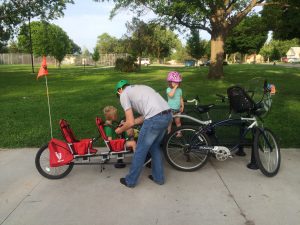 I have cycling friends who facilitate their kids getting to and from school and activities by bike. I encouraged my own to bike to work and school and to visit friends. I think the biggest obstacle to a cycling lifestyle is the car habit. Driving is so pervasive in our society that few consider the alternatives. There is usually a serviceable route to any destination at least in Lincoln. Try leaving your car in the garage and plan the time to take your bike instead. If you have route questions ask us here at bicyclincoln.org., or on our Facebook page. Chances are that if you're reading these words you are already riding to some of your destinations. As far as friends and family time goes, bring them along if you can. You likely won't be logging a lot of miles that way, but it's more than you would have had you not gone out, plus you're having an adventure and sharing the lifestyle.