We've all had those days, or weekends, when the weather is beautiful, all your friends are out riding, and you have to work or have a family event, or other such activity that prevents you from getting out and riding. Such was my weekend. I don't begrudge extra work hours because that's what puts new tires on my bikes and pays for that new shifter. And I certainly don't begrudge the family birthday and all the preparation required. Still, not getting in a good ride, or two or three is hard to take. So what do you do? I remember that I like riding after dark, which I don't do all that often since I'm not much of a night owl. It's good to have a few routes that you like to choose from for times like these. Nothing too complicated or busy. Trails tend to calm as the light is fading. I'm not a huge fan of riding gravel after dark, as I can't make out the washboards and loose gravel so well, but I will ride the few miles of 98th st. from the end of the Billy Wolfe near Highway 2 to the Mopac. Some like to ride Wilderness park after dark, using an extra headlamp along with a high lumen handlebar mounted light. My favorite routes after dark are the limestone trails.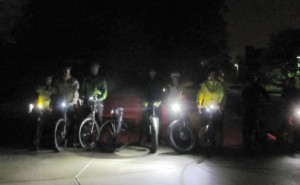 First though, make sure you have good lights. Don't ride ninja, all dark. You'd be surprised how many runners and dog walkers there are out after dark and before sunrise with no reflective clothing or lights. And don't use those wimpy lights that only allow you to be seen, and not see, as you really need to see what you're riding into. Aim them low though, and not up into other trail users' eyes. Strobe settings are disorienting after dark and I advise against them on the trails. I do like them at dusk and dawn on the streets however, when there's less contrast and you have to make sure motorists see you.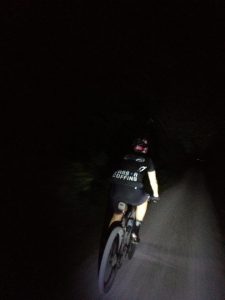 As daytime temperatures go up, riding after dark gains even more appeal. You can feel the rivers of warm and cool air as you move between groups of trees and low areas. The temperature is cooler and aromas are more intense. The Linden trees are flowering now, and I heard an herbalist say last week that the tea made from it's flowers is an "exaltant" and tastes like it smells, which is amazing. Funky smells are more intense, too. I went through some swampy areas last night that must have been teeming with microbial life.
So try to find a way to get out and ride even when your day, or your weekend, goes off the rails like mine did. You'll be glad you did. And get your minimum daily requirement of mulberries, they're ripening now!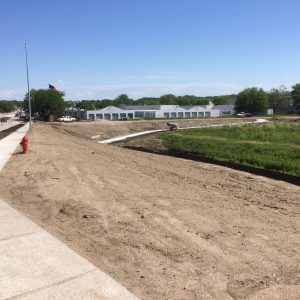 In other trail news, the new trail under 56th south of highway Old Cheney is shaping up, it shouldn't take long now.