The weekend before this last was one of the busiest for the riding crowd. Those riding in the Tour De Nebraska had just gotten back from their tour of beautiful north central Nebraska, their largest group yet, and the trail trekkers were heading out on their choice of short, medium, and long ride options around Lincoln that Saturday. By the look of the flood of images that streamed across my social media, a good time was had by all. Yes, there were a few crashes, but they're healing up. This last weekend saw social rides for the holiday weekend, and aside from Saturday's rain, we had great weather for it. Sunday I did a ride-by of Loma and the Oak Creek trail again, then Monday we re-visited the Steamboat trace, as it had been a few years since I'd ridden it. It's a good, short bikepacking trip for those who like that, and Brownsville has a campground.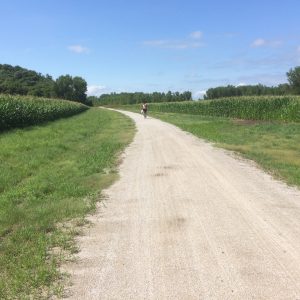 It can be challenging for those of different paces to ride together. No one likes to get dropped, so riding with someone faster can end up not being fun. It's also hard to slow down when your pace is just naturally faster. So what can you do so that everyone feels like they had a good ride? One solution is for the faster rider to take a heavier bike. In our case it solved the problem of what to do with the elderly dog, too. He couldn't be left alone all day, so we decided I would pull him in the old baby trailer, decommissioned from it's original use about 25 years ago and used for hauling in the recycling ever since. We cleaned it up as well as we could, put in some lightweight blankets to level out the bottom, located the screen cover, and off we went. When younger, our dog liked to travel in backpacks, and even panniers, with his head sticking out the top. (He weighs about 25 lbs) He wasn't so enthused this time however, and it took a few miles for him to settle down. Pulling that rig did slow me down. The 21 mile trail (25 if you ride to Cooper Nuclear Station power plant) was very soft and boggy from the recent rain and it was work just to keep up. The weather was beautiful though, overcast sky keeping the Peru flats from becoming the blazing inferno it can be.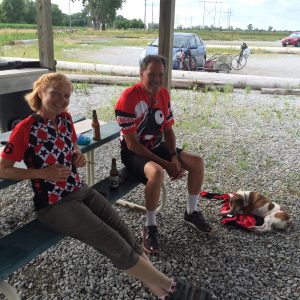 Brownsville, always a fun stop, is picturesque and full of tiny museums, and we always end up at the winery. I keep hoping they open up the pre-prohibition era distillery as a museum in the walled-up cave under the parking lot. There were a large number of bicycles covering the grass, and we later learned a group from Omaha had also ridden the trace a little earlier that morning. Returning to the trailhead later, we found a few of them relaxing and celebrating a birthday. Many had bailed on the return ride due to trail conditions, but the sun had come out and dried up the trail a bit so the return wasn't quite the slog fest it was going.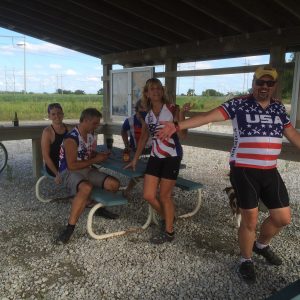 A segment of the Steamboat trace will be closed for construction beginning July 5. They are paving a problematic section beyond Peru that's especially prone to washouts, always an issue with this trail, one side often being bluff and the other near the water's edge. And while you're there, make sure to check out the carvings in the sandstone along the trail south of Peru.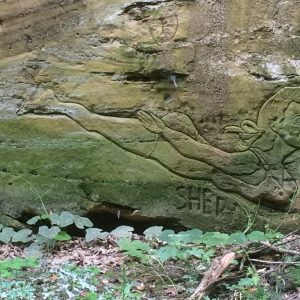 Wherever you spent your holiday weekend, I hope you got to spend some of it on your bike. Hot weather is returning, so take advantage of those cooler early and late ride times when you can.