It sounds like the State games Cycling event and Rapha 100 this past weekend were a success. Owing to other events, I was in Iowa and Minnesota and looking for opportunities to sample some trails even if it was only for a few miles. Though I really wasn't able to do more than scratch the surface, I did at least get a chance to sample a few out of state trails this past weekend while some of you here in Lincoln were riding gravel without me. The first small sample was the High Trestle bridge just north of Des Moines.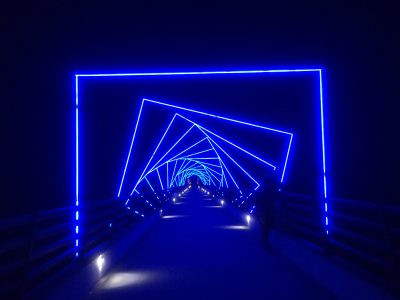 http://www.traillink.com/trail/high-trestle-trail.aspx. We stopped and unloaded at the trail head in Ankeny, only to decide we didn't really have time at that moment for a 40 mile ride. We quickly loaded back up to drive to a town closer to the bridge. Unfortunately, Steve hadn't check to see that his bike was tightened down and about 5 miles down the road, he noticed his bike was no longer on the rack. We turned around and went looking for it, but someone had already picked it up and it was gone. We decided to camp near the bridge anyway and found it is quite impressive after dark, when part of its sculptural element is illuminated. The bike never turned up so we went on to the twin cities area where he borrowed one.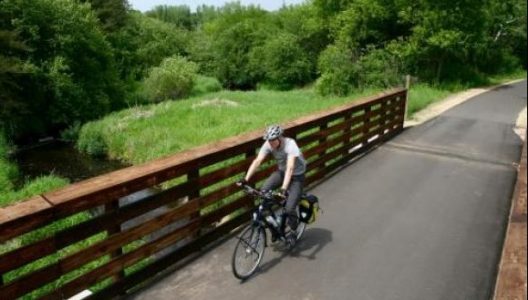 I've biked some of the Gateway trail, https://www.traillink.com/trail/gateway-state-trail.aspx before from Stillwater to St. Paul, and it's a beautiful, forested trail that's had bridges and connecting trails added in just the last couple of years. In the winter parts of it are used for snowmobiling. After checking out some new segments on that trail this year, we had the chance to explore a little of the much-written about Minneapolis trail system. It was not so easy for us to find an easily usable trail map on line, at least where I'd looked, so we didn't have quite the experience we had hoped, but you can see a little of it here: www.exploreminnesota.com/Pedal-MN. We did get to ride some of the famous bike infrastructure though, which is something Lincoln can aspire to. The Grand Rounds, http://www.fhwa.dot.gov/byways/byways/2243/maps is a series of inter- connected bike trails running through parks, along the river, and connecting to the on- street bike paths running through the U of M campus.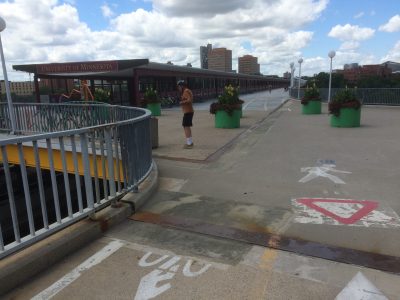 Street trails separated by paint are common throughout much of the city's more traveled areas. The mid town Greenway trail is a rails to trails project, http://www.traillink.com/trail/midtown-greenway-(mn).aspx. and was being used heavily at the time we were on it. Many of the trails link with the light rail system and in places such as the U of M campus, whole streets have been given over to only bicycle and light rail traffic.
It was only a quick trip and a small sampling, but there are some great trails out there, so when you have the opportunity, take it and ride. Just don't lose you're bike.