It's been almost a month now that Steve and I have been in China, teaching English at Zhoukou Normal University. In that time I've bought a bicycle and have been exploring. It took quite a while before I figured out how to record rides and log miles since google products including maps don't work here, and apps like Strava that use them don't either.  I'm using the Chinese Baidu map that has a measurement feature and converting the kilometers into miles. I do not read Chinese, so I have to compare with the apple map on my locked iphone for place names.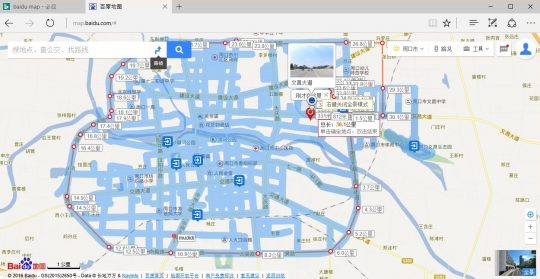 My bike is a Giant Escape, for Zhoukou, a high end bike. The ride home from the bike shop was one of the most surreal things I've ever experienced. I wish I'd had a Go-pro. I felt like I was riding through a distopian sci-fi movie. The high end bikes here would be lower end bikes in the U.S. but the Escape will do fine.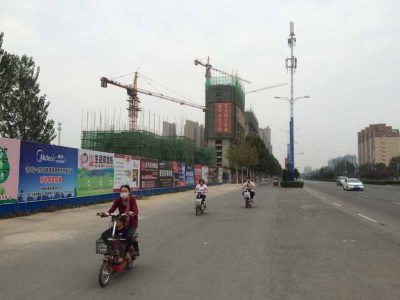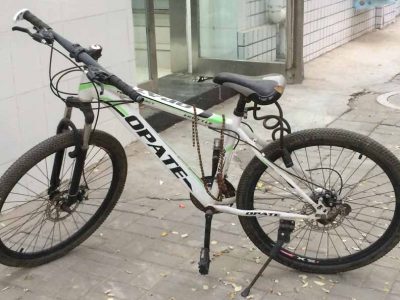 Most of what people buy from the bike shops are urban mountain bikes. By far what is most commonly used for transportation is the electric scooter. Gone are the grandparent's days of 100's of bicycles crossing an intersection at once. Few of my students own a bike.  What you see for bicycles on the streets include rusty old road warriors, two and three wheeled cargo bikes, single speeders before they were cool again, small-wheeled foldables, and no road bikes. All handlebars are flat or uprights with occasional butterfly bars. Seats are used too low, approaching BMX height at times so they must be a chore to propel. Riders never stand up to pedal.  As common as electric scooters are, three-wheeled cargo bikes, both electric and sometimes pedal powered are used as trucks and cabs. With most bikes being heavy and a chore to pedal and light weight speedy bikes pretty much unknown, I can see how many could think their only other option might be a scooter or electric assist. Many of the major streets have "frontage roads" which are the bike lanes, separated by curbs and landscaping. Most of the bike, scooter and moto cargo traffic uses these, but you have to watch out for people drying corn, peanuts, soybeans, sesame or unidentifiable crops in them. This time of year even some streets themselves have been taken over with harvesting. They may also get used as outdoor activity areas in the evening by groups of women doing choreographed exercise, kind of a sedate Zumba. In busy, more commercial areas they get so congested it's best to take the street.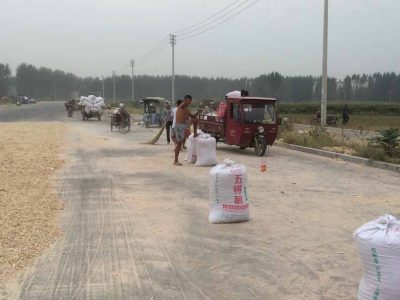 On the roadways and cycle path/frontage roads, traffic rules are only a mild suggestion. People go any which way they want, two-way on both sides of the frontage roads and with no signals, no intentions shouted, no helmets, often no lights, and as far as I can tell, often not looking left or right as they pull out into traffic. I know I left skid marks once. Babies and children are frequent passengers. The only way there isn't mass carnage is that speeds are low and speed bumps and honking by cars are abundant. Meeting another rider is often a game of chicken, though the tendency is for the oncoming rider to cross over to your right rather than your left. No test is required to operate a scooter and there seems to be no age requirement, but you have to register them. There is very little theft, and many bikes aren't locked up at all, though we use a bike corral with an attendant when we go downtown. It costs 1 RMB, or Yuan, and there are 7 to a dollar.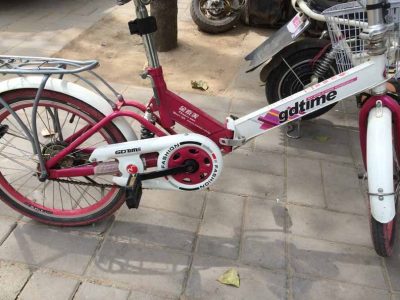 There is a bike share program, but I've yet to see one of them being used. Also, I've seen a group or two of sport cyclists on my evening rides on major but lightly traveled streets near campus. I rode through them one evening and they gave me a good workout catching up to the leaders.
I'm looking forward to getting to know them a little better. Maybe one of them speaks English!