Our recent trip to Yunnan province was not a biking trip, but we did manage to bike a few days. In Kunming while looking for rental options I did come across a bike tour package from Bike China Adventures that does 1-2 week tours from April to October. It included an interesting sounding one in Yunnan, but we were traveling off-season and were figuring in a traveling companion who interpreted for us so maybe some other time.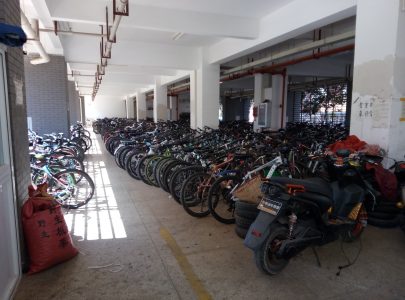 We visited our student friend "Charlie" and I found more humane bike storage at his university in Kunming than I've seen at Zhoukou Normal University.
The bikes are stored in a parking garage, are numbered, and have to pass through check-out to make sure you have the right bike. There is a self service bike maintenance area to keep bikes rolling and in good repair.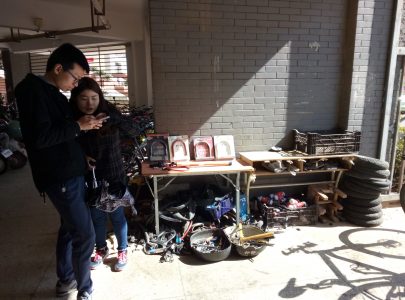 On New Year's eve we borrowed bikes from Charlie's roommates and got in a nice ride along the shore of Dianchi lake, adding a couple of small towns in a unexpected detour. I had noticed that there didn't seem to be many bicycle commuters on the streets of Kunming, about one for every 50 electric scooters, an even lower ratio than Zhoukou. On the lakeside trail however, we saw many out for a ride.
Eventually we had to return the bikes and take the sleeper train to Dali, an ancient town with a thriving tourist industry near the shore of lake Erhai. Bike rentals are common and it was easy to rent them for about 3 dollars a day. We are not talking high end bikes here folks, but they got the job done. You have to check them out though, they may not be well maintained. After looking over the ancient town we took the lakeside road which wove through farmland and villages unlike those I've become familiar with in Henan province. Yunnan is home to 20 of China's 56 ethnic minorities and has beautiful blue skies and fresh air, though the traffic can be just as maddening.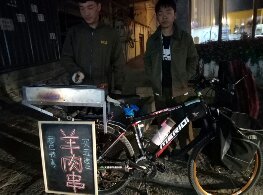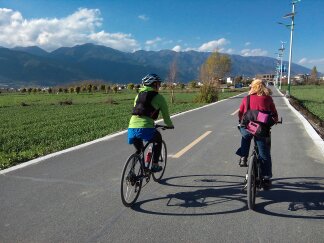 We met up with another cyclist from Singapore who was spending a couple of weeks at this higher altitude to get an edge in an upcoming race he was running in. Our student friend Bamboo Sun joined us the next day so we rented bikes again and explored more. One thing I was reminded of with the large amount of walking I was doing when I wasn't lucky enough to be on a bike is how my feet were not used to it. Had I been able to ride more I wouldn't have been such a tenderfoot walking. Too bad I couldn't upload those miles to Strava. They were impossible to map and I haven't been able to use GPS with any of the mileage tracker apps I've tried here.
I did not ride on the Tibetan plateau In Shangri La, but at 4,100 meters just climbing stairs sometimes got my attention and on the bus they'd been distributing cans of oxygen to everyone. The Singaporean cyclist said last year he had tried to run five km there and it had taken him almost three hours because of the lack of oxygen. He said 80 year old Tibetan women were passing him.
There were great opportunities for bike rentals in Xishuangbanna province in the far south of Yunnan province, but strangely none available at the botanical park or other areas. I don't know that I would ride the roads in that prefecture. Just driving seemed dangerous. But the parks would have had some good biking.