Holiday season in high gear in China and even if I didn't know the date (begins January 28, or January 1 Lunar calendar, lasting a week) I'd be able to know by the appearance of larger village street markets, fairs and crowds. Businesses close down so that employees and migrants can travel home beforehand. School is out of session, streets are being swept, fireworks bought and parade floats finished.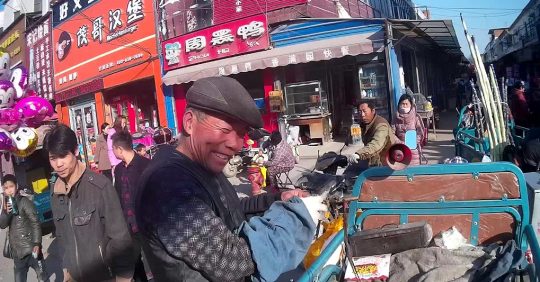 It's been a great time to ride my bike but those street markets get so crowded it's sometimes difficult to make my way through. Also, I'm always looking for unexplored territory to ride so this last week I decided to see about the levee road east along the north side of the Yinghe river beyond the new riverside park construction.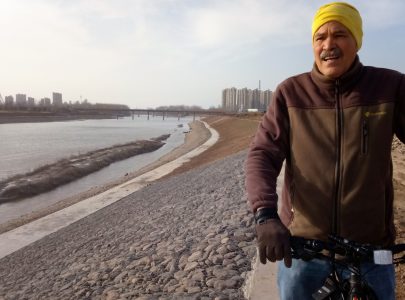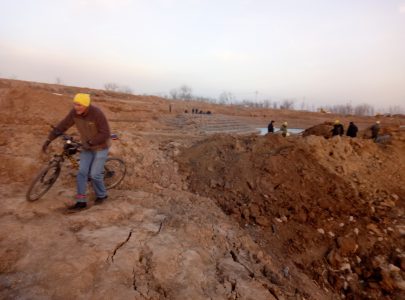 They don't do things small here and this project makes the Antelope Valley project look like a scale model in comparison. Steve and I rode and carried our bikes through the construction in progress then out the other end before finding an easier route. Past the end of the construction the unpaved single lane levee road continues along the river through villages and farmland. I had previously ridden the levee road on the south side of the river through park construction but it eventually became too rutted to be very rideable without a mountain bike. Much of the north road is closed to larger car and truck traffic, making it even better. The land between the levee and the river is now farmland and forest. Previously existing buildings in this zone  have been deconstructed and the bricks stacked up waiting for re-use on the other side of the levee. The tributaries have flood control gates and there was evidence of of barge traffic by the terminals and loading facilities we saw along the river, even if I didn't see any afloat.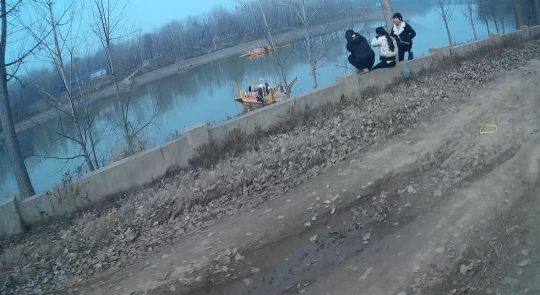 I had a suspicion that if we stayed on the road long enough that we would come to the bridge crossing from the "mud and dust" loop. I got a flat on that route last week and discovered that truck traffic is now banned from that truck-swallowing pothole segment that was especially bad. It's about time. Sure enough, eventually we popped out at the same bridge. Many barges were anchored on the other side, which just deepens the barge mystery of why I haven't seen any at our end. I'm saving continued exploration beyond the bridge for another day. Steve wanted to check out an interesting looking village on the way back full of holiday markets, so we made a detour and took in the sights.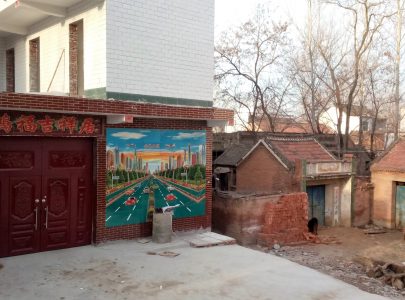 Some of these towns are becoming more modernized with new construction and paved streets but along the levee it's not hard to see things as they have been for a long time. As long as the road isn't muddy I now have a new favorite ride.