This past week I've been exploring the levee roads upstream from Zhoukou. The Yinghe and the Shahe rivers meet on the western edge of the city but I'd never found the entrance to a levee road west of the beltway. It turns out that tributaries and topography shift them but I finally found some of the thin gray lines on the map and figured it out.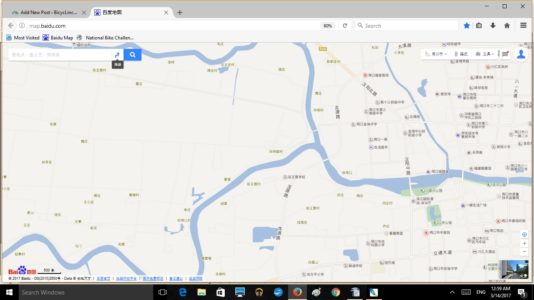 There's nothing quite like having new territory to explore so I've spent time the last three days doing just that. I suspected the Yinghe would cross the highway on my spicy soup loop to Xiaoyaozhen and sure enough it does. It goes right through the heart of orchard country and in a month or less should be in full bloom.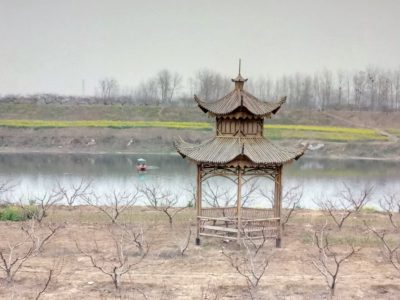 I also learned the north side of the river especially is best traveled on mountain bike because those ruts really do get old after a while. I cut over to the other side at the highway and found that it is slightly better. That left the Shahe to explore. I didn't have time to go as far as I wanted to, but have been pleased with what I've seen so far. I even got to cross a rustic pontoon bridge where I was charged a 2 yuan toll ($0.28). Actually I paid 1 yuan because the rope barrier mover didn't want to make change for my 20 yuan note. There are some tourism points of interest, a couple of possible temples and major water engineering projects so I know I'll be riding that section more. It's even a little smoother, almost approximating a lightly rocked road. I think I know where that river will come out eventually, but that is a ride for another day. Every time I make a connection like this the "GPS" in my brain is able to put more pieces of the puzzle together and I better understand how the roads and rivers in the region fit together.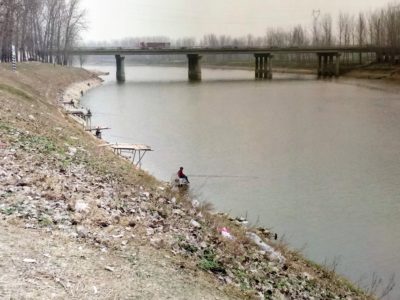 Levee roads are some of my favorite rides. It's fun to watch the river and you're high enough up to be able to see more of the countryside and the lay of the land. I ride through neighborhoods and villages I never would have seen otherwise. The only thing I really don't like is how the more remote areas in the city are used as illegal dumping sites.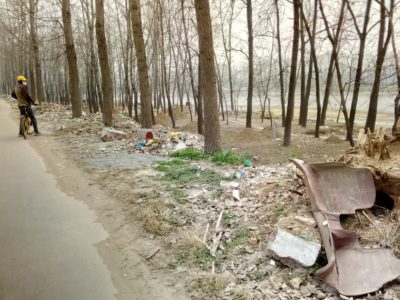 I saw manufacturing, demolition and construction waste, random agricultural waste, and even a bio-hazard bag yesterday. It's a good thing I ride with a mask on. I hope they start getting the waste problem under control soon so that those using the levee roads such as the fishermen, farmers, local residents, and even bicyclists can have a healthier and more enjoyable experience on the otherwise beautiful levee trails.