Have you ever had a route you thought you knew, only to find that you had no idea what was only a few blocks away? That happened to me last week. I thought I had finally established a good Nuwa temple loop to the north when I saw some spires poking above the rooftops of Xihua. I went closer to investigate, and was shocked to discover a whole previously unknown temple complex only a few blocks away from the corner I usually turn at. I don't know how I missed it.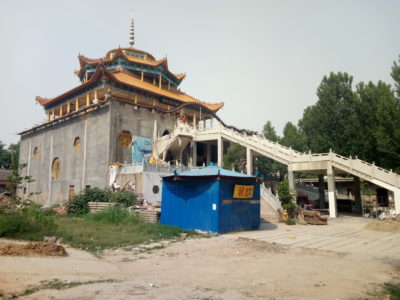 The other Nuwa temple complex I know is probably 15 km to the northwest of there. Nuwa and Fuxi, the Isis and Osiris of China, date from neolithic times, so it's hard to know the real history of these sites, though the other site claims to have Nuwa's tomb. This second site is the Nuwa City site. These temples also seem to be more cultural than historical, containing an additional mix of various historic and Buddist figures. They are also home to a colony of temple "guardians" who sleep next to them and sell incense and facsimiles of golden "treasure", folded paper for you to burn as offerings.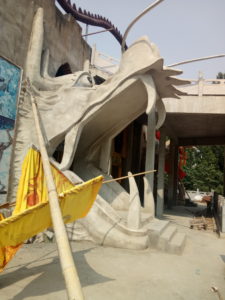 The Nuwa city site is also home to a large new unfinished temple apparently being constructed on a pay-as-you-go plan. I've never seen anything like it. You enter the main level through one of two giant dragon mouths. After exploring this complex I went northwest to the other one, looping around back to Zhoukou.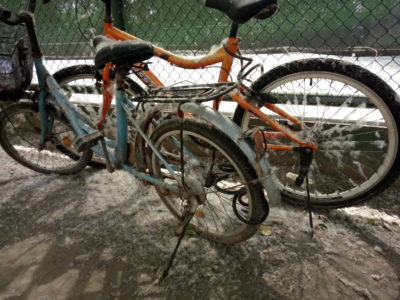 The temperature was hovering around 100 degrees so I was glad I had shade about half the time from the poplars lining the roads. I was also glad they are done seeding. The millions of poplars, a close relation to the cottonwood and planted for their wood, has made wearing a mask necessary these past few weeks so as not to breathe in the cotton.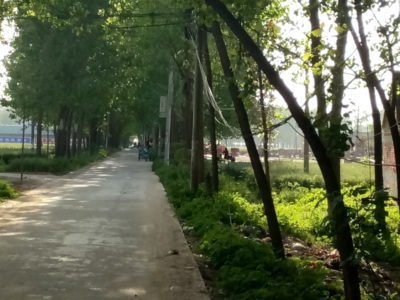 Villages come by frequently enough so I don't have to worry about running out of water in the heat. Bottles cost one or two yuan (14 or 28 cents), depending on the size of the town. Food vendors are often available as well, so you won't go hungry if the choices appeal to you. I tend to be picky so I usually pack my own snacks.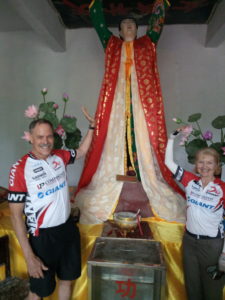 Sunday I went back with Steve to show him the new site and we had several "tour guides" showing us around, taking photos, and offering explanations which we unfortunately couldn't understand.
We seem to know more cultural sites in the region by now than any local resident I've talked to, and all by bicycle. If this last week was any indication though, there are more waiting to be discovered.