I thought by this time I'd have been out to re-visit some of my favorite bike haunts. My plans have been thwarted by the fact that it's been raining every day and I know better than to ride any dirt levee roads when it's like this. The hard surface roads can be a mess too, so I got some long overdue fenders yesterday.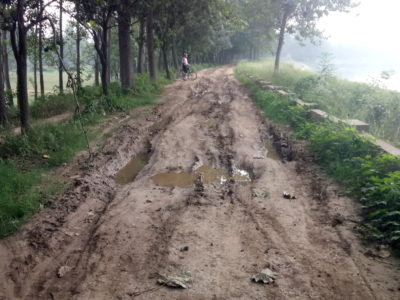 At least between rains we've gotten to see how progress on the new park along the river is coming. It's mostly finished now and waiting for the landscaping to grow.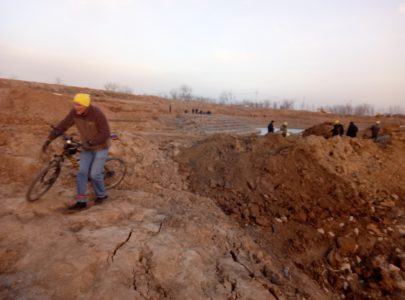 I expect many here in Zhoukou will take full advantage of a place they can go to run in the grass and see nature up-close. There are few parks here and the ones there are tend to be used heavily. It's amazing what that many feet walking can to to an area, so I hope most will stay on the paths. The foot traffic wear is not something I ever saw on this scale in the U.S. One exception here is the "ecological" park, where I hardly ever see anyone. It seems to have gotten attention and new amenities maybe ten years or more ago, but nothing since. It has a lake, two scenic bridges, and a roadway/pathway, but it's not maintained and is kind of a mystery. It is nice for a short ride without having to dodge people.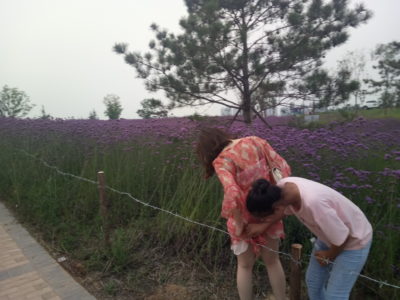 I often ride the river road in the city to get to where I'm going, and some areas have a thin strip of parkland, as space allows. I've heard the new mayor wants to expand them, which would be great. These are important social areas, dotted with adult playgrounds of exercise equipment and sometimes vendors. In the evenings there are small groups of men cracking whips, "square dancers" doing group exercise and troops of organized walkers. These troops usually have someone carrying a backpack sound system and the larger groups may carry a group flag. They range from a few walkers to over a hundred and they usually wear matching t-shirts.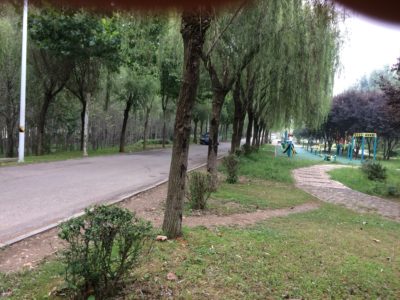 I haven't seen the loosely organized group of cyclists yet this fall, but that doesn't mean they're not out there. They mainly seem to wear jerseys from the shops where they bought their bikes. You get a free jersey and other swag like bottles, a helmet, and lights with your bike purchase. I see the Giant riders, the Merida folks, UCC, and a few of the other better domestic brands, but I don't recall seeing riders from the Trek shop. That shop moved or closed their doors last spring.
Weather patterns here tend to be slow moving, and this has been going on for about the last two weeks I'm told. It looks like it will continue for another week, then the temperatures will shoot up, Surely by that time I will have gotten some decent rides in, rain or not.