I finally did the ride to Luyi I'd been pining for since last spring. It's like riding to Omaha and back, so I had to reserve a decent chunk of time. The pre-ride scouting I did last Thursday proved the route I'd planned was a little sketchy, as I ended up on different roads than I'd intended. County road signs are "low key" here, the number often not marked at all or, of course, in Chinese. If you don't know what to look for, you might get on the wrong road. I did. I realized later while looking over the recorded route what I did wrong, and made mental notes. Unfortunately I was still fine-tuning and triple-checking it Sunday morning so I got a late start. I knew I'd be coming back in the dark, but I brought my good lights back with me to China this time after suffering with the not-quite-good-enough lights I bought here with my bike. I haven't been able to map routes on Strava beforehand because the roads I ride are often not on the map.

I checked the air quality before going out, and Sunday it was not pretty at 153 (unhealthy air quality). I ordered a different brand of mask this fall. 3M cool-flows are supposed to fog my glasses less, so I thought I would try them out, and I think they do fog a little less. I have to air them for two weeks before using because of a plasticky smell the Honeywells never had. The smoke was from burning agricultural waste and who knows what else. I saw piles of corn husks going up in flames and trash smoldering.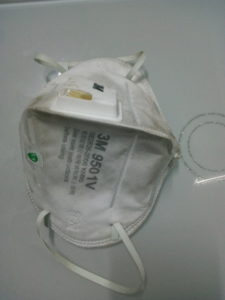 Luckily, Sunday morning traffic was lighter and I didn't even get in a traffic jam at the end of Wenchang road. They are building a large new highway extending past the T, so I predict construction delays for the foreseeable future. Once I got on the little country road things got more fun. I saw an inflatable "wedding chapel" and ensuing parade of the newlyweds and guests led by a truck with an aerial fireworks launcher, a must for all weddings here.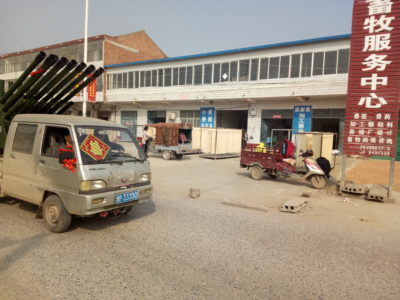 It's common for traffic to get backed up by lumber trucks unable to pass each other on the narrow road, or slowed down by three-wheelers, farm machinery, and bad road surface. I can usually, but not always, get around them. The road passed through innumerable small towns and villages that seemed more hard-scrabble the further I got from the city. Many people were out working in the fields, and the seed and farm chemical stores were doing a brisk business. The single-row planters (?) made from a bicycle wheel and handle bars are my favorite. I didn't miss my turn this time and made it to Luyi without incident. As I got closer to Luyi I noticed that there was quite a lot of new, large, and fairly opulent construction featuring an unusual number of tile murals in contrast to the earlier leg of the trip.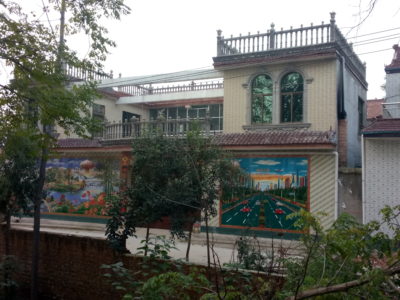 I got such a late start that I didn't have time to see Lao Tse's giant statue or anything else in Luyi this time and had to be content with just a section of the ring road before looping away on the highway.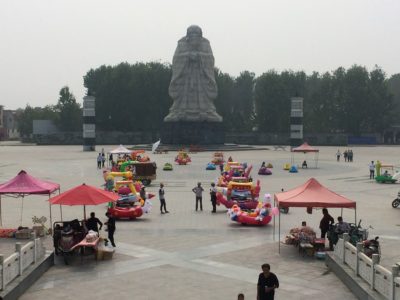 My mistake on the way home was not double-checking the highway route I took a year ago. I didn't want to backtrack the same route, and knowing it would be getting dark, decided the highway with wide shoulders would be the safer choice. When I got to a highway intersection I took it and didn't see my error until I had gone too far to turn back. I realized that it was going to intersect with my previous route out, so I just picked it up there and headed back the same way for the middle third of the ride to Huaiyang. From there I was in well-known territory for the dark ride back.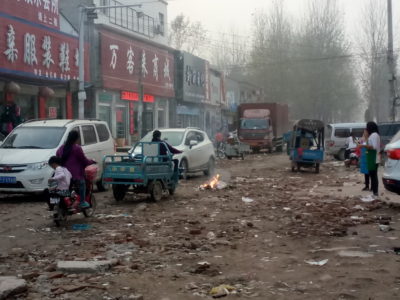 All in all, a fun ride, though today I feel it a bit. My recovery rate is not as fast in China as in the U.S., and I'm not sure why. I think the reason may be that I don't have all my favorite recovery foods here.
The next time I ride to Luyi I'm getting away earlier and seeing the sights, and I think I'll keep the same route, mistake included. Maybe the air will be cleaner and if I'm really lucky Steve will join me, though he said he'd take the bus.