After last week's long and exciting ride to Luyi I was ready to explore more new territory. On the longer rides, you can notice a real shift in local character and cuisine. There is a snack, or variations of it, I often buy to refuel that can be found most anywhere I've been. It consists of a pita stuffed with any of the following: marinated tofu skin, boiled egg, kelp noodles, seitan, hot dog or pork. Strangely, the road to Luyi had only the hot dog variation (no thanks), until I got back to Huaiyang.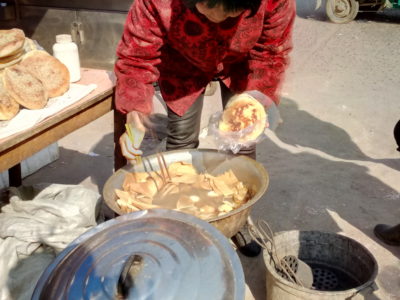 Thursday I rode to Molingzhen, hometown of our Lincoln house guest from last summer, Taggy. I suspected there was mud yet on the levees, so it was highway riding again for me. Luckily, it was less busy the further away from Zhoukou I got, and I only had to be careful of the usual harvest hazards of soybeans, corn, or peanuts spread out to dry. That and the broken glass from the bottles often set out along the edges of the drying harvests that had been clipped by motorists and broken.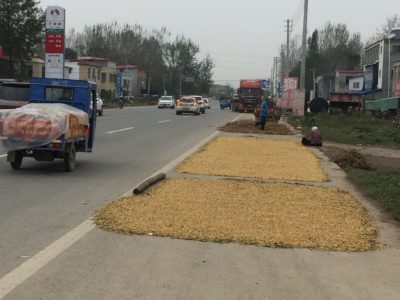 I got too close to one of those and did get a sliver of glass in my tire. I only went as far the outskirts of Molingzhen because of time constraints, and got lunch at the first cross-roads. Not having time for the local stretched noodle soup, also a regional favorite, I went with the usual pita combo. There have been times that I've felt if I stayed around any longer I might cause a riot. This was one of those times with all the people rushing over to stare at me, incredulous. I'm a  unicorn.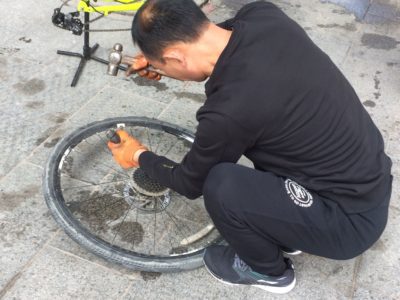 Sunday is my other day off, as I teach half the day on Saturdays. I decided to ride to Luohe, though my bike had been making some strange sounds and slipping some. Mr. Li couldn't find the source of the problem, maybe the derailleur screws needed to be longer, he thought. Steve decided to accompany me as far as Deng Cheng, along the Shahe levee west.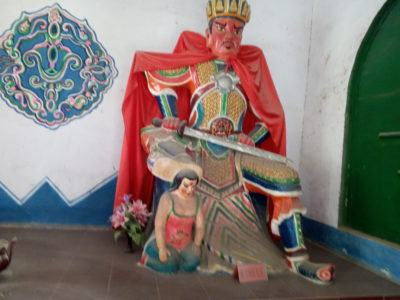 It's the closest thing to a tourist attraction in that direction, with commemorative statues of an ancient emperor and his horse, and a Qing dynasty manor house in much need of repair, and a temple. It has been under restoration since last winter and doesn't look like it's going to be finished any time soon. I still haven't seen the inside. We toured the town a bit, then I headed to Luohe, and Steve rode back to Zhoukou. I had never been past the turn off for Xiaoyaozhen, but fortunately the highway was new from there to Luohe.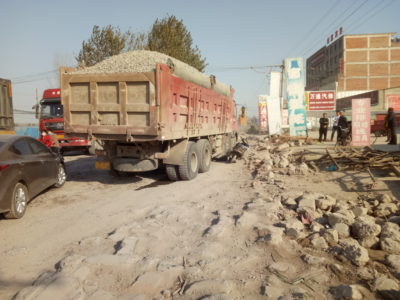 The corner of the city I rode into, (it's about the same size as Zhoukou) consisted of a large area of new high-rises, and few people or open shops. I was very hungry by that time, and decided to try my luck at the wholesale produce market I'd ridden by on the highway. Luckily I found a small strip of lunch stops along the back and a wonderful rugonmien, a noodle, beansprout and tahini dish. That fueled me for the trip back, a good thing because no sooner had I gotten back on the highway, I started hearing a snap, crackle, pop and felt the crank arm shimmy. I've ridden more than one bottom bracket to death, so I recognized the signs. I had about 35 or 40 miles to go to get back home, and a sizeable part of that was rough road. I figured if I kept my cadence and power as even as possible and tried not to shift, as I'd also been having trouble with slippage, I might make it. Luckily, it worked and I made it home.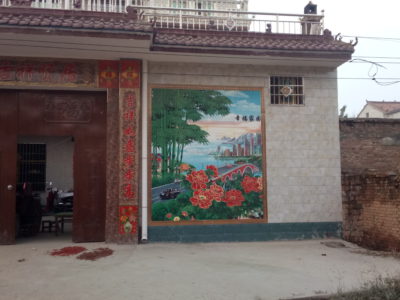 Tomorrow I take it back in to Mr. Li, and I hope he can get the problems taken care of. On long rides it's especially important to have everything working like it should.