Imagine our surprise walking out of the west gate of campus (yes, it's a gated campus) Sunday morning to be greeted by several hundred gleaming new blue and white dock-less bike share bikes! I took a few photos and thought I'd count them after our trip to the gym. I didn't think that an hour later three-fourths of them would be gone, already in use. Throughout the day, everywhere I turned around campus I saw pairs and flocks of the bikes. This evening we rode out the South gate and saw a couple hundred more stationed across the street. Zhoukou had a small bike share already, but I only saw anyone using them a couple of times. Some students have bikes, but they are left out in the rain and most don't get ridden much. I suspect it's partly because the friends of the bike owners don't have bikes. I often see riders with a passenger balanced on the rack.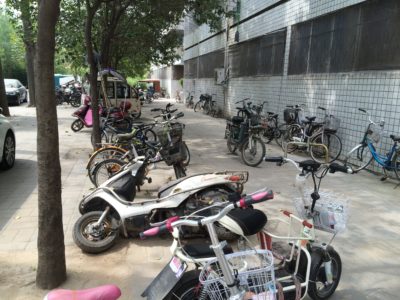 Access to a bike will expand the reach of students exponentially. The provisional west market, though popular, is being downsized as new storefront spaces in the apartment blocks going up are finished. The older neighborhood attached, and the businesses in it are also slated for demolition. I think that's the real reason for all the demolition everywhere. To make people and businesses move into the new high-rises. Students may need to go further afield for shopping and restaurants, and get to attractions like the new riverfront park.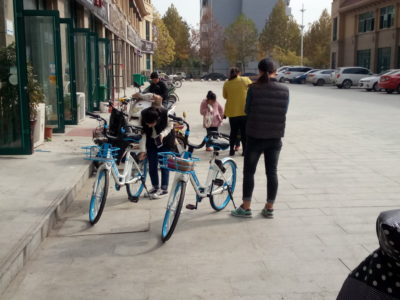 Also, last year an exercise program was implemented by the university. It was decided that the physical fitness (or lack thereof) of the student body had become an issue, so students are being required to run daily. Three km for males, two km for females, unless they have a job (most don't). The bikes will help them stay active,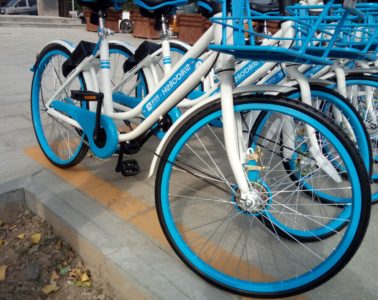 These "Hello Bike" bikes are not the quality of the share bikes coming to Lincoln. These are essentially "throw-away" bikes, but hopefully they'll get the job done. I've heard they are comfortable and easy to pedal. I do not expect anyone to try to go on a long ride with me using one of these. They are 20" single speeders with a formidable looking basket in front. That's essential for picking up all those on-line purchases waiting for them at the express delivery depots.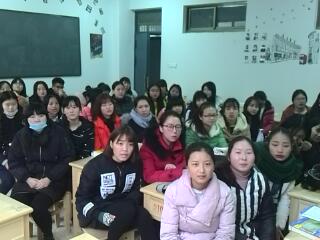 The bikes are unlocked using an app and are micro chipped. They are free for college students, sophomores and up. I just found out the freshmen do not have free bike privileges. Maybe they are considered too inexperienced, or maybe they want to keep them on campus. Freshmen are required to spend each evening studying in their classroom. All students use a homeroom for most of their classes, and the same classroom of about 50-60 students stays together for their entire college career. With every evening spent in study hall, the freshmen wouldn't be riding as much as the upper classmen anyway.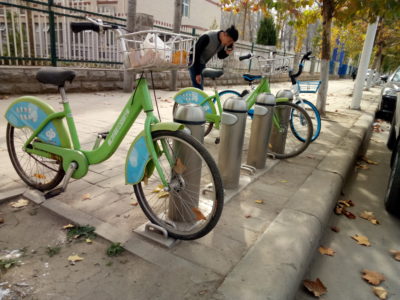 Non-students may use them by putting down a 199 yuan deposit ($35.) and paying 1 yuan for each hour over the first free hour. Cheap. However, anyone may scoop your bike after you've arrived at your destination and locked it. If there's not another one around you could be stranded. There's no hiding one when the app tells you where to find them.
I saw one of the gate guards shooing a child on one of the bikes away from the gate, telling him to leave it outside. They may not be allowing the bikes on campus any longer (the campus is crowded already), or being picky about who can ride them into campus.
It's too bad these bikes weren't available when I took a class to the Zhoukou museum last Friday, it would have been much more convenient.