I went on some rides this week that I'd been wanting to re-visit. Thursday I finally got all the way to Yuan Shikai's historic manor, after running out of time last week. I found not only that the three km road leading to it is being resurfaced but that the manor is closed for restoration as well.                           https://en.wikipedia.org/wiki/Yuan_Shikai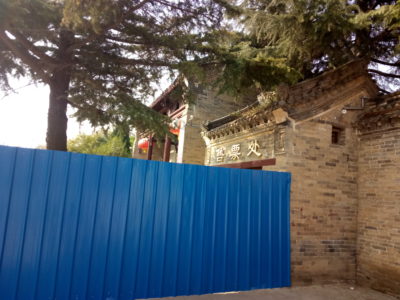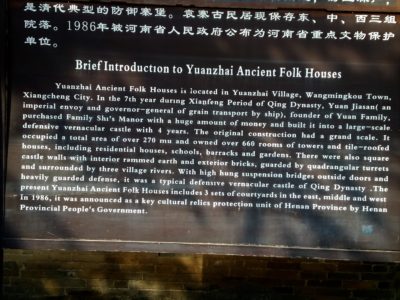 It's a good thing we saw it last February. I did notice the displays then were in need of restoration. As is often the case here, "closed" is a relative term. Especially for bicycles. To access the milled roadway I could ride through the wool processing compound next door. I stayed away from the road workers and they didn't seem to mind, as other bicyclists were doing the same.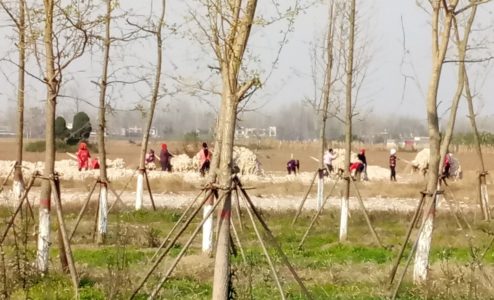 I took a few unintended detours on that trip. The earlier alternate route for bridge work through a village wasn't marked, taking me far afield, so by the time I got back home I'd ridden a hundred miles. A good day's ride. My Chinese Meizu phone seems to have issues with Strava that my (lost) iphone never had. It closes the app because it thinks it's drawing too much power, when it's really not.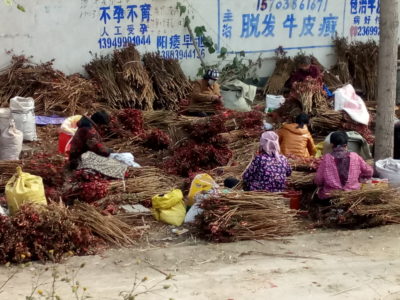 My Sunday ride this week was my old Xiaoyaozhen loop, with a few twists. It was another beautiful day, with highs to almost 60 degrees. The air wasn't as nice, but I have masks for that. It's pepper picking season, making for picturesque pepper picking parties of people pulling peppers (sorry). I wasn't expecting the truck fire just outside of town. I have no idea what happened, but people were keeping a safe distance, for once. I was able to detour to the levee road and take the back way in to Xiaoyao, by far the most beautiful route with a view of the pagoda across the Shahe river, if you don't mind rutted dirt. I had been tempted to let a little air out since Mr. Li insisted on topping off my pressure at the shop, as it can make for an extra bumpy ride. With the pumps we have at home it's not possible to get the kind of pressure he thinks I should have, but he doesn't understand that I also ride rutted dirt roads, so I think the lower pressure is fine. The pressure he gave me last time was such (with no tire gauge) that I had a blowout 15 minutes after I left the shop. I also get a tube seam flat 50% of the time the next day after he tops off my tires, as I did this time. I think the tubes here are more likely to suffer seam splits than in the U.S.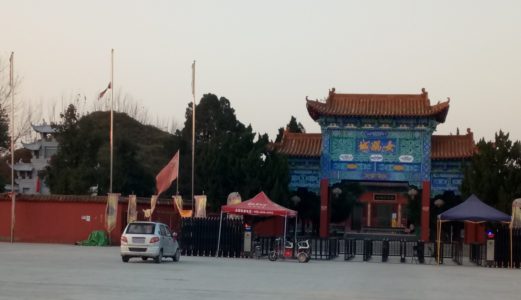 A week ago Sunday I took a later afternoon ride, reaching Nuwa city at sunset. I couldn't avoid some glass on the way back, which set me up for a flat after dark. I think Zhoukou's a long way from having tubeless options, but it sure would be nice. You'd think with all the practice I get fixing flats I'd be faster at it than I am, but my travel pump is tiny.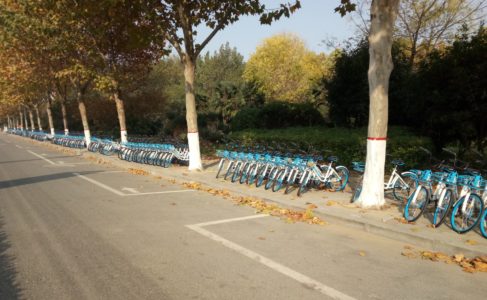 As far as an update to last week's story about Hello Bike, they are spreading throughout the city like wildfire. There may be a thousand of them. They just aren't allowed on campus, as it's too crowded already. It has hugely increased the student's range for shopping and entertainment, though there are also buses, taxis and the Chinese Uber- Didi. I have seen the bikes downtown, and also ridden by non-students. Apparently they start new bike shares by college campuses because the students are more likely to try new things and not have their own transportation. So far it looks like a resounding success.