I've gotten into a pattern of riding to smaller cities in the out-and-back-in-a-day range. This week it was Dancheng on Thursday and Shenqiu on Sunday, both to the south-east. I have students from both of those cities. It's interesting for me to see if I can sense a regional difference to a locale, and the route used to get there.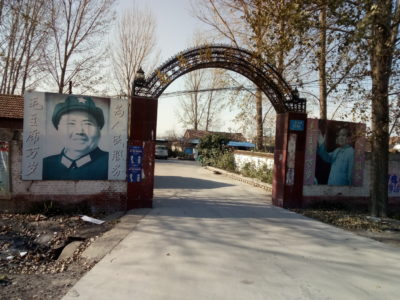 I have a couple of indicators. What do they make their pita sandwiches with, and do they have a Dico's? Dico's is a fast-food sandwich chain, similar to KFC in China. I can reliably get brewed coffee there and they have clean restrooms, though the Dancheng Dico's lacked one. That demoted Dancheng to a ½ Dico's status. I found good hui mian on the street though, which made up for it. It's a regional noodle soup specialty. The pita sandwich I bought on the street was standard tofu skin and egg, with a nice hunk of kelp. After looping through downtown I headed back home on he X015.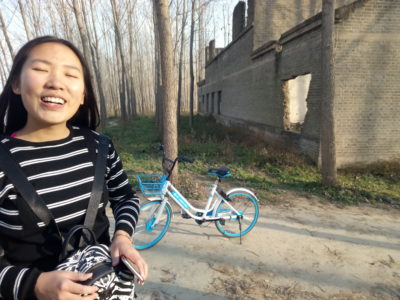 Saturdays I only have the afternoon free, so I try to go on shorter rides with students. "Sunshine" and I went to the ruins of Two Dragons temple east of Zhoukou on the Yinghe river. It's a standard destination for us take students. We go through the riverside park and along paved levee almost all the way, about 17 miles round trip. Sunshine rode a Hellobike, finally getting one outside the west gate when someone brought one back. None of the five already there unlocked when scanned. Hellobikes really aren't made for touring, but Sunshine is athletic and it got the job done, though she admitted she felt her leg muscles the next day. When I expressed surprise that I didn't see any students riding them in the park on such a beautiful day, she said I had no idea how lazy most are. I think they just don't know about the new park yet.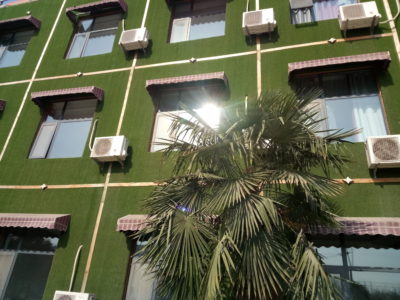 Sunday I took dirt levee to Xiangchang, had my coffee at Dico's (it's a two-Dicos city) and rode about another hour down the road to Shenqiu. It has a lot of building going on, like most cities I've been to, and is much like Xiangchang.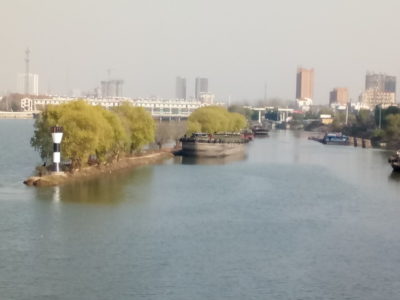 After crossing the river and going the wrong way, I finally found the county road I wanted and started back. The new asphalt was a nice benefit. So was the tailwind when I finally got going west.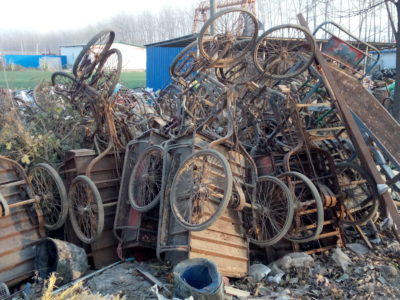 I'm starting to really get to know the X015, and this time I noticed a graveyard of old cargo trikes. It's sad to see them piled up and rusting. Almost every family used to have one, but you can still buy them new and some (mostly older) people still ride them.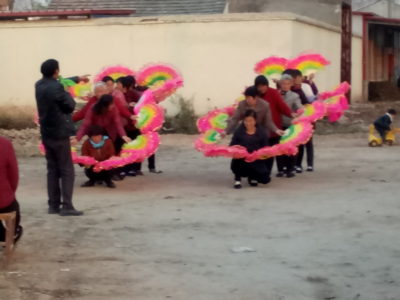 So that's the new territory I explored last week. We'll see what's in store for this week.