I managed to take a break from finals this week to explore new territory beyond Xihua to the northwest. Fugou is the largest small city in that direction that is a day's ride out and back. (About 90 miles round trip) It rates a 1 1/2 Dicos according to my criteria using the fast-food chain as an indicator of the size of the city. Usually my internal coffee homing beacon takes me directly to the closest Dicos, but this time it took me an hour to find it! Actually, I just find the most major looking crossroads and it's usually located there. The highway coming into town will cross some sort of arterial and I'll follow it until I find the principle intersection of the city. This method has never let me down until now.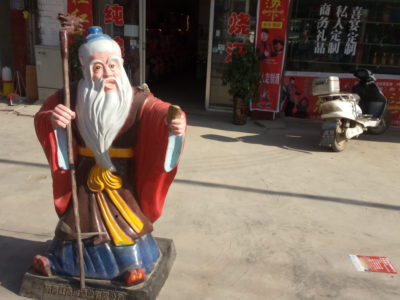 Fugou might be a little more affluent and the buildings are strangely similar in height. Whatever the reason, the streets downtown all looked equal. I studied my map and there seemed to be no main town square or traffic focus. Eventually I found a mall with a Dicos Express attached, earning a score of 1/2 Dicos according to my criteria of coffee and a W.C. After my break I continued on my way, almost immediately finding a full service Dicos just a few blocks away. How did I miss that street?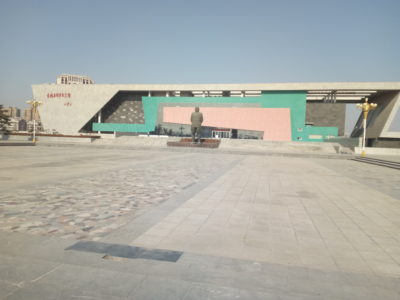 At the entrance to Fugou there is a large building memorializing a local general from the Japanese war, as it's known here. I didn't go in but Steve's interest was piqued when I told him about it and he says he'll ride back with me to check it out once finals are over. They also have a Giant bike shop, larger than the one in Taikang. Giant shops may be another classification criteria for cities.
I got out for another ride yesterday and explored a different connection between county roads in that direction. I could feel the gps in my brain shifting. This happens when I ride a connector between two areas I'd never thought of in relation to each other. I'll recognize a roadmark and suddenly realize where I am. Nebraska is mainly on a grid so this doesn't happen as much there. Here, nothing is gridded so the county roads just meander. The highways connect the cities but these roads may have been here for thousands of years and connect the villages to each other. The progressive village pictured below is installing a solar farm!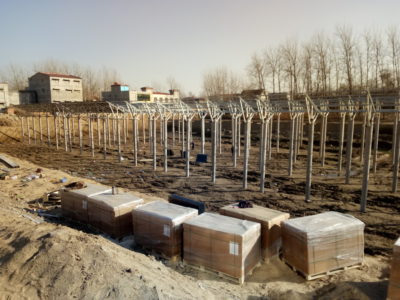 Here in Zhoukou we've only seen a few flakes of snow this winter so riding has been easy. Even with snow I hope you can get out and enjoy the season, maybe even doing a little exploring of your  own. With the proper gear (keep those hands and feet warm!) and tires, a little snow doesn't have to keep you off your bike.