It's finally warmed up and the ice ruts have melted away. This means the training Steve had delayed must now be in earnest. Why training, you may ask? My occasional riding partner for thirty-some years, Steve, and I are planning to leave on a bike tour from Ventiane, Laos to Ho Chi Minh City, Vietnam, in three weeks. You may say that it's too late to train, but I won't comment. As anyone long married knows, you can't push these things too much, or you may not be married long. He cycled the Cowboy Trail in 2008, so he does have some experience with touring.
He didn't train much for that one either. Over the past year he's gone on some long rides with me, but not too many in these last months. So what can I do? Well, I encourage him to ride as much as possible. As I always do. He is excited about the trip, so that motivates him a little more. Steve is a destination rider though, so riding just to train is not something that he manages to "find" time for. There are so many other, more pressing things on his agenda. If he had a good commute, that would help, but we live a block from our classroom building. Trips downtown are great, but not enough. I told him that without training he might feel as if he were waging his own, personal, Vietnam war, and no one wants to experience that.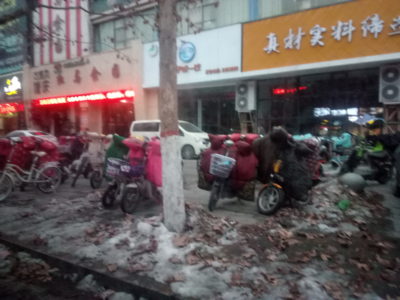 So in the past few weeks we've gone on more rides together. Last week gritty dirt had been spread over the packed ice in shady areas, so slipping wasn't the problem it had been previously. Yesterday's metric century was very foggy, but not freezing. A plastic bag between two layers of socks kept the feet dry and warm enough. There were just enough interesting sights and local color to keep his interest up, as long as we made some stops along the way.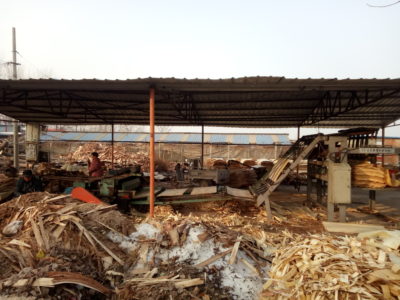 I have a tendency to barrel on through a village, taking in the sights, but stopping only to re-fuel or consult my map. I'm always looking for somewhere new and different.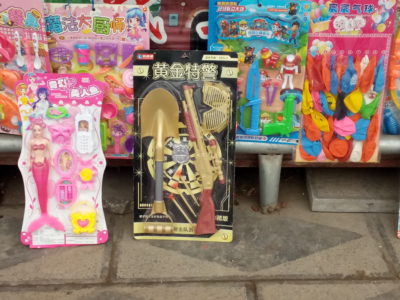 Steve reminds me to pause and look for local toys or unusual items or foods I can't see on a roll-by. We notice different things. Steve is a browser, taking in and considering what's on display, but easily bored and vexed by traffic if "only" out for a ride with no destination in mind.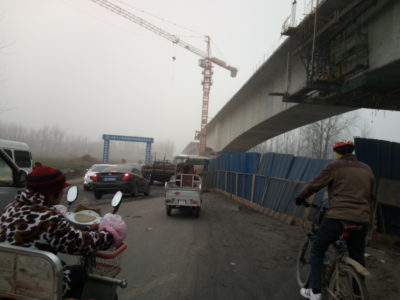 So there you have it. You don't have to prefer the same kind of riding your significant other does in order to still enjoy riding together. You get to see things from their point of view. You'll still have your "own" rides, later. If training for a long tour, however, there is no substitute for time spent in the saddle, especially when the tour is a guided one with other riders, as ours is. You can't be stopping too often or moving too slowly, as there are set destinations every day. Day after day. Help me wish him luck and most importantly, good training.