A few days before we were scheduled to leave for our cycling tour down the Mekong river from Vientiane, Laos to Ho Chi Minh City, Vietnam, I heard from our guide that he couldn't lead the tour. His two Germans had to cancel and he couldn't do it with just us. Then he said something that changed everything:"I'm sure you can cycle without a guide." Well, sure, I cycle around Zhoukou all the time without a guide, so with the itinerary provided and a list of lodging options, why not?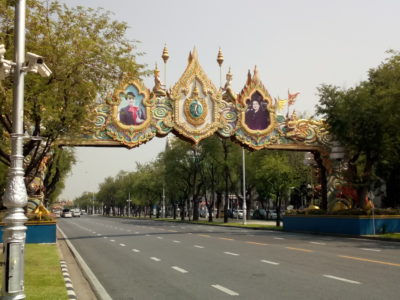 We left for Bangkok as planned. Boxed bikes arrived without problem as our checked luggage and we assembled them without drama. In Bangkok I got a better pannier and a few supplies.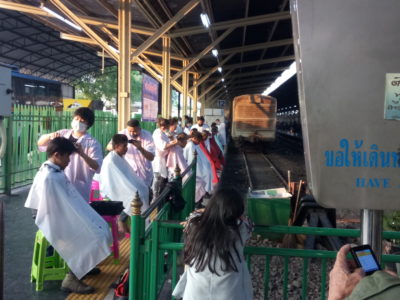 I had not realized that they drive on the left in Thailand! It took concentration to ride around Bangkok, as it's a bustling metropolis. Next was the sleeper train to Nong Khai and the Thai border. What we didn't know was that the luggage carriage with our bikes came on a freight train a few hours later. After a leisurely breakfast we got them off the next train. Now our adventure by bike "officially" began. We were under our own power.
The capital of Laos, Ventiane, is a short distance from the other end of the "Friendship Bridge." Once we got across the bridge, with "no bicycles" posted, we were almost there. The walkways on the side of the bridge were also blocked!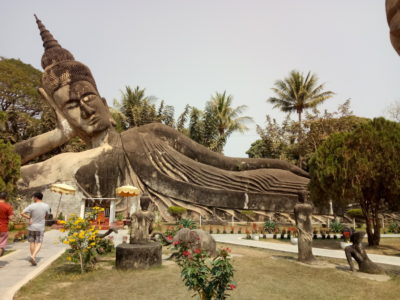 After a day or two in mellow Ventiane, we were off! First stop, the Buddha park, just 30 km down the road. Laos, like Thailand, is full of amazingly beautiful and graceful temples, shrines, stupas, bell towers and compounds. If you stopped at every one it would take all day to get anywhere!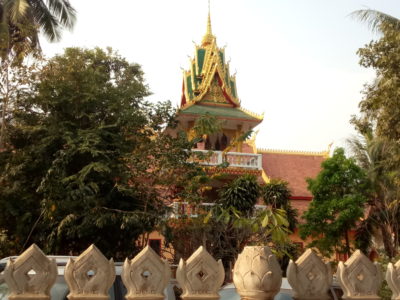 The road quickly became dusty and full of half-embedded rocks over washboard. That accounted for the generally beat-up feeling we both experienced after the first day's travels. Luckily, the roads have been fine since then, but I'm glad we've been wearing our trusty masks, as farmers are burning ditches and fields.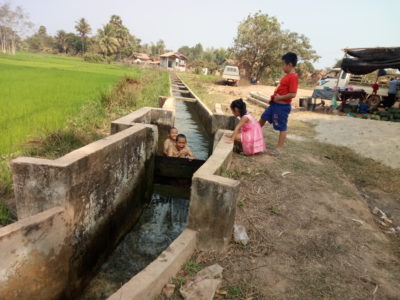 The temperatures have been in the 90's, quite different than the 40's I left in Zhoukou. The drivers are nicer, they don't constantly honk, also, people love waving at us and shouting "sabaidee!" (hello), and we like waving back. I feel like a float in a parade. This next week we will continue riding down Route 13.