We're back in Zhoukou now, and our Big Tour is in the books. So what have been the best parts and the parts we would change? What did we learn? What were the surprises? There were a lot of firsts. It was the first time we'd boxed our bikes for air travel, and we had no problems, for the most part.
People were universally kind and friendly. In Laos they would always wave and call out "Sabaidee!" or hello. We did experience a little reverse culture shock. We were continually startled to see other westerners, and there were many, after being virtually the only ones here in Zhoukou.
In Thailand they drive on the left, and we weren't there long enough to get used to it. Drivers were remarkably courteous and restrained with honking at us, as compared to China. A surprising number of people know a little English (and French) and in Cambodia, U.S. dollars are an accepted currency, along with the Riel.
Finding passport control going into Laos was not as easy as you'd think.
Passport control isn't always obvious with entry by bicycle. You sometimes have to go looking for it or you could enter a country without the proper visa. Visa requirements may vary drastically from one country to it's neighbor, causing changes in route when they're not available at the border.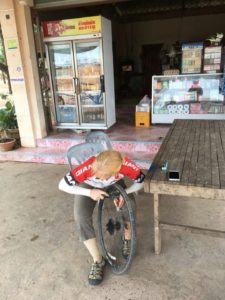 All inner tubes are not created equal. Steve, thankfully, had no problems with flats. He's still on his original tubes. I, however, had well over a dozen flats, only three were due to punctures. Almost all were due to split seams, (Chinese tubes) the rest, patch fails. I started wearing a piece of tube as a belt. Once, I ran out of patches and was able to cut off a piece to use as a patch.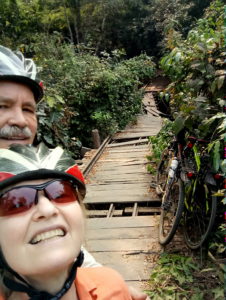 MAPS.ME is an amazing tool. We did not buy sim cards and this map app works on GPS alone. It even connects to bookings.com, etc. It is not a space hog to have on the phone. It doesn't know what condition a road or bridge is in, however, and if you get off a main road it may send you a disclaimer to click on, saying they're not responsible for what you may be getting yourself into.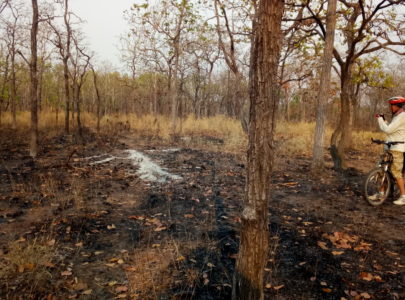 It is hot even in February and March in Indochina. I'd checked beforehand, but it just kept getting hotter. November and December are apparently as good as it gets for heat. At least it was dry season. I'm glad we brought masks since they were burning off fields and ditches and the smoke was everywhere (they also save my face from constant sunburns.) Riding on hot pavement reinforced my preference for gravel and dirt. When it got really hot we would stop at gas stations (when available) to wet down our shirts for air conditioning until they dried out, then stop at the next one and do it all over again. Sun Sleeves are great for cooling off and preventing burns, too. You really only need to travel with one change of clothes, two at the most. We got into the habit of washing clothes in the shower upon arrival at a guest house so that they'd be dry for the next day.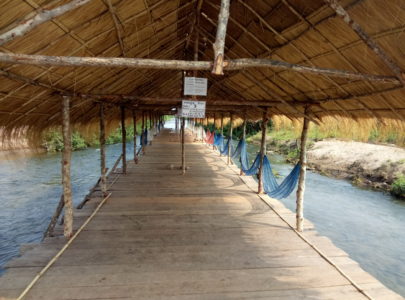 The motorbike traffic in Ho Chi Minh City is like nothing I had experienced before even in China. They far outnumber cars. Unfortunately my video didn't come out, but it has to be seen to be believed.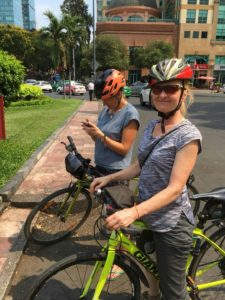 We finally had luck with Warm Showers in Ho Chi Minh City after striking out in Bangkok. It's an app for touring cyclists to find people to stay with, usually other cyclists. We stayed with a lovely young couple who are also teaching English and have toured a fair bit, so we could compare notes. It was nice to have knowledgeable hosts to end the tour with. They said when they rode from Singapore to Hanoi they got up at 4:00 A.M. to beat the heat, starting the day riding in the dark, ending at lunchtime.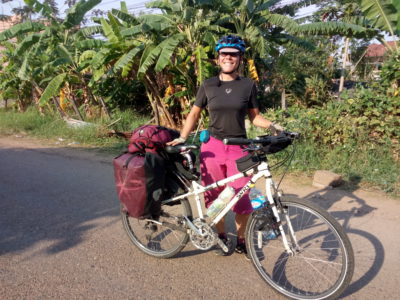 It was too hot to camp and guesthouses were cheap. Warm Showers is free when you can find hosts and they met some very interesting hosts. We met interesting people touring as well. The French and English teachers in Savannaketh, Beth from Wisconsin, touring and exploring craft beer for a living, Tom the British filmmaker, and the Cambodian woman whose sister and family live in Lincoln! The list goes on. It was an experience like no other, and it was traveling by bike that made it so.