When you go out on a ride, how do you decide where to go? Some like to take the same few routes, maybe because they're a known quantity and past rides can be compared. Or we have favorite stops with views along the way. Some of us like to pore over maps to find places we haven't been or that look interesting. Whether in Zhoukou or Lincoln, I'm always on the prowl for fresh rides, but if enough time has elapsed between visits, I get curious to see if anything has changed.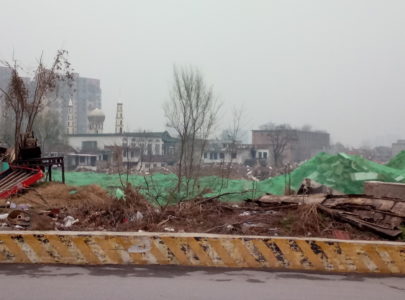 Here things can change quickly. One month a village is lived in, the next, it's rubble. Of course, the time of year might enter into your choice. I'd been trying to get up the Yinghe river to see if the peaches were blooming ever since we've been back from the Big Tour. One misadventure or another had thwarted me until yesterday. With my cold still hanging around I didn't stretch it out, but I still had an enjoyable ride and took some previously unexplored roads.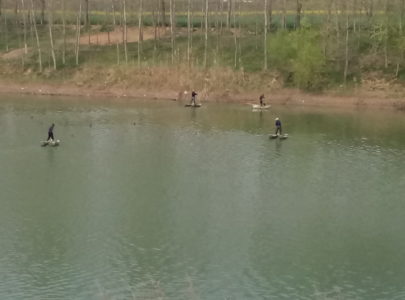 Up the river below Deng Cheng about a dozen men were fishing with cormorants. It must be a club, when I see them it's always in a group. There, for $0.15 I crossed over the Shahe on a pontoon bridge. It's always a thrill, some of the gaps are big and it makes a lot of noise.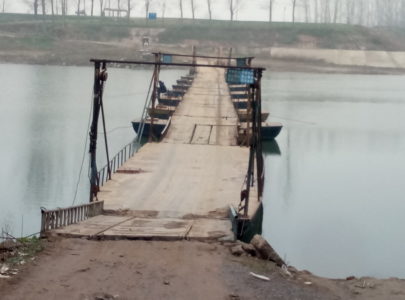 That put me in the land between the rivers, a bit of a mystery to me. From there it was on to the Yinghe, were I hadn't taken that stretch of dirt levee road since last year's festival. It tends to be rough, but at least it was dry and scenic. After a while the wheat fields gave way to fluffy pink orchards I had all to myself. Soon I'd be in the general pandemonium of the festival.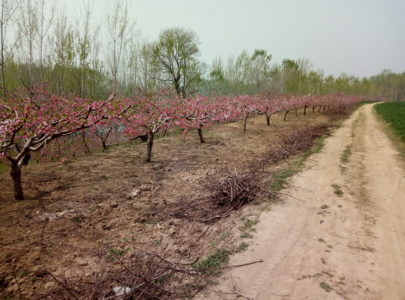 A dozen paddle boats and two speed boats were entertaining the crowd and a midway had been set up with rides. Of course there were plenty of food stands.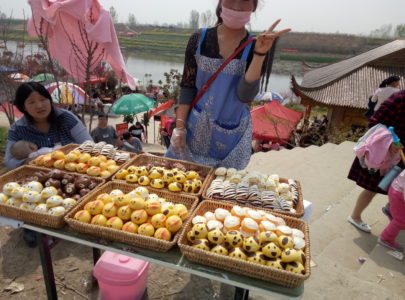 After looking around there, I headed up the highway and saw that neighboring orchards and even a local village had gotten into the act and had added attractions as well.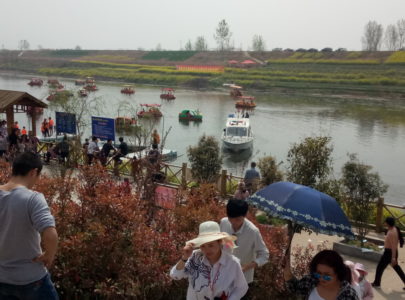 The plum blossom festival happens in February, but around Zhoukou it's too early for any naturally blooming trees. We peeked in at one advertised festival before we left on the Big Tour and found they had wired artificial flowers onto the trees. The blooming trees were in the greenhouses.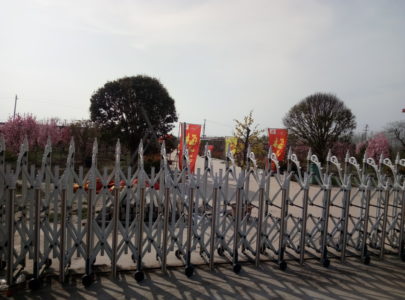 There's no need for artificiality now, the region is awash in blooming orchards, many added just in the past few years.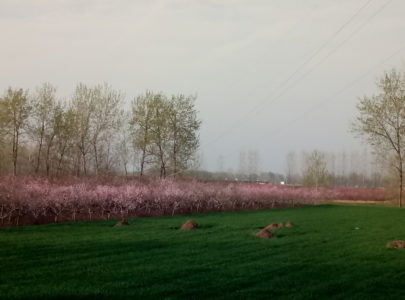 Private single-family houses with yards and gardens virtually don't exist here in the city, so the signs of spring are mainly found in public spaces or private businesses.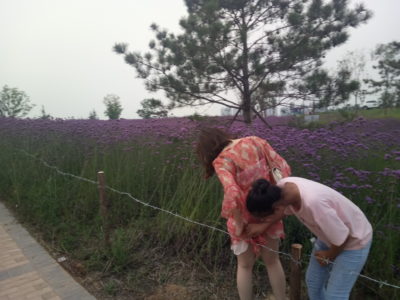 Nature isn't easy to come by for a city dweller, so I'm glad to see new parks, and landscaping on the major arterials. I can't forget last year seeing a field of lavender colored flowers in the new riverside park attracting hundreds of visitors. They came like zombies to walk through it, unfortunately trampling pathways so that barbed-wire had to be put up.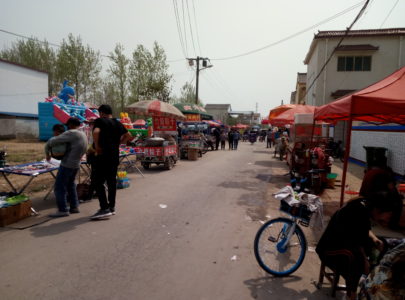 More bike shares mean more people take the opportunity to ride to parks and explore areas they couldn't get to before. I even saw two Hellobikes at the peach blossom festival, quite a ride on one of those if they came from Zhoukou. I still see them ditched in the strangest places. That's a downside of dockless bikes, but I have to wonder, why did they leave it there, and are they coming back to it? I'm glad to see them rounded up and moved around to where they're needed. In the U.S. we take ease of mobility for granted.