Last week it warmed up for a few days before turning cold and rainy again, so I took advantage by revisiting the small city of Shangcai. I'd last ridden there when snow was still packed in the alleys, so it was a different scene with temperatures in the 80s. My mission was to see if I could get into the beautiful walled garden with the pagoda I saw last time, and of course find the Dico's coffee I had missed. I arrived early afternoon and rode to where it seemed the Dico's would be, but there really isn't one. I had to settle for a Lottaburger 3-in-1 white coffee at the mall.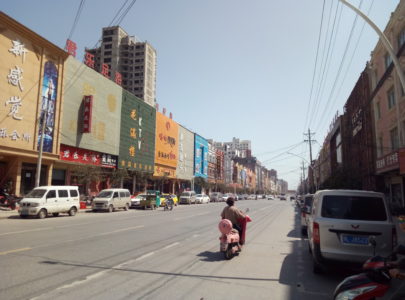 From there it was a look at the largest concentration of KTV's I've seen anywhere. They are a kind of karaoke bar with themed private rooms so your group doesn't have to mix with or sing in front of other patrons. Even small towns have them.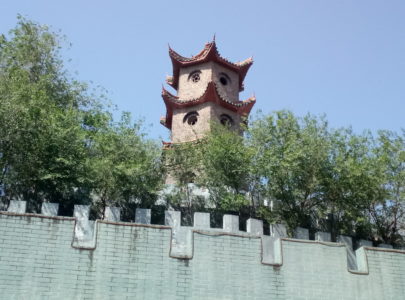 Next was the garden. I circled it without finding a way in through the neighborhood, so I finally motioned to the guard next door and he showed me the padlocked entrance gate. I don't think it's open to the public.
It was time to be heading back, but I needed fuel, so I stopped for some street food in front of the hospital, a reliable place to find a few carts serving up noodles and sweet potatoes to staff and visitors.
The route was all highway but not a terribly busy one, so it was an enjoyable ride. I saw two separate old timers riding three-wheeled hand cycles, apparently lacking use of their legs. They were slow, but one I had met on the way out and he'd come quite a distance.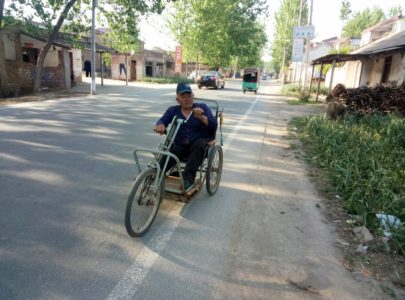 I had been a while since I'd done a century ride, so I decided to stretch it to make an even 100 miles.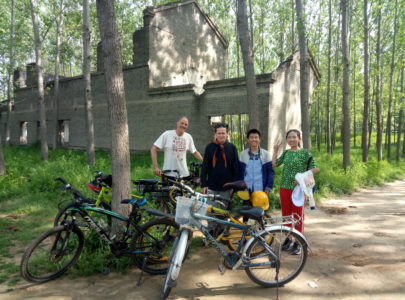 I had told some students and our new Irish faculty member I'd take them on an easy (recovery) ride down the river the next day, and I didn't mind the leisurely pace.
I first needed to take one of them down to the bike shop for an adjustable stem. Her top tube was too long and riding it was too much of a reach. Little by little more students are getting interested in cycling.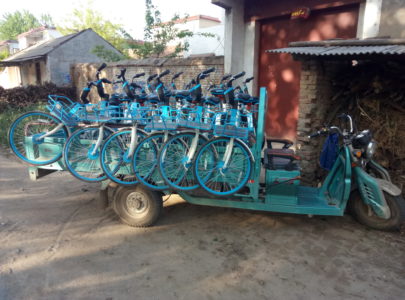 I think the bike shares are helping to make this happen by making bikes available to everyone and making bikes more visible and popular. Finding suitable bikes for riding longer distances is a challenge, though. Many only have small cheap folding single-speeds not designed for longer distances. They have to ask around to borrow from friends of friends. Figuring out how to use a gear shift is another hurdle. I think things are looking up though. More people are riding. Thats's a trend I hope continues after we leave for the U.S.