I found myself riding gravel and limestone back home after dark a couple of times this past week and was reminded yet again how great night riding is. I'm not talking about riding in traffic and facing headlights and sketchy road surface. I mean having the road and trail to yourself accompanied by a sliver of moon, intensely bright stars, and strangely glowing clouds. Outside the cone of your headlight is inky darkness. The air smells different and seems softer. I'll admit that the first several times I rode at night I was not so enamored. I thought it was nerve-wracking. Experience changes perceptions though, and now night riding is something I enjoy. Back in the days when I'd get called into work in the middle of the night, I rode deserted streets and saw wildlife using the storm sewers as if they were subway stops. Cats, racoons and o'possums exited and entered the curbside openings, eyes gleaming in the light of my headlights.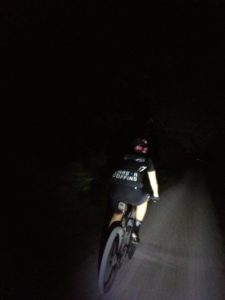 With the days getting shorter, you may find yourself running out of light, or out in the morning before the sun. Plan ahead and have lights with you, but you probably won't want to leave them on your bike when you lock up. With thefts of bikes and accessories like they have been, it's best to take them with you. I lost a small seat bag with a spare tube and tire lever just since I've been back. Also, wear reflective gear, especially on your feet or legs. Research shows people notice reflective elements on the moving parts of your body more than the stationary parts.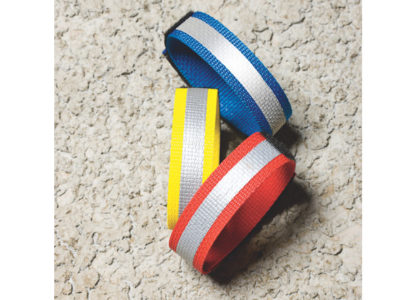 No matter how cautious and law abiding you may be though, know that there are motorists who are inattentive or impaired. It was on a football Saturday one year ago that Randy Gibson was killed by a drunk driver while out on a ride. Randy was doing everything right. I'll admit to being a little more jumpy and looking back more when I hear traffic coming up from behind. I may one day get another mirror. I used to have a small helmet mounted one, but the vibration on gravel made it useless, so when it fell off yet again, I didn't replace it.
There have been some good group rides and even some bike packing lately that I've missed. Post-China deferred maintenance and pre- cold weather home improvement projects have kept me out of the saddle more than I would like lately, but I hope you've gotten out there to enjoy the warm weather and have had some fine fall rides. Or maybe you're racing cyclocross on Saturdays. Whatever you like to do, get out there and get those miles logged!