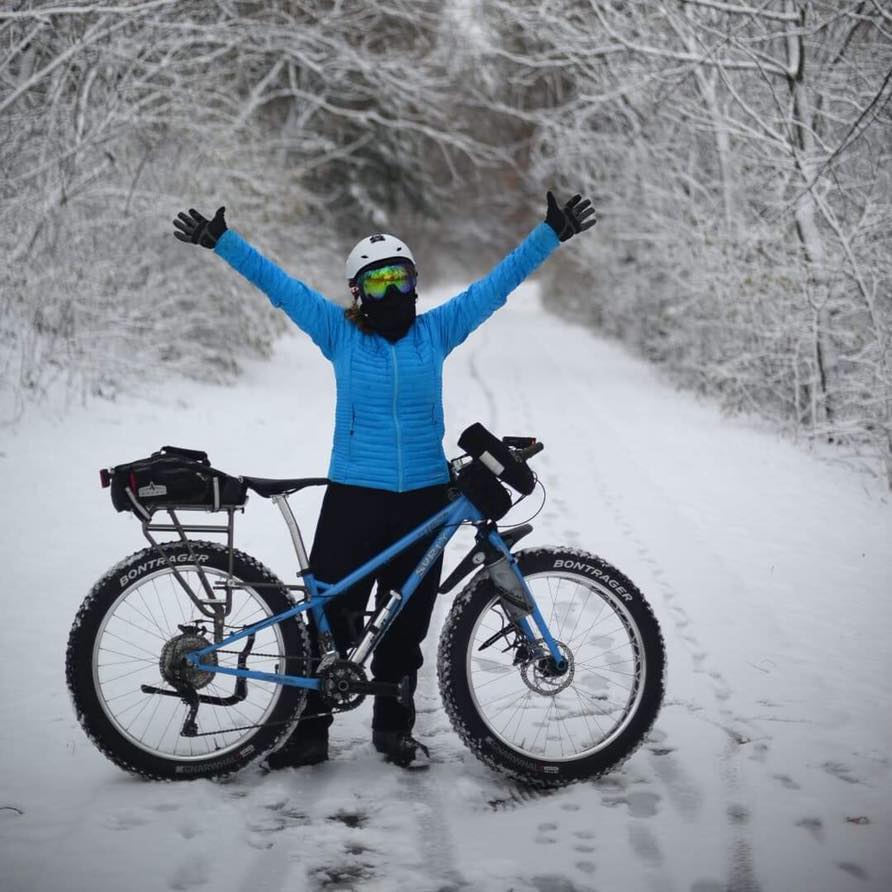 The standings were shaken up in November with Sarah Knight slipping to fourth and Ryan Patrick moving from sixth to first in the Top Commuter rankings.   In the "Most Trips" category, Maria Goller held her spot, but Paul Gebers charged from eighth in October to second in November. In terms of most miles, both the women's and men's categories were shuffled.
In the groups competition, Goldenrod Pastries Cycling took top honors in "most commute days," "most commute miles," and "most commute trips," but was beat out in overall most miles by Pub Pedalers – BY ONLY 2 MILES!  
We can't wait to see what happens in December!  Who will be the cold weather champs?
Top Commuters (Most days riding to work)
NAME
MILES
DAYS
1st
Ryan Patrick
252
25
2nd
Brody Steffen
126
24
3rd
John Green
145
23
4th
Sarah Knight
132
22
5th
Maria Goller
74
21
6th
Phillip Rudebusch
214
20
7th
Greg Rosenboom
162
20
8th
Jon Karas
130
20
9th
Derek J. Augustine
143
19
10th
Scotty Long
315
18
Top Riders (Most trips)
NAME
MILES
TRIPS
1st
Maria Goller
147
76
2nd
Paul Gebers
232
71
3rd
Sarah Knight
341
62
4th
Derek J. Augustine
164
59
5th
Ryan Patrick
259
53
6th
Greg Rosenboom
248
53
7th
Robb Finegan
912
50
8th
Brody Steffen
132
50
9th
John Green
145
45
10th
Jon Karas
379
44
Top Male Rider (Most Miles)
NAME
MILES
TRIPS
1st
Robb Finegan
912
50
2nd
John J. De Tuerk
585
29
3rd
4 Cyclin
571
29
4th
Phillip Rudebusch
467
30
5th
Paul Kramper
439
27
6th
Steve Morin
414
29
7th
Raymond Anderson
393
14
8th
Ed Harris
387
39
9th
Jon Karas
379
44
10th
Brent Baum
376
14
Top Female Rider (Most Miles)
NAME
MILES
TRIPS
1st
Cat Eastman
697
18
2nd
Ann Parr
342
24
3rd
Sarah Knight
341
62
4th
Teresa Kuper
278
17
5th
Ashley Miller
233
40
6th
Peggy Holloway
217
23
7th
Yun Saksena
211
39
8th
Ashley Votruba
162
4
9th
Maria Goller
147
76
10th
Jamie Granquist
138
32
Top Male New Rider
NAME
MILES
TRIPS
1st
Nick Klimek
16
2
2nd
Jon Hanseling
6.8
1
3rd
Brion Westfahl
4.9
2
4th
Daniel Noennig
4
1
Top Female New Rider
NAME
MILES
TRIPS
1st
Meray Kim
22
11
2nd
Melanie Mangers
7.6
1
GROUPS
Most Commute Days
NAME
MILES
DAYS
1st
Goldenrod Pastries Cycling
343
23
2nd
BicycLincoln
170
20
3rd
Zoetis Lincoln
21
1
Most Rides
NAME
TRIPS
1st
Goldenrod Pastries Cycling
162
2nd
Pub Pedalers
92
3rd
BicycLincoln
73
4th
FF'rs Get Around
33
5th
Just sayin
14
6th
Trail Riders
2
7th
Zoetis Lincoln
2
Most Miles
NAME
MILES
1st
Pub Pedalers
784
2nd
Goldenrod Pastries Cycling
782
3rd
Just sayin
304
4th
BicycLincoln
250
5th
FF'rs Get Around
78
6th
Trail Riders
27
7th
Zoetis Lincoln
24
Most Commute Miles
NAME
MILES
1st
Goldenrod Pastries Cycling
343
2nd
BicycLincoln
170
3rd
Zoetis Lincoln
21
COMMUNITIES 150-400K
NAME
TRIPS
MILES
TOTAL RIDERS
Santa Barbara County
2,188
30,531
181
Shasta County
1,481
25,402
246
Lincoln
2,617
24,918
252
Madison
2,555
17,896
162
New Orleans
2,379
16,144
138