There are many kinds of bike tours. Last year's tour was just the two of us, unsupported, in Southeast Asia. We had an itinerary, which we could use or ignore, but we had to figure out everything else and carry our gear on our own. It was great and I'd do it again in an instant. If you want to find out more about that kind of touring, check out the Facebook group Bicycle Touring & Bikepacking. It's a brain trust worth knowing.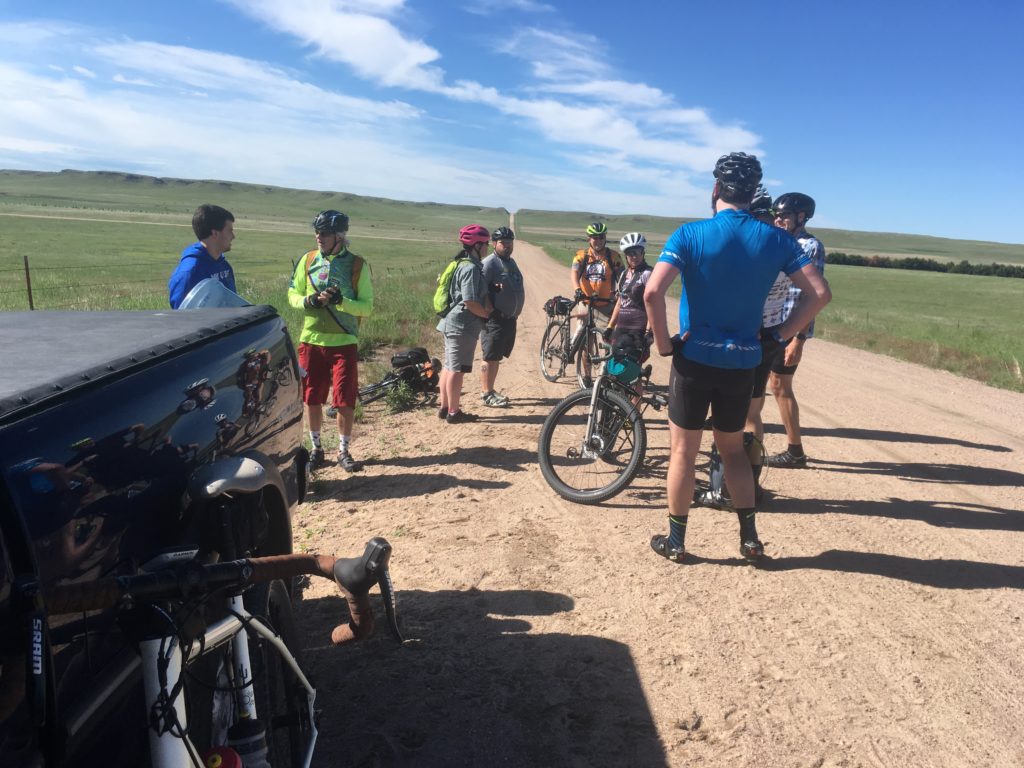 This year, we did the opposite kind of tour, The Tour De Nebraska, which doubtless many readers have experienced. The TDN includes hundreds of riders on a fully supported tour. You don't have to deal with finding lodging, support vehicles are a phone call away if you need them, towns know you are coming and roll out the red carpet. Your luggage is transported to the next campsite, usually a school. Bicycle repair is on site.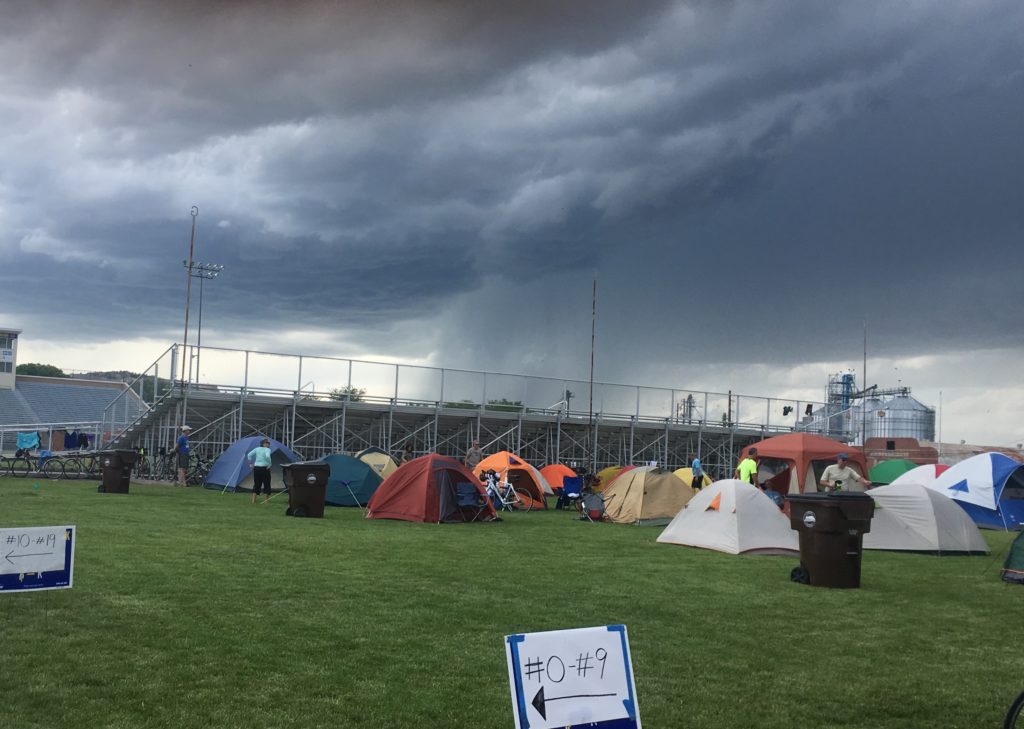 You can sleep in the school gym, pitch your own tent, stay in a motel, or opt to rent a tent which is waiting for you when you arrive and put away when you cycle off. Download your route from the app and away you go. Some cyclists come alone, but no one remains so unless by choice. It's an exceedingly friendly group with a shared love of cycling. I saw groups of women friends who had planned a "girls week out" and groups of men doing the same. A grandmother had brought two grandsons, and there were 3 17 year-olds, one unaccompanied, out for an adventure. Some had been returning for many years, and there were many first-timers. A pair of 70-somethings rode on e-bikes, and the oldest rider was 81. I recognized more faces than I expected, though it was my first TDN. I met people from other states who enjoy going on tours in different states.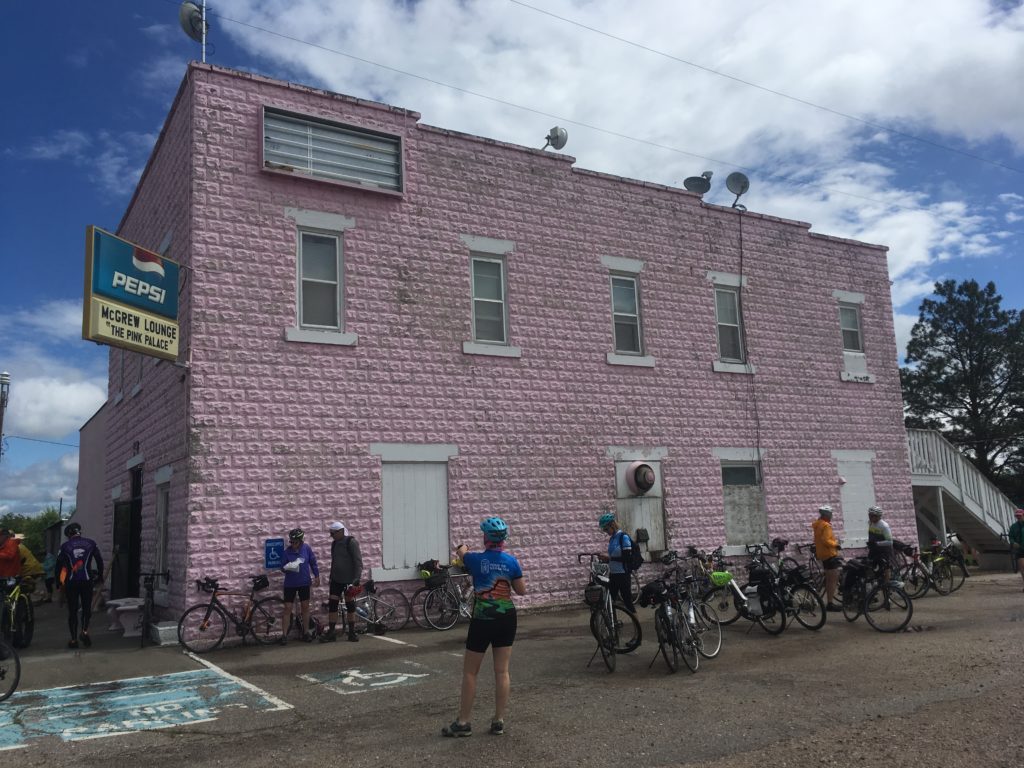 I rode some of the time with a pair of cyclists and cyclo-cross fans, Bryan and Paul. They hail from the west coast, college friends now with separate lives in different states who wanted to have an adventure together and investigate this thing called gravel riding. It afforded fabulous views and wonderful gravel, even a bit of double-track, every gravel cyclists dream, I'd wager.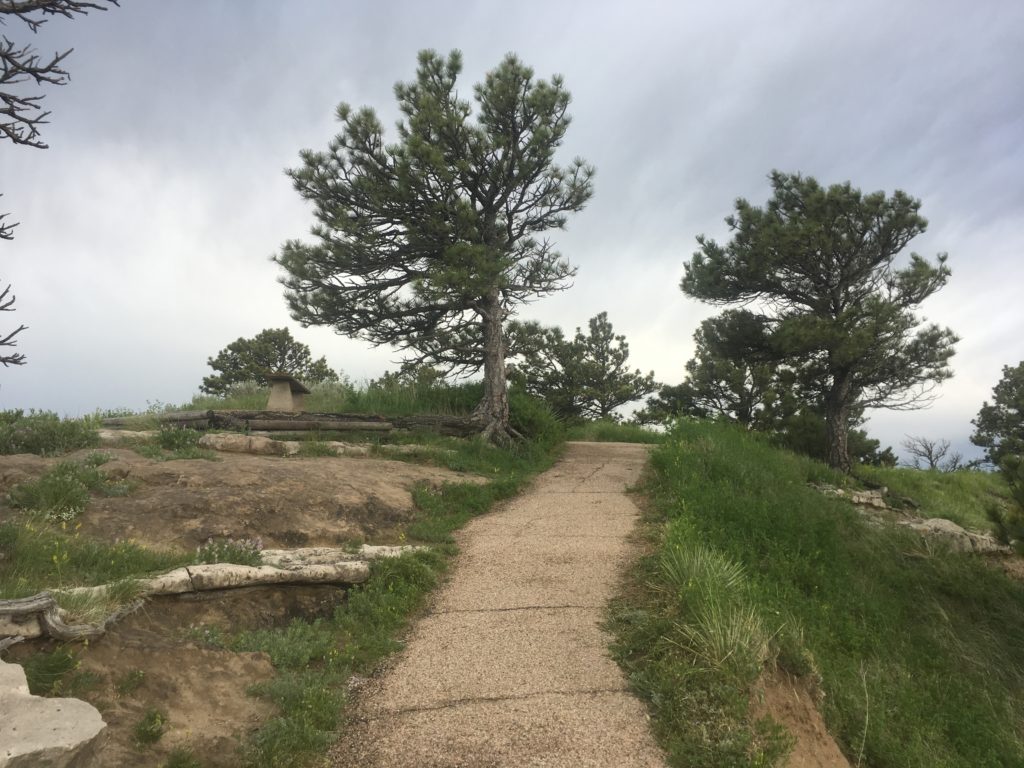 They said they'd definitely be checking out gravel options in their respective areas. Bryan said it may even be something he and his mountain-biking wife could do together, Bryan having been a rider of paved roads only. Most of the rest of the time I rode with a new Iowa friend, Pat. He found the views quite different from Iowa, and he enjoyed photographing them.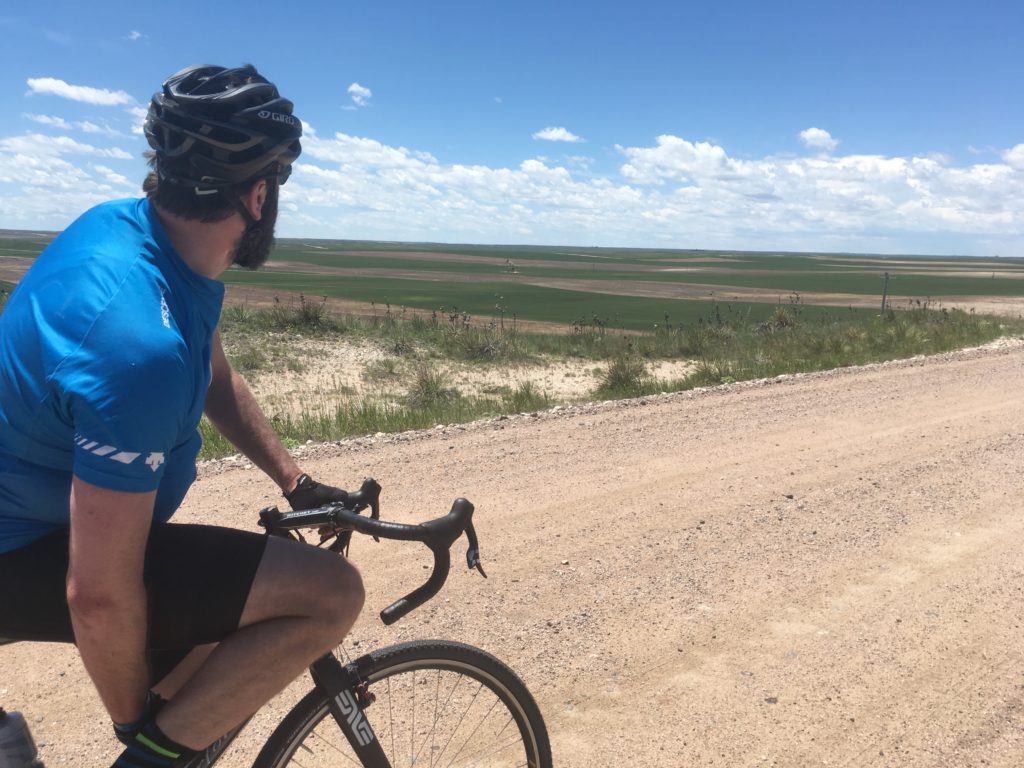 This year's route was a panhandle loop taking us from Sidney to Kimball, then Gering, Scottsbluff, Bridgeport, and back to Sidney. Stops in towns like Potter and Dalton gave the tourers a real taste of small town hospitality.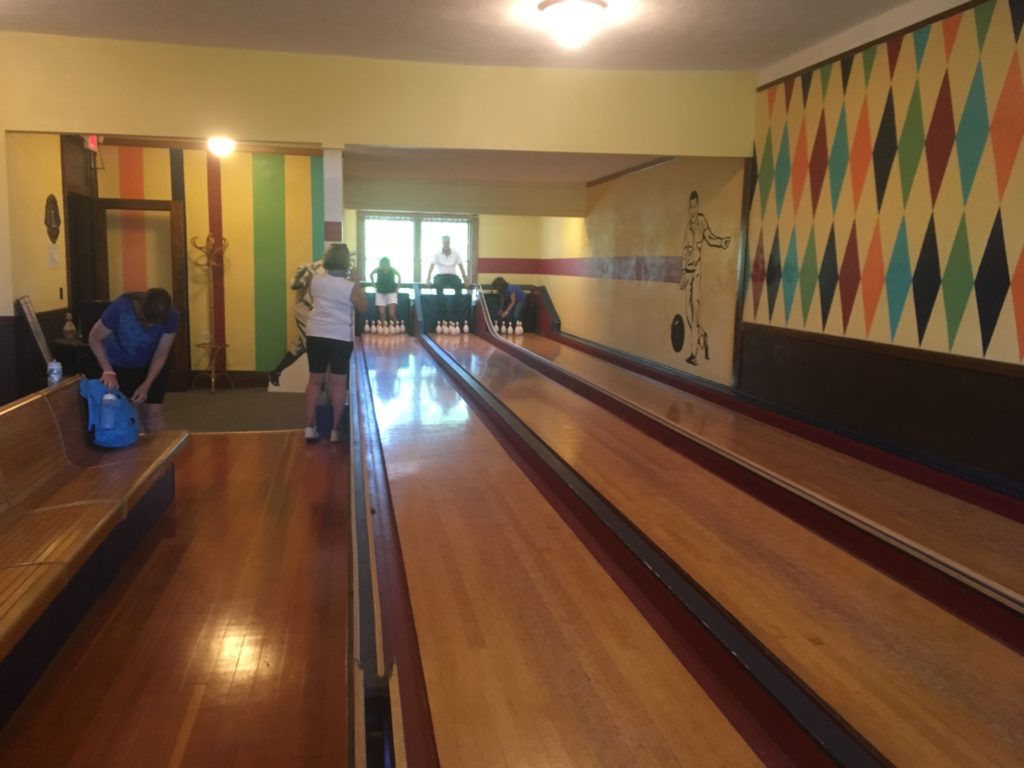 Rain dampened some of the activities planned by our hosts, but it all worked out. The epic thunderstorm threatening our last night in Bridgeport never materialized and held off most of the next morning. During that night Steve heard Coyotes yipping close by, and then the sound of a pack running through the camp, accompanied by the sound of intense sniffing.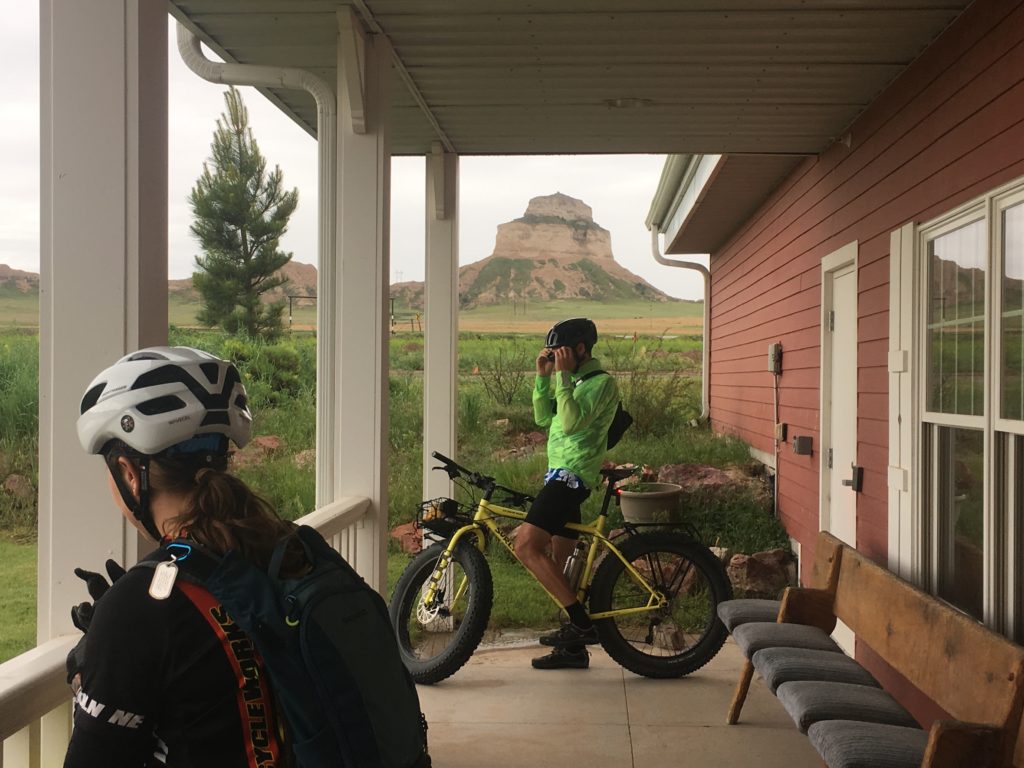 We came with a friend of Steve's from Colorado, and they rode pavement together while I took the gravel. The first two of the five days where dry, but the last three were damp at times. The gravel routes on days four and five were cut in half when conditions deteriorated and our small band of gravel-lovers bailed for the asphalt.
Robidoux Quick & Dirty Gravel Grinder was around Scottsbluff and had to deal with it too, but we weren't racing, just enjoying ourselves this time around.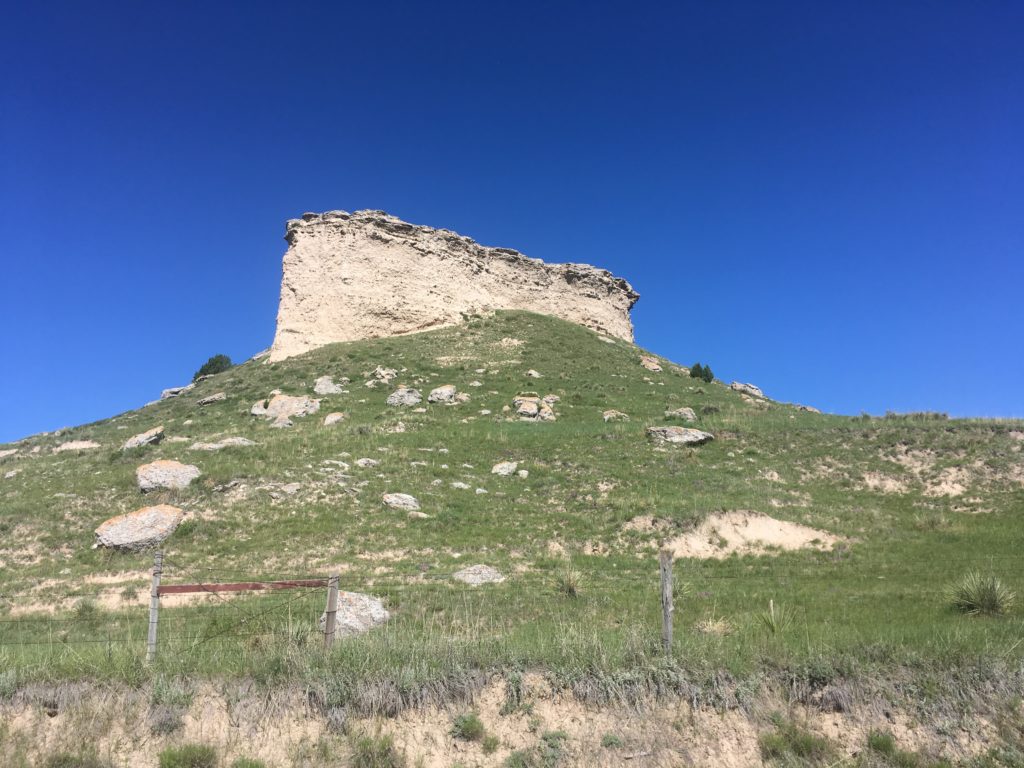 One of my plans for the tour was to visit Harrisburg, the unincorporated seat of Banner county. The population of the whole county is under 800, and it is beautiful, but quite remote. My great-grandparents homesteaded near there, starting out in a dugout, and my great grandfather was the county judge. The museum and courthouse office staff were very helpful and found all the information for me they could.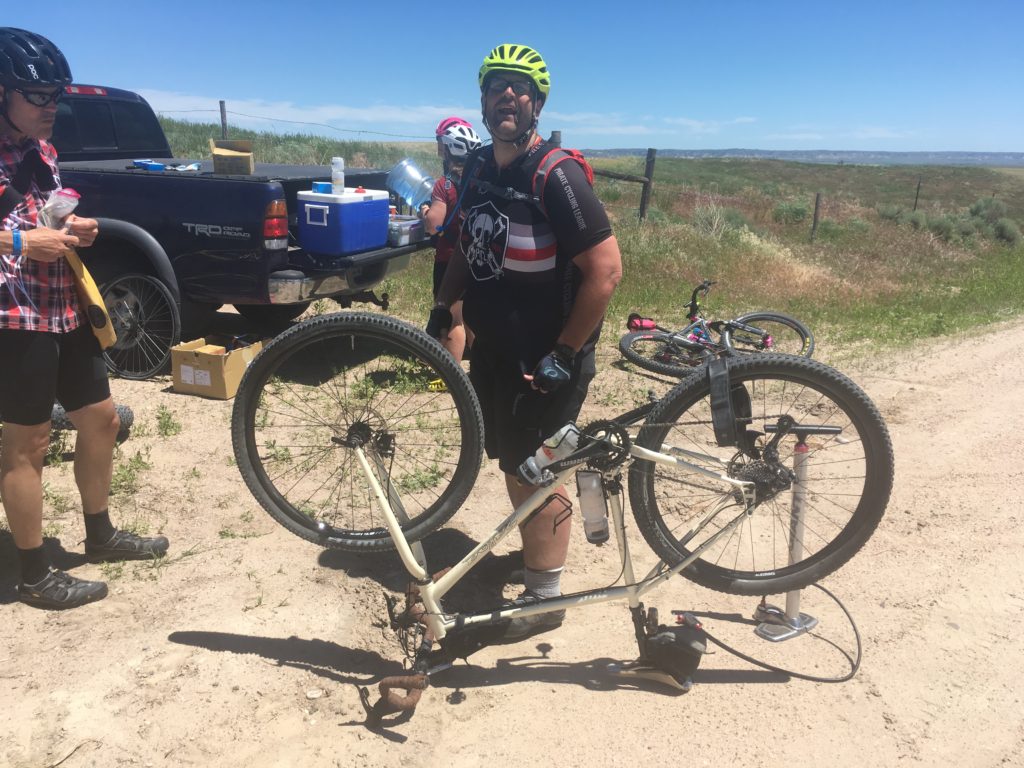 The road out of town took me right past the homestead. A couple of miles later we caught up with the rest of the gravel tribe down with a bad case of goatheads. If you are unfamiliar with this puncture vine, you are lucky, as they are vegetal thumbtacks. Multiple tubes had already been changed by Sarah (16 punctures in one tire, a record?), Christiane, Bryan, Paul, and Bill. Pat and I survived the onslaught by virtue of riding tubeless, though Pat had to re-inflate the following morning, sealant apparently not covering a puncture at the top of the tire overnight. In a mile the road turned and there were no more goat heads.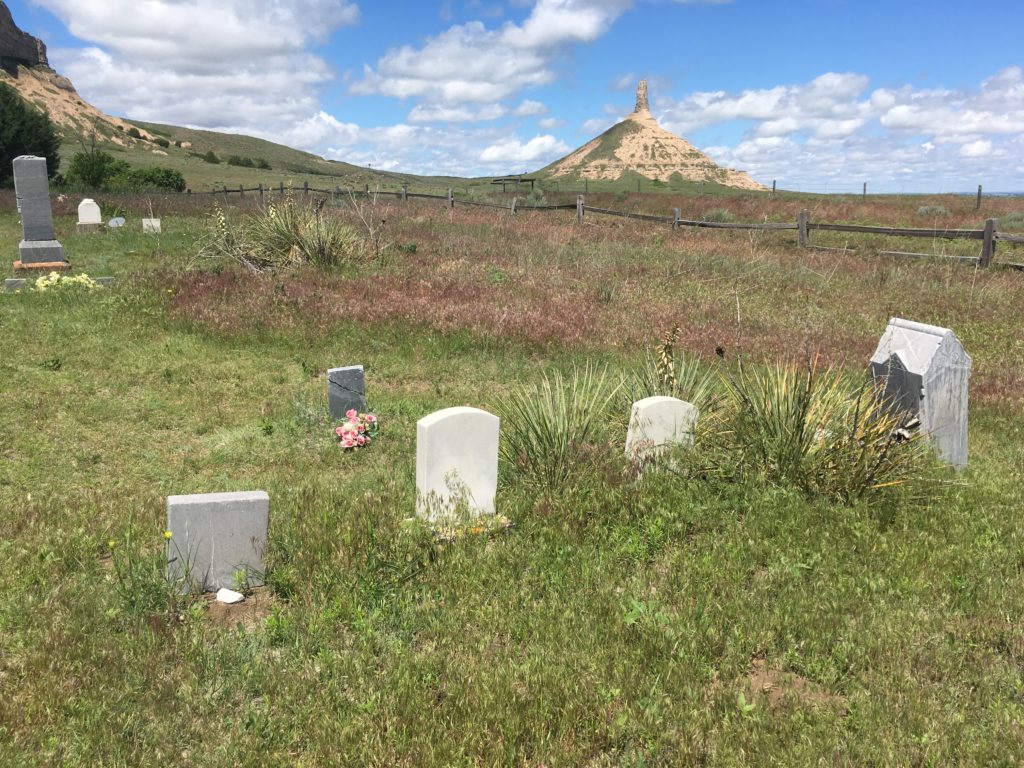 The views were stunning, the hospitality genuine, and the company always enjoyable. Many thanks are due to our fine SAG, John Baker, as well as all the other support staff, Cycleworks, the Schillings and the Rodenburgs.
It was a fine tour.