This week I've switched it up and asked local rider and all-around bicycle event supporter Jen Carlson to talk a little about her re-entry into riding.
I learned to ride a bike like most kids in a small town, with my older sister and a collection of scrapes and cuts. My first bike had a banana seat and I rode that thing all over town. In Jr. High, I had a BMX bike, and in high school, an old 10-speed. When I moved back to Nebraska from California, I met my husband, and he encouraged me to ride more. Granted, a lot of riding was downtown to the bars, and when my bike was stolen off my porch, he loaned me his Mom's old 3-speed that had no brakes. We only rode for fun, and it was fun, especially after I upgraded to a nicer bike again!
I commuted to work for several years, and my only limitation was if it was under 10 degrees or icy, I would take the bus instead. Those years taught me a lot about biking – what to wear so you aren't miserable, and how to plan ahead.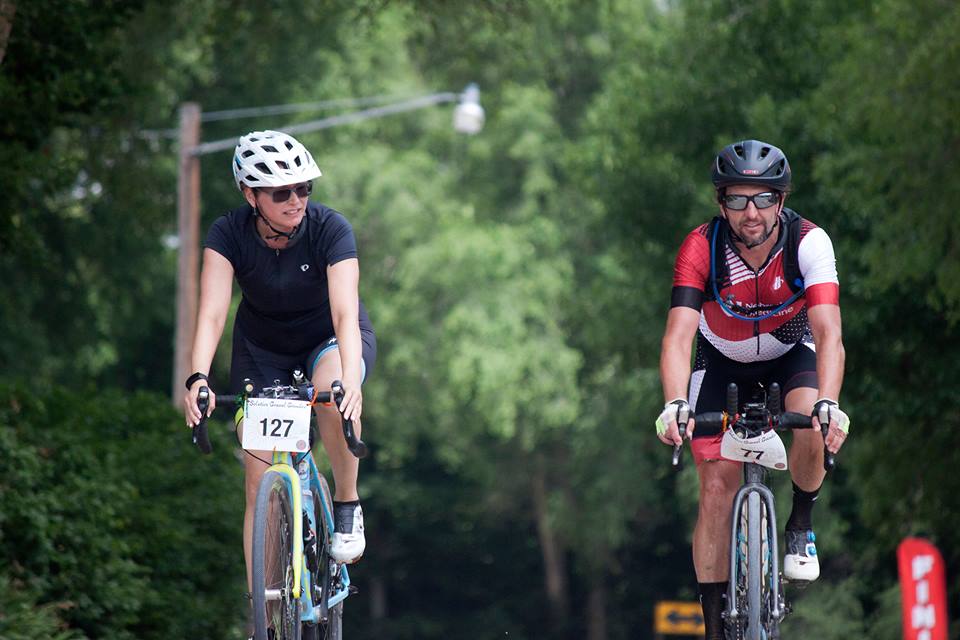 Fast forward to marriage, building a house, and starting a business, and neither of us rode as much anymore. Babies make it a little harder, too, especially when they are tiny. It was great when August was old enough to hang on to a cargo bike, and we could at least take some trips by bike. Josh started riding more, but I was definitely riding less. I always found it hard to take the time for myself to just go out for a ride. There are so many obligations! I'm not the long-distance rider that Josh is, but I really do enjoy being out on the bike, even when the ride is hard, or the hills are just awful.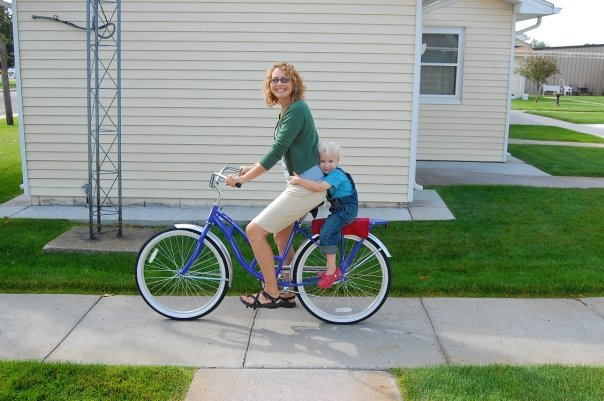 Last year I did my first real gravel race – the Solstice 50 (which was 57 miles, by the way!), and it was brutal. I wouldn't have made it if Josh hadn't met me half way and rode back in with me. I was so happy to have finished – but definitely wasn't chomping at the bit to sign up for another.
The growth of gravel riding has been amazing, and I've been lucky to find some ladies to ride with, on occasion, or my husband when he's on a recovery day, or my son, who is a great biking companion. I don't pack in very many miles, and I don't do long rides often, but this year I've put forth the effort to change that a little.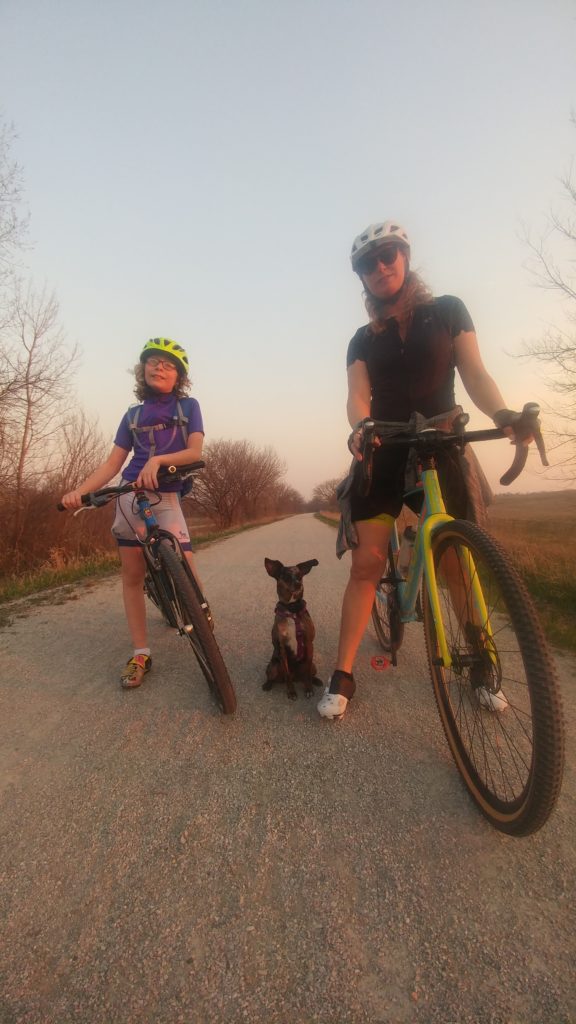 My friends Christy and Kathryn and I loosely formed a ladies gravel ride once a month where we ride to a local winery out on gravel, and then sit and chat before we ride the trail back. We just finished our second ride, and it is a really wonderful gathering. I feel very grateful to meet with other women, of varying ages and backgrounds, to go out and push ourselves. Even having those few hours to myself, where I don't have to worry about work, or what my son is doing while I'm gone, or what's for supper, is such a treat.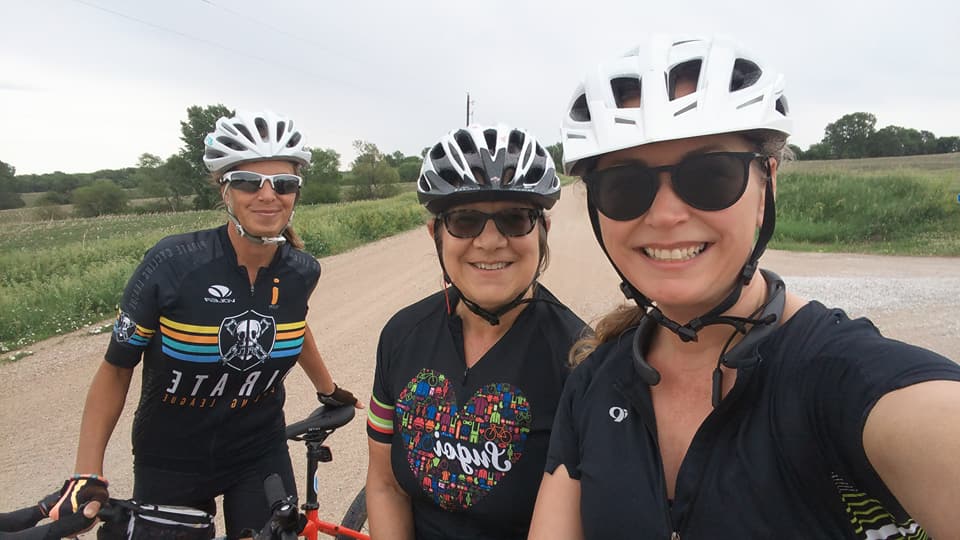 This week, I rode with Josh on a recovery ride, went on the ladies gravel ride, and then did (part of) the Bacon Ride. Having put on more miles than usual earlier in the week, I knew I couldn't do the entire 75-ish miles to Platte River State Park, (okay, I couldn't do it even if I hadn't ridden at all) so I drove out to Eagle and met everyone on the trail. Outside of doing the Solstice last year, this 43 miles was my longest. It felt just as hard as the 57 did!
I don't underappreciate the miles that Josh puts in, or races, but I was sharply reminded how hard cyclists have to work to ride long distances on the very hilly Nebraska gravel roads.
I broke 100 miles this week for the first time ever. It kind of hurt. But I was pretty proud of myself. Even if those last 20 miles involved Josh pushing me up the big hills. We'll just say that he needed the extra workout for training purposes.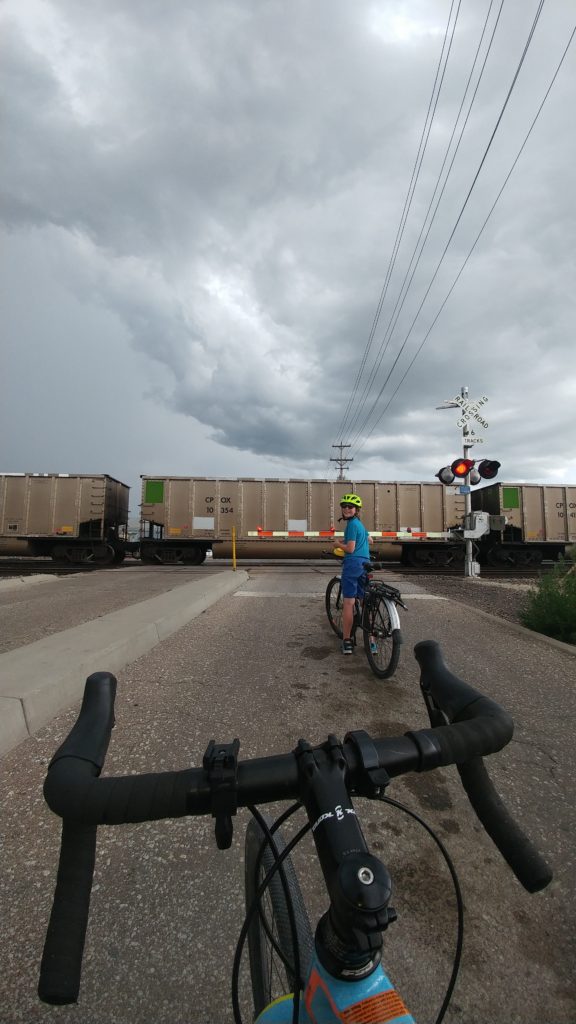 I really enjoy helping at the local gravel race events – being support crew has it's privileges.  Family rides are my favorite, whether we're on gravel or trails or just going across town.  It can still be hard to make that time, but I'll keep chipping away at it.  There may be a few more races in my future.  I'm pretty confident that something in the 30-50 mile range will suit me best, because I want to push myself, but also enjoy the ride.  It's good to find that balance.  Maybe you can, too.