You'll want it to participate in Winter BikeALoopza, and it's one of the biggest issues people need to be aware of for successful winter riding. Another big one is how to ride on icy streets. Not knowing how to dress remains a major reason why people don't ride in cold weather. Some have such a habit of always wearing the same thing on a bike, they don't seem to wrap their mind around the different requirements for lower temperatures, especially newer cyclists. Last fall I followed a couple of college-aged guys on their (probably) new pandemic bikes. It was one of the first really coldish mornings of fall and they were riding in jeans, tennis shoes, hoodies, and no gloves (or helmets). They seemed genuinely surprised to have cold hands, and remarked about it. I made a lot of mistakes when I first started riding through the winter, too. I wore gloves, but they weren't warm enough. My coat was too warm. Now I have a different configuration for every ten degree drop, with further fine tuning for wind chill. No one wants to be uncomfortable on a ride, and you don't have to be, even in winter. On a longer ride it could even be dangerous, so it's a good idea to pack along a thin extra layer, and possibly even an extra pair of dry gloves. Some swear by a change of jersey so that sweat, yes you will sweat even in the cold, does not remain next to your skin, causing your core temperature to drop.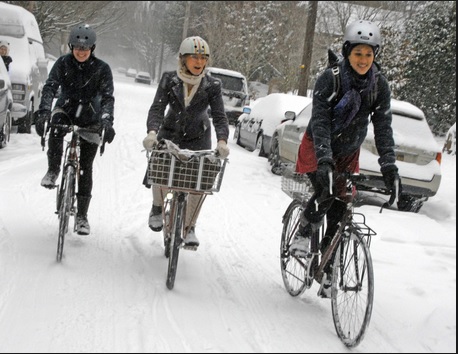 Make a spreadsheet if you need to. From one year to the next, you might forget. For riding around the city these are not such important factors, but you still want warm hands, feet, and face. Unless there's a ruthless wind-chill, your core will probably be warm enough, and maybe too warm. Remember to dress for 10-15 minutes into the ride. The more watts you're putting out, the less you'll need to bundle up your core. Another thing to consider is air infiltration. Icy fingers creeping up from your cuffs, waist, or ankles is no fun and avoidable. seal them up, but be able to open them when you heat up. Vents are wonderful things. I recommend your jacket have them, and/or a two-way zipper so you can start opening it from the bottom as you get warmer to regulate your temperature. Many swear by merino wool to check all the boxes, warmth even when moist, wicking, and comfortable layered up. All this gear needn't wipe out your bank account. what works for running and winter sports will probably work for cycling. Shop end of season sales and outlets for new gear, keep your eyes open for used. Just avoid cotton as it retains moisture and doesn't wick away from your skin.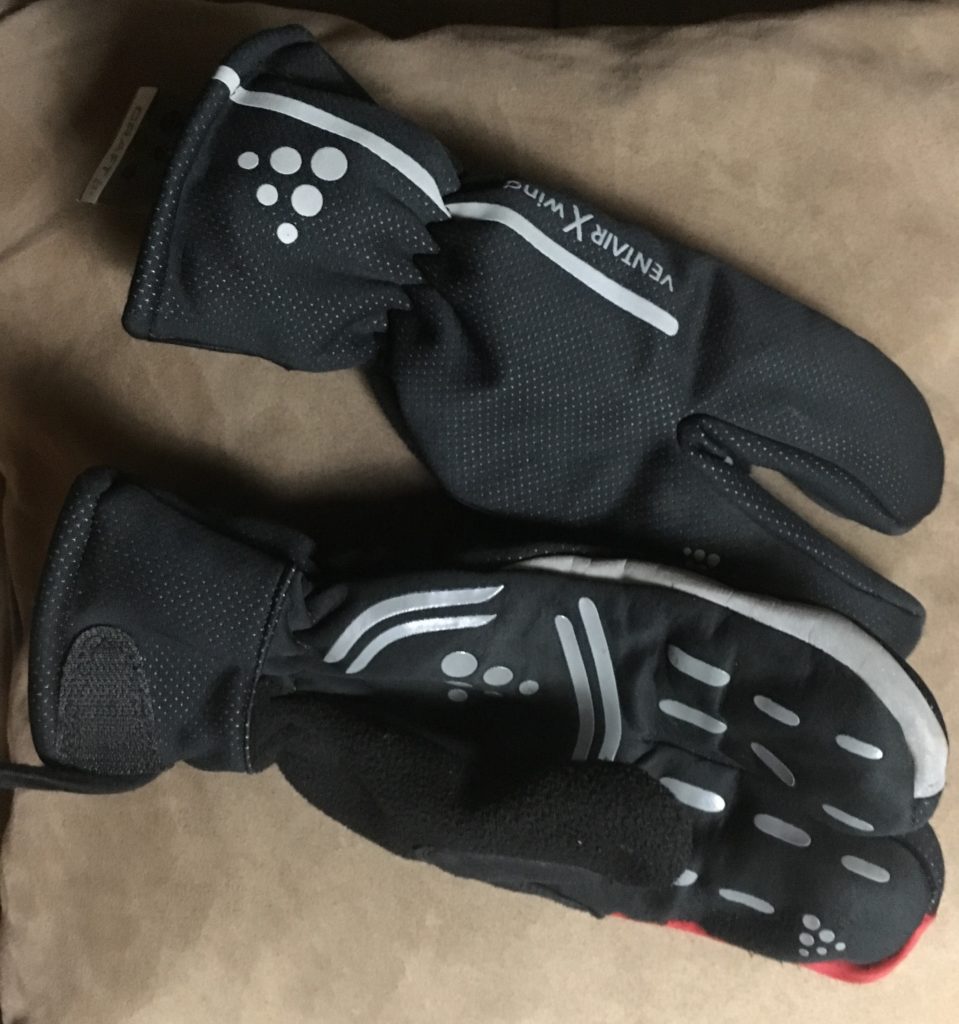 The big deal breaker for most of the people I talk to seems to be the hands. Some, especially younger dudes, won't understand what I'm talking about. Bravo, you have great circulation. For the rest of us however, it's enough to make you not get on your bike. You have three choices that I can think of. First, fine tune your glove selection. Some swear by leather mittens (may make gear shifting difficult). Others, ski gloves. Beware of what are sold as "winter cycling gloves", look for a temperature range. They may be talking about California winters. I finally hit upon a combination of the warmest lobster claws I could find combined with very thin liners and plastic surgical gloves between those two layers, to stop wind infiltration. The lobster claws need to be big enough to not constrict circulation with the other layers. Otherwise your hands will be as cold as your feet will be if you try to layer up thick socks to the point of impeding circulation there, too. In that case, a plastic bag between sock and shoe helps. Shoe covers over that are good, (always get a size or two larger) or just wear boots. The second option is to use pogies (Bar Mitts) on the handlebars. When I first got mine, I felt like they made the impossible possible. I could ride down to zero degrees, maybe lower now. Finally, the last option is chemical handwarmers, for feet, too. You could try making your own rice bean bags to heat up in the microwave, but they won't stay warm for very long. If you're going a shorter distance though, they could work.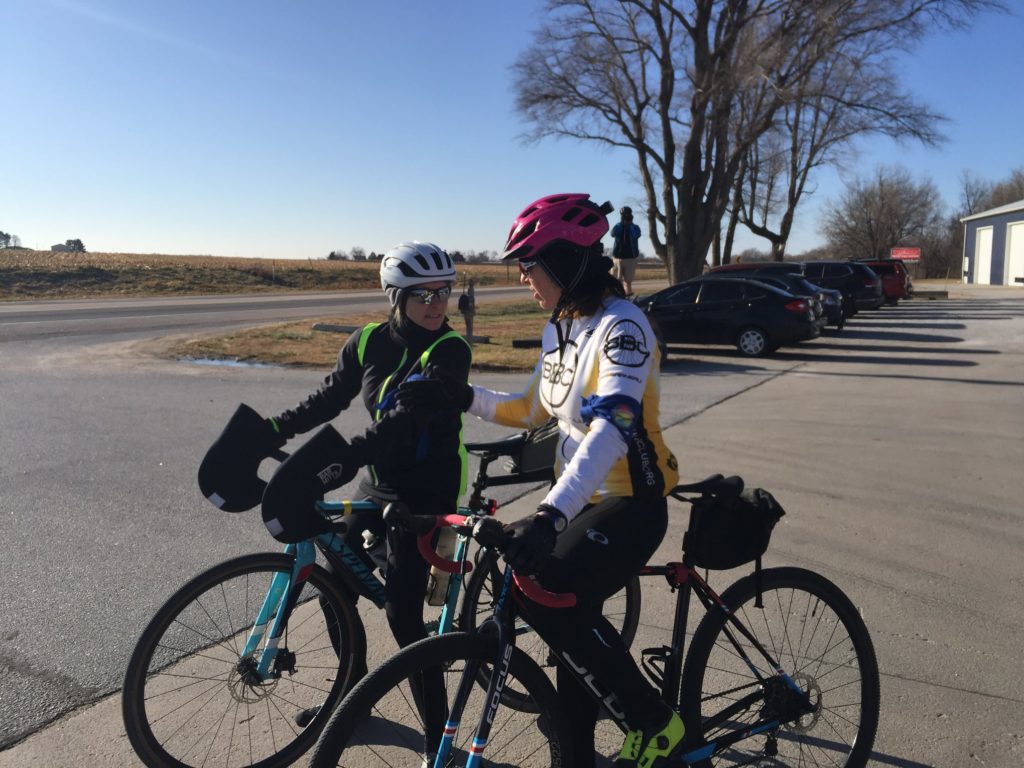 On colder days I like wind or rain pants over thermal cycling tights or commuting clothes. On my face, either a neck gaiter (buff) pulled up, or when colder, a fleece/neoprene face mask, well ventilated with holes over the mouth and nose. A COVID mask may work, too, but make sure your cycling glasses don't fog. You may need non-fogging ski goggles. A thin cap under your helmet will be enough. I see an astonishing number of helmetless riders in the winter. That thick cap will not save you from a concussion if your tires go sideways on a patch of ice.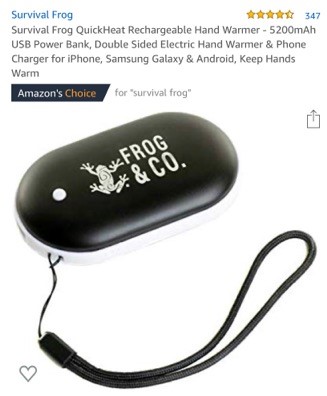 There are quick mid-ride fixes that can help if you've misjudged the conditions. Burrito wrappers, foil, or plastic bags can go in your shoes. You can put newspaper inside the front of your jersey to cut the wind chill. I like to have a wind vest along to make sure my core stays warm. You'll want to make sure your water bottle isn't going to freeze, too. Keeping them in back jersey pockets rather than on your bike is one fix, use a Camelbak type water bladder, or a thermal bottle.
It all takes experimentation to get it right. You don't have to be uncomfortable. The preparation is worth it for the sunshine and beautiful winter scenery. Just avoid soft trails. If you're sinking get off of it and find a harder surface to ride on.