This past week it was tough to ride, no question about it, but have you been dreaming up those loops to add to the challenge next Saturday, the 6th, for the big day on the 12th? If you haven't yet, get signed up at https://WinterBikeToWorkday.org "may the loopiest city win." From the website: This year's event is about inspiring others to experience their local community whether they have a workplace to go to or not. The map below (go to their website to see) shows the density of volunteers signed up to map loops based on all the destinations added by YOU. We need more mappers! And more destinations near you! Next weekend will be a big one. As usual we are making things up and we don't really know how or if it will work, but one thing is certain: we need to do it together. So get ready to spread the word next week. If you know someone who loves to ride and knows their city well and knows how to read a map, tell them this year is special and we need their help. And make sure to help YOUR mappers out now by encouraging lots of people to commit and add a point to the map for them to work with. A usual, each city scores priceless internet points and bragging rights, while showing the world just how lovely it is to ride a bike all winter. Give your neighbours a reason to smile. And may the loopiest city win. Commit now: https://WinterBikeToWorkday.org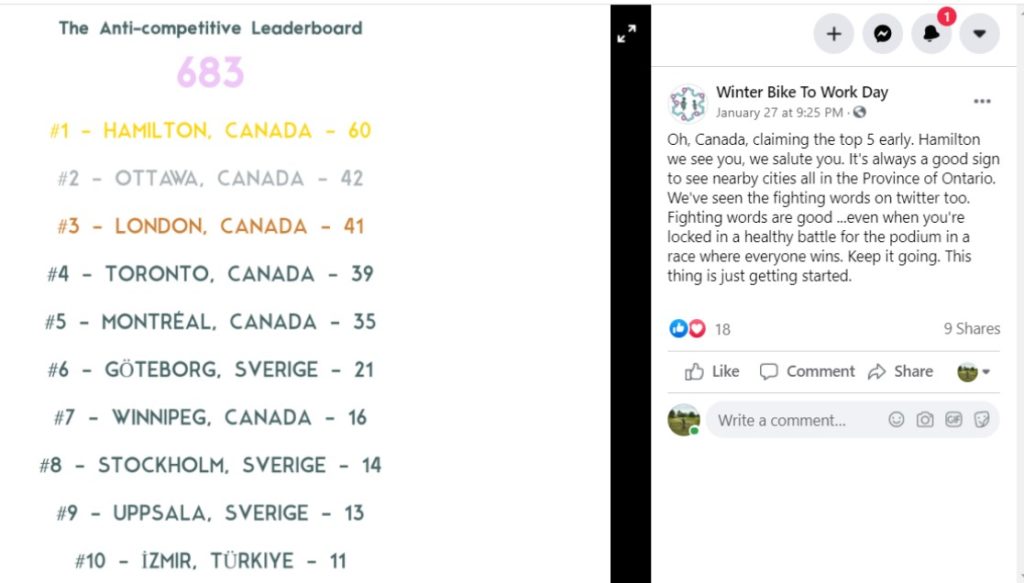 The snow and ice are melting, so get out there. Yes, there remain small mountains at many intersections and pathway ends. I switched today from the fat to my skinnier studded tires, and they don't bound over those barricades as well. I had to dismount at times, but I thought it would be worth it for the nasty icy patches. I've seen quite a few tire tracks out there so I know riders are out and about. It was tough commuting last week. Parks and Rec made a gallant attempt at keeping some trails plowed, but were soon out of their depth, literally. There were some work-arounds made to connect plowed trails with cleared sidewalks to avoid clearing underpasses and cut down on the amount of trail, so be aware of that next time. Now a few areas that had been packed down or that had been left "groomed" leaving a couple of inches of compacted snow (that was actually great for fat bikes), is a lumpy mess. I'm talking about the Billy Wolff between 40th and 48th in particular, though others qualify.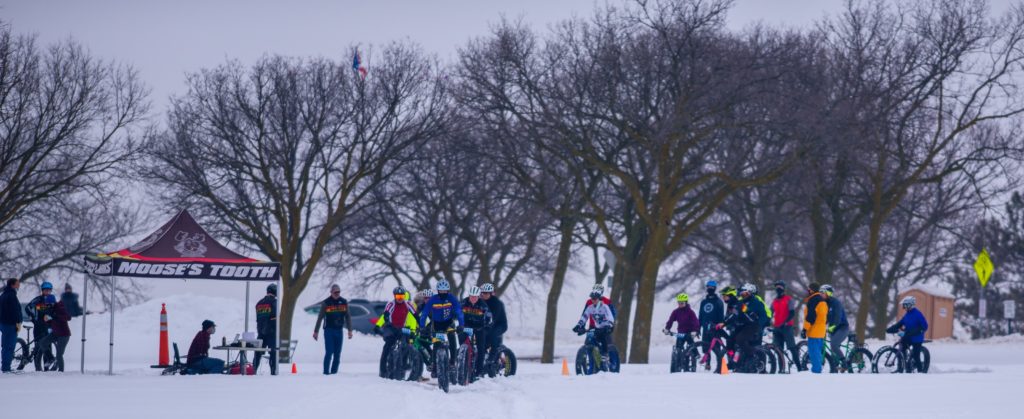 This week we'll see a lot of melt leading to black ice in the morning, so watch out. The Real Cold is scheduled to hit Saturday when we're supposed to be creating our loops, and extend into next week. It will be a good opportunity to test your gear. Pogies, check. And repeat the old mantra "there is no bad weather, only bad clothes." We'll all have a chance to feel like those bike-riding Canadians.